Islamic Anniversary Wishes. Islamic Wedding is the only Halal and blessed contract through which both partners complete the half deen of each other. So the spouse must be thankful to each other for this regard. The whole purpose of having a partner is to find tranquility with them. After all they love each other for the sake of Allah.
So in return Allah make their relation better and stronger in response of their obedience. Sometimes celebrations of little joys in life means a lot. It is the only true and obvious relation in Islam that grows stronger and deeper with the time. Because Nikkah has too much power to keep the two souls connected. Anniversaries are the unique moments that come once in a year. You can make the moment memorable with the best words.  So we have shared some beautiful Islamic anniversary Wishes for the couples to enjoy their happiness with these inspirational words. If you like then don't forget to share it with your loved ones.
Islamic Anniversary Wishes and SMS for couples
May Allah Bless for you (your spouse) and bless you, and may He unite both of you in Jannah.
May Allah bless you both with pious beautiful and healthy children, make them the coolness of your eyes, and make you both a way to Jannah for each other and strengthen each other's Faith
Life without someone special is boring, and dear friend you married with a special person for you and you proved a successful couple I wish this couple always stay happy and together with the blessing of Allah and wish you a Happy Marriage Anniversary, Ameen.
With the Grace of Allah, you guys completed another successful year of your marriage. Happy marriage anniversary, I wish you guys always stay together.
Life has lots of goals and goals with your partner are best goals. I wish you always stay happy and successful stay caring and stay loving each other.
Let Allah bless you both with love and happiness and many cherish moments of a blissful married life. Happy Anniversary.
May you always stay together and always stay blessed with the blessings of Allah. Because he is the one who made love deeper between both of you.
Mashallah, you guys compleated another successful year of glory. I saw your love for each other is getting deeper day by day, I wish you guys always stay together and you got blessed. Happy Marriage Anniversary.
Happy anniversary dear may every one of your desires work out as expected. May this anniversary turn into the beginning of your satisfaction.
Life is nothing without an existence accomplice. Both of you have each other guard your connection. Upbeat anniversary.
On this special day I wish you that your love grows stronger and blooms year by year.
Today is a good time to look back, go through your memory lane remembering all that beautiful time which you have spent together. Happy anniversary.
There were many incredible years of your life behind. And there will be a lot of incredible years ahead. Congratulations on your wedding anniversary.
Life is very changeable and nobody knows what's ahead, but I'm pretty sure that as long as you stay together, everything will be fine. Congratulations on your wedding anniversary.
Relying, counting on each other, loving and caring that is what makes marriage so nice and strong! And you reached it. Best wishes and happy anniversary.
RECOMMENDED: 
100+ Islamic Marriage Quotes For Husband and Wife
50 Best Islamic Quotes about Love with Images
Islamic Love Quotes for Wife- 40+Islamic Ways to Express Love for Wife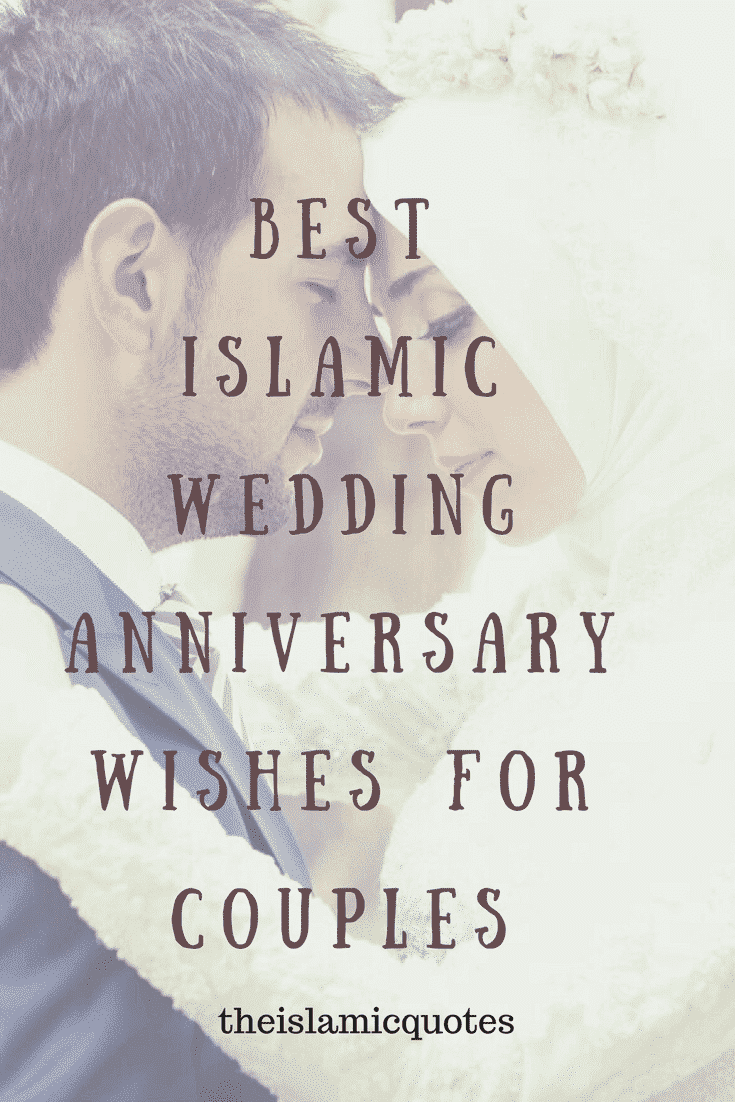 Beautiful Islamic Anniversary Wishes for Spouse with Images
↓ 1- May Allah Bless You Both Happy Anniversary!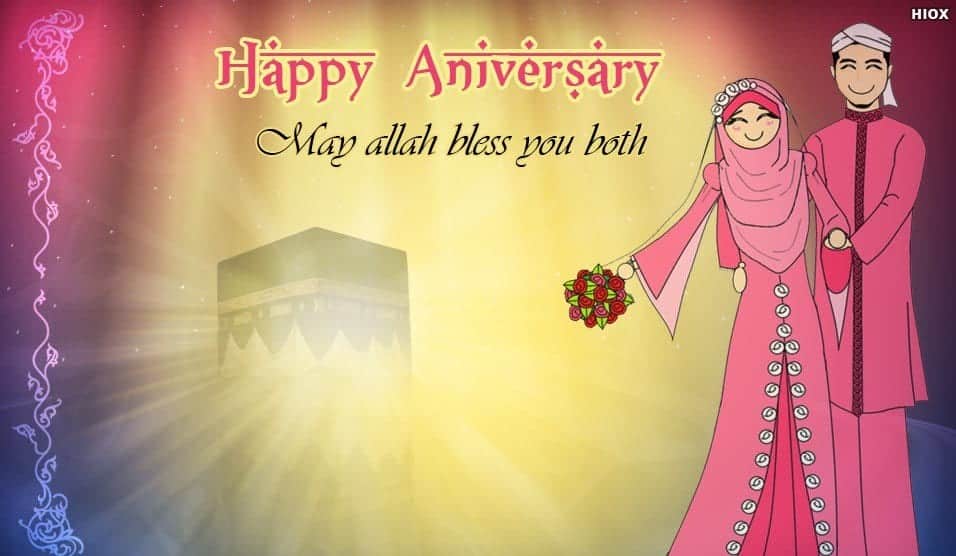 ↓ 2- When i married you on special day, I knew my prayers had been answered. Happy Anniversary!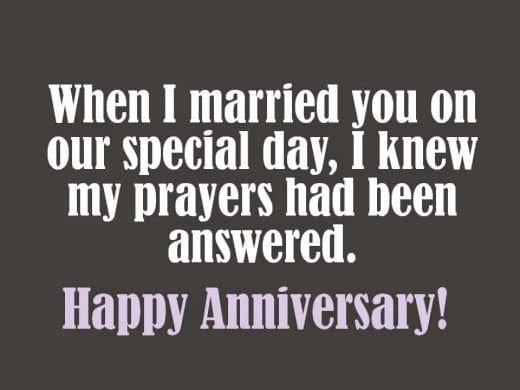 ↓ 3- Happy Anniversary! Alhamdolillah for another year spent together. May your life continue to be filled with love, laughter and happiness.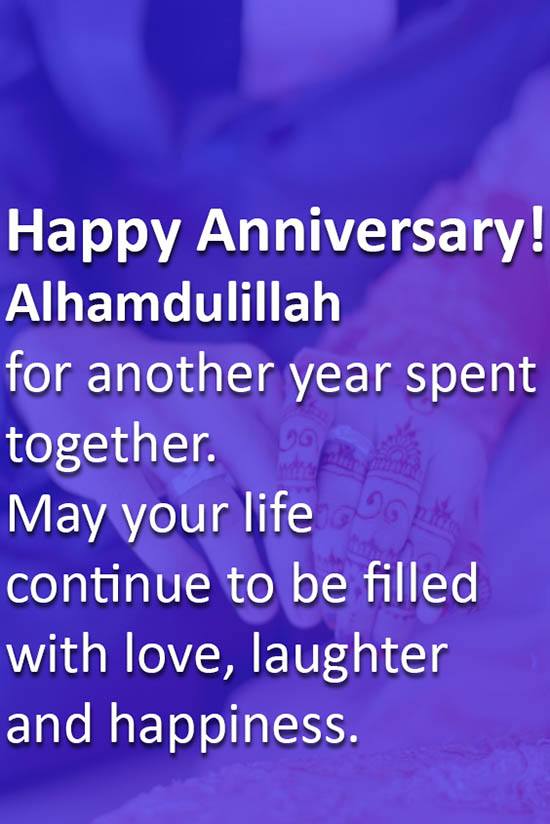 ↓ 4- 50 thousand years before Allah has written my name next to you. Happy Anniversary!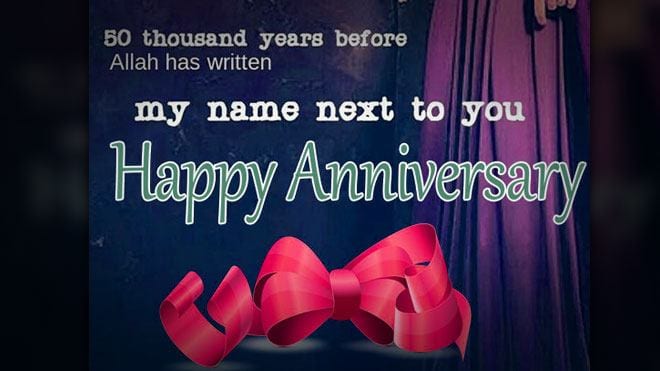 ↓ 5- Our Anniversary is not just a date. It signifies how beautifully intertwined are our fates. Happy Anniversary!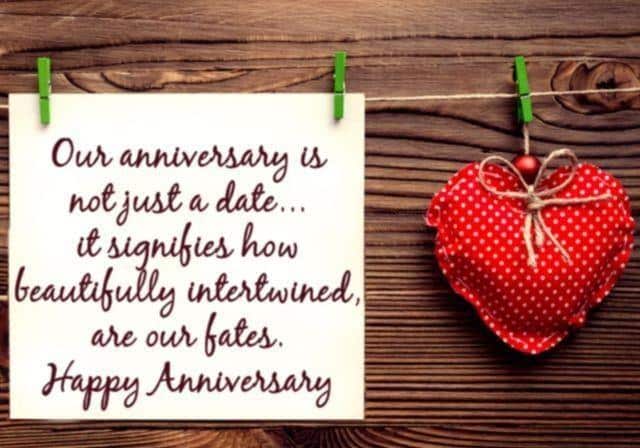 ↓ 6- If she is not on the Deen, she ain't fit to be your queen. If he  hasn't got Imaan, he ain't fit to be your Man. Happy Anniversary!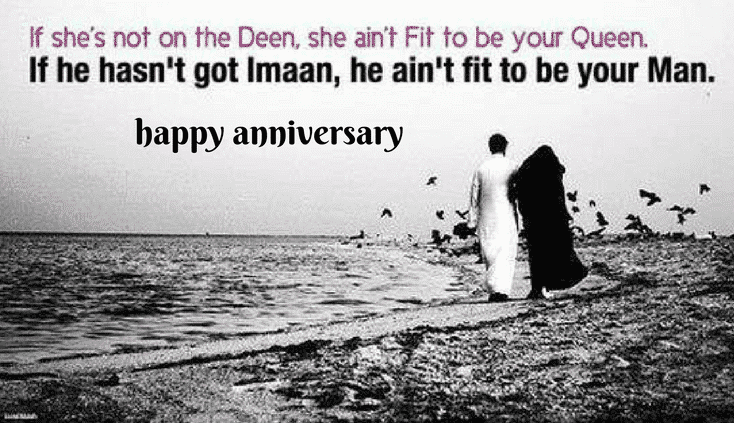 ↓ 7- Happy Anniversary! Our love is the best love because you make my imaan rise, you help me in the dunya and for that reason want to meet you again in Jannah!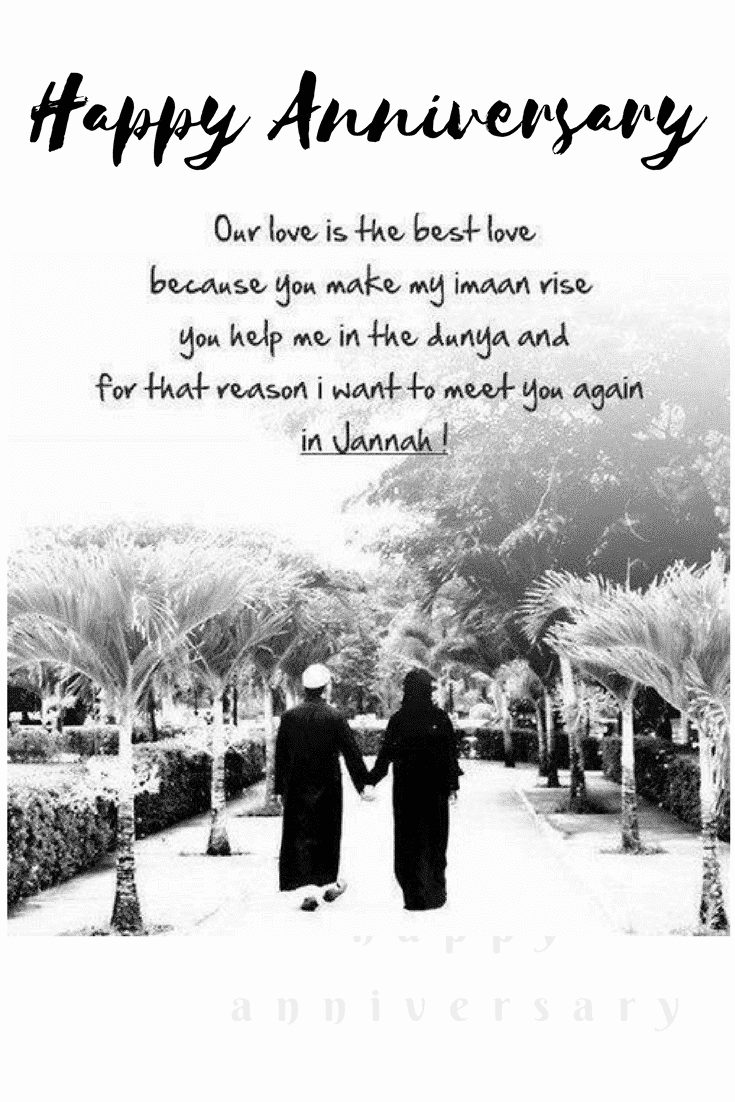 ↓ 8- Happy Anniversary! The most sweetest thing is that when two people love each other but do not communicate. Instead they pray for each other in their sujood.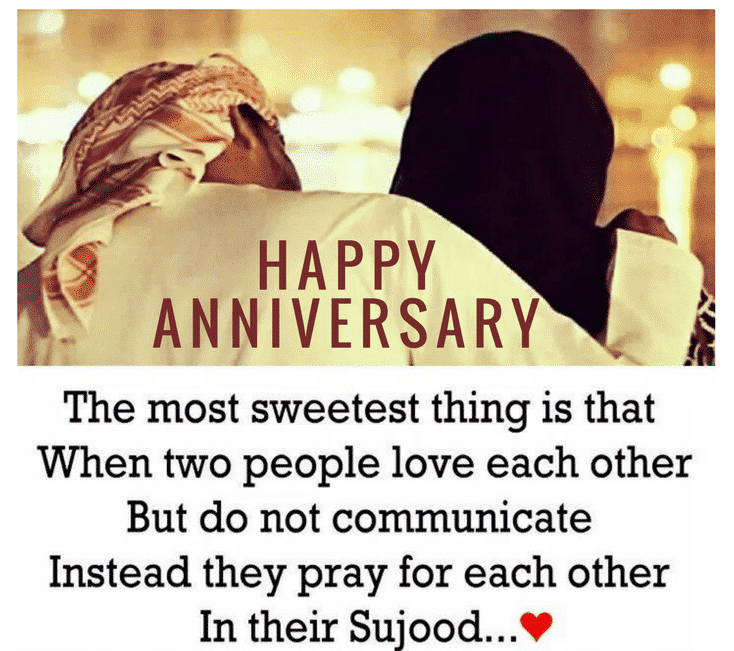 ↓ 9- It is Allah's mercy upon mankind that he created Spouses for human beings from themselves. Happy anniversary!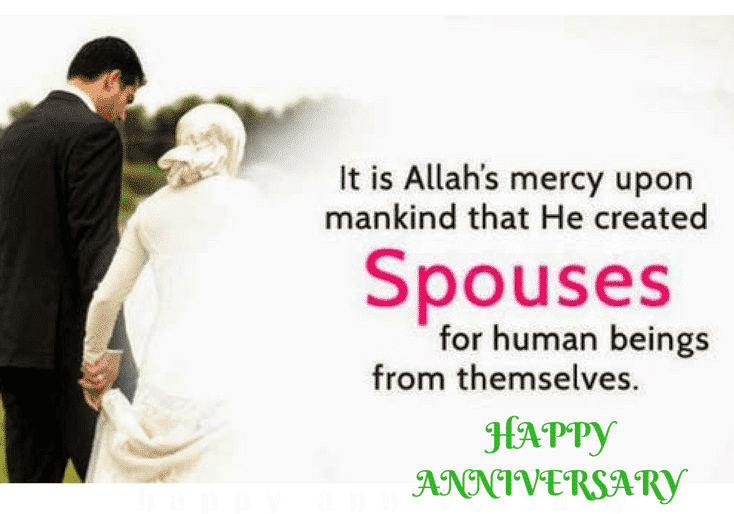 ↓ 10- You complete half of my Deen. Happy Anniversary.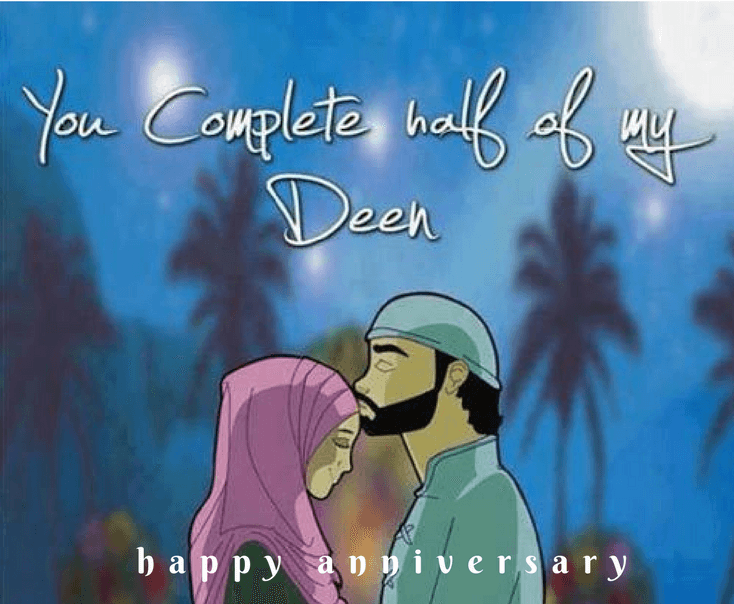 ↓ 11- If you are looking for a spouse, look for theone who will take you to Jannah. Happy anniversary!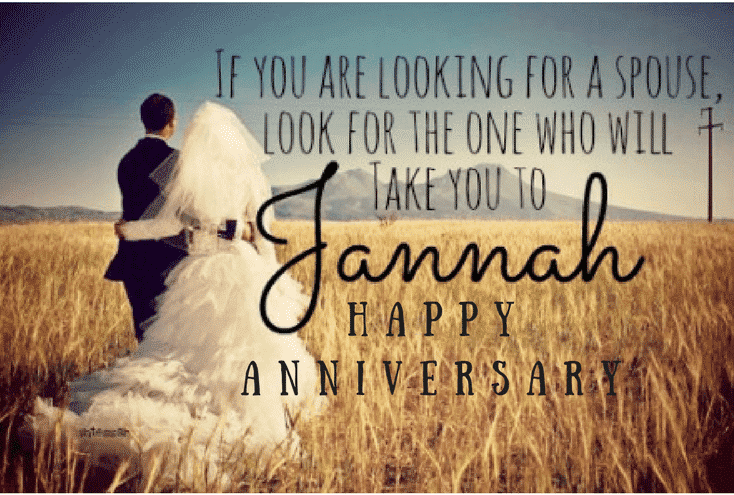 ↓ 12- You two were made for each other and nothing else matters. Wishing you the best anniversary ever!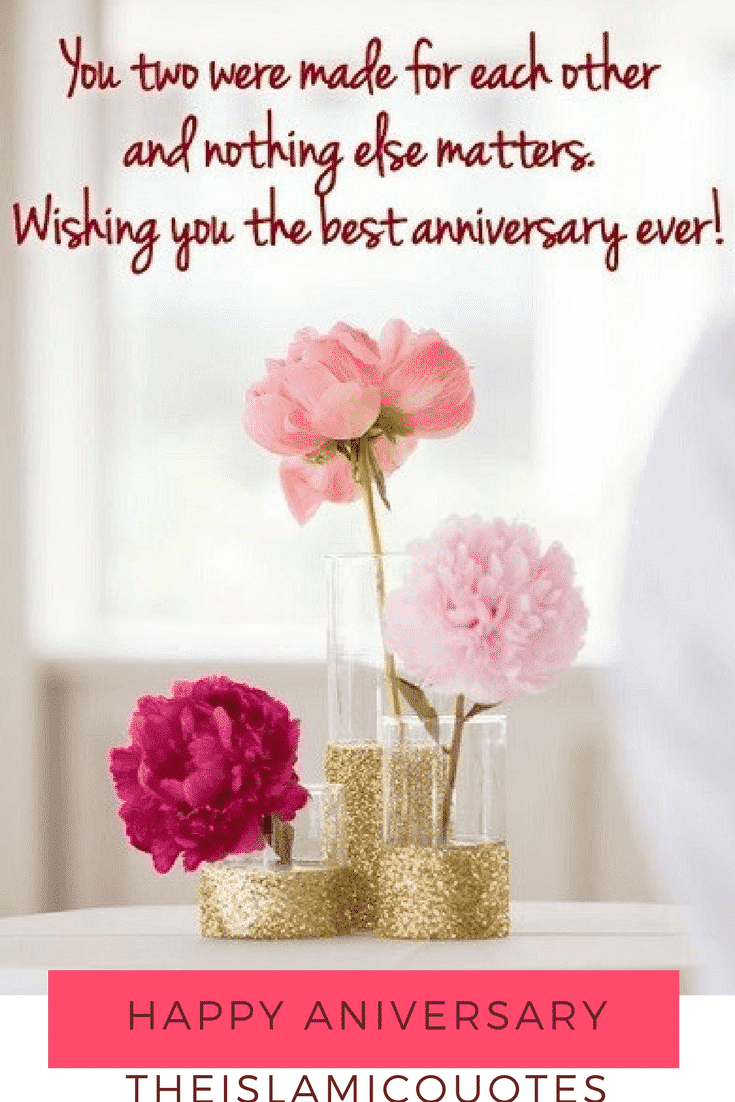 ↓ 13- It's forever you and me, INSHALLAH. Happy Anniversary!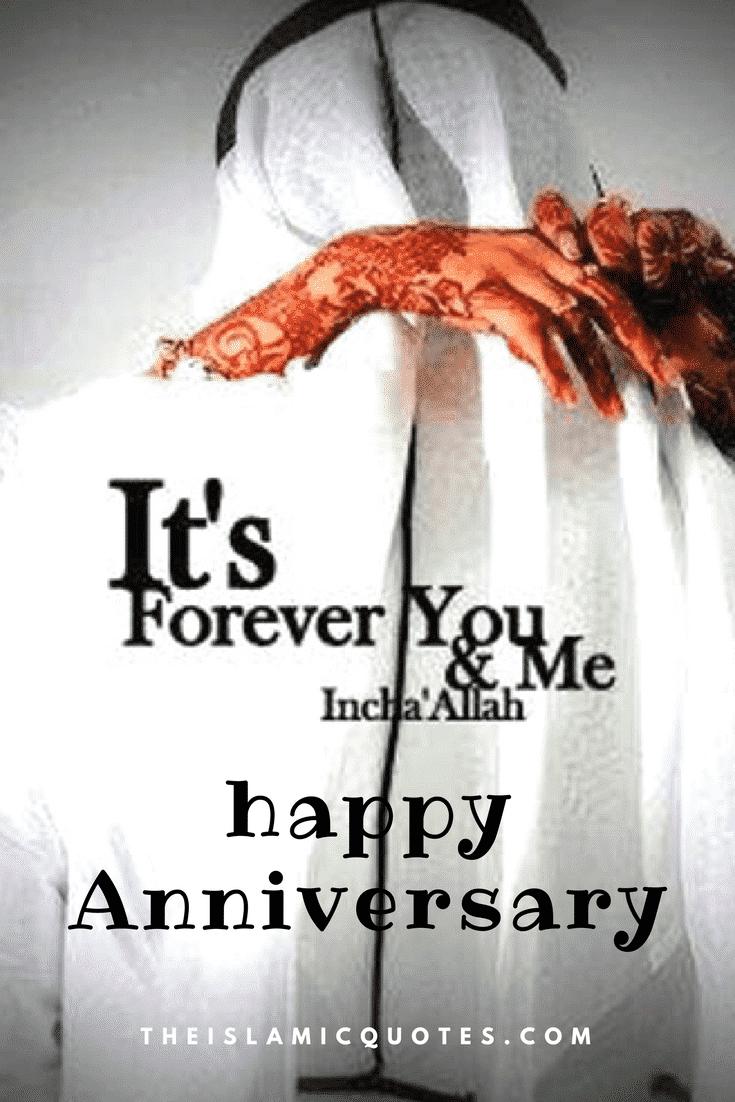 ↓ 14- A handsome guy and a pretty girl will make a beautiful wedding, but a faithful man and a pious woman will make a beautiful marriage. Happy Anniversary!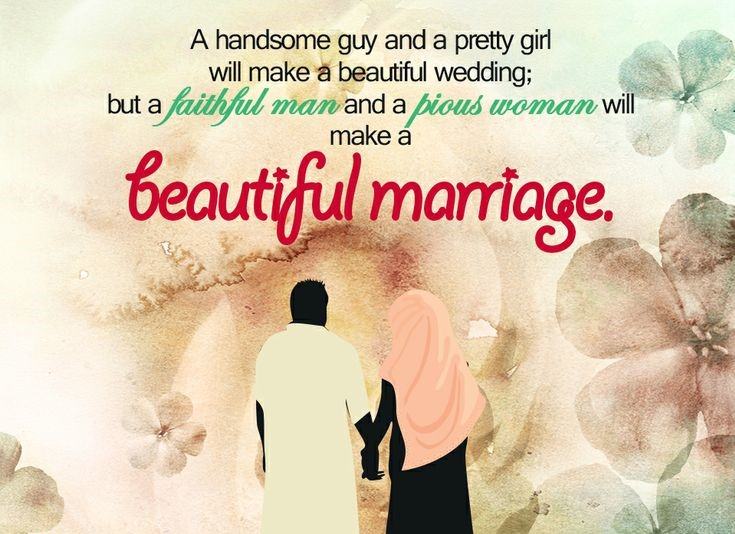 ↓ 15- I am Absolutely positive that i have the best Husband ever.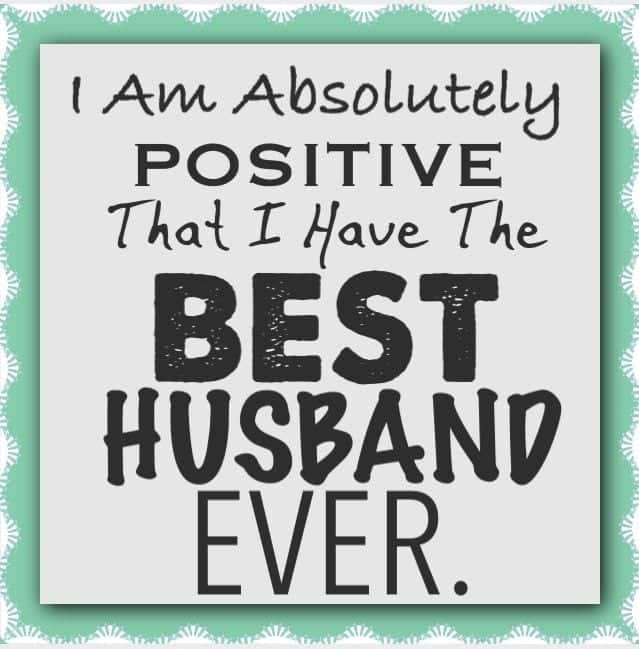 ↓ 16– Real Love starts after Nikah. Happy Anniversary!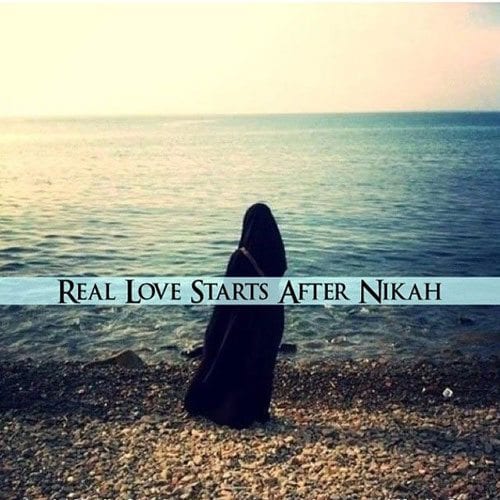 ↓ 17– It's easy to fall in love, anyone can. Only the strong will keep it Halal. Happy Anniversary!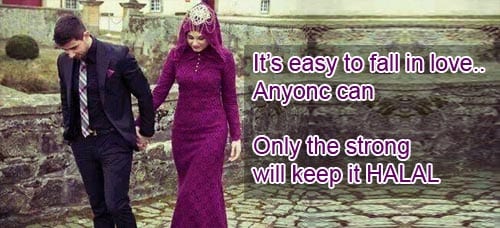 ↓ 18– Happily ever after is when the both of you step into paradise together. That is the true love you should work for. Happy Anniversary!