Marriage Anniversary Status For Husband. The bond between husband is considered sacred in Islam. Allah has created this relation and he's the one who brings affection and mercy between them. Allah says in the Quran
'And of His signs is that He created for you from yourselves mates that you may find tranquillity in them, and He placed between you affection and mercy.  Indeed in that are signs for a people who give thought.'
(30:21)
The day of wedding anniversary brings happiness and many memories and it also reminds the couple that the bond between them is stronger than any other relation.
Following are some of the anniversary wishes for a husband from his wife.
HOW TO WISH WEDDING ANNIVERSARY TO YOUR HUSBAND?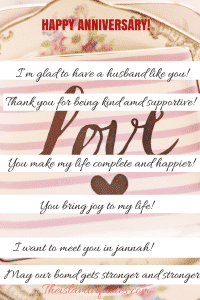 ↓ 52 – Intertwined Fates
'This day signifies the intertwined fates of ours, Happy Anniversary'. Here are 40 + Islamic love Quotes for Husbands.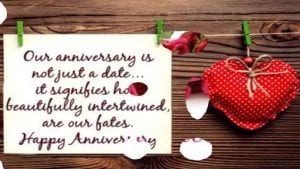 Via
↓ 51 Wonderful Husband
'You're the one who encourages me to do better, Happy Anniversary!'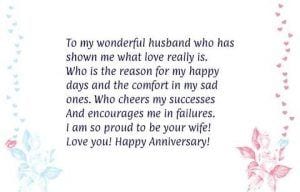 ↓ 50- First Wedding Anniversary Wishes for Husband
First Wedding Anniversary is always memorable and can be celebrated with love. The first year of marriage makes you realize how much your spouse means to you.

↓ 49- Marriage Anniversary Status for Husband
'This is not the end,
it's a beginning,
the beginning of a new year with you
a new phase,
a more beautiful life.
Happy Anniversary dear hubby! Thank you for giving me your love'
↓ 48- Funny Anniversary Status for Husband
The bond between husband and wife is strong. They fight and then make up again. A wife loves his husband unconditionally.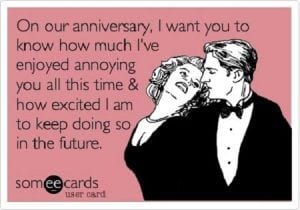 ↓ 47- Love for Husband
There are no words to express the love that I have for my husband. Just go for this simple line as sometimes, a few words can be more powerful that hundreds of words.
46- Being Thankful to God for a Good Husband
A wife should be thankful to Allah if her husband is a great partner.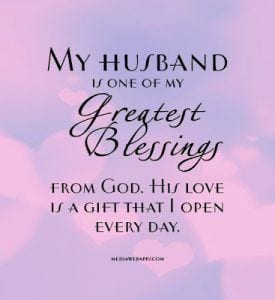 Via
45- Being Thankful for a Caring Husband
' Thank you, my dear husband, for always taking care of me and our family. We love you from the bottom of our heart! Happy Anniversary my love!'
44- Thanking a Supportive Husband
' Today I feel successful on every walk of life. I wouldn't have don't anything without you, thank you for being such a supportive and encouraging husband'. Happy Anniversary my love!'
43- Happy wife
'You're the real treasure sweetheart, I'm so happy to be your wife. Happy Anniversary!'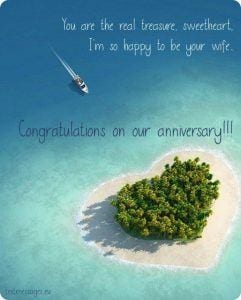 42- Loving Husband
'Dear husband, I love you from the bottom of my heart. Thank you for loving me with all your heart. I'm waiting to live my life with a loving husband. Happy Anniversary'
41- 20th Anniversary Status
'On this day and completing a couple of decades, I would like to tell you that no matter how much I break down and lose myself I always regret hurting you. Mere words can't describe the love I've for you. Here's to us, an awesome couple for annoying each other for 20 years!'
40- Our love story
'All these love stories that I read,
are nothing in front of ours.
Happy Anniversary!' Have a look at these 50 Inspirational Mufti Menk Quotes and Sayings with Images.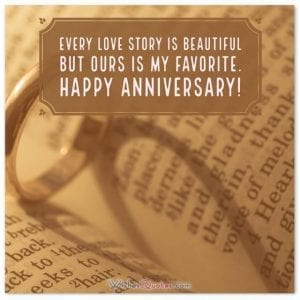 39 – Beautiful Anniversary Wish for Husband on Facebook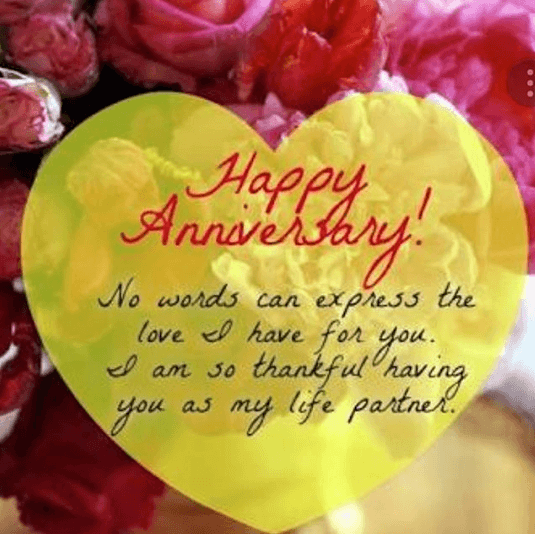 Via
38 – Paulo Coelho Quote for Husband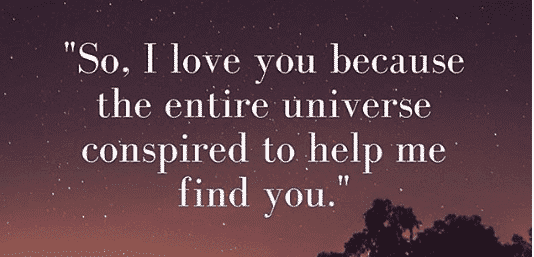 37- Meeting Husband In Jannah
'You're my safe haven, I wanna meet you in Jannah to be together forever. Happy Anniversary.'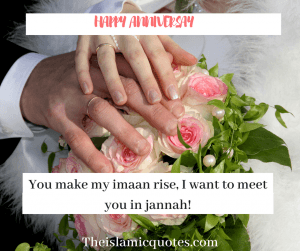 38- Years of Togetherness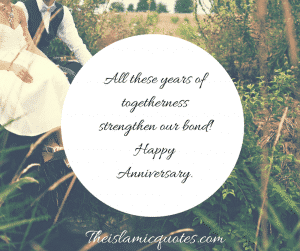 37- Happiness with Husband
'You being endless happiness and joy to my dull life! Happy Anniversary'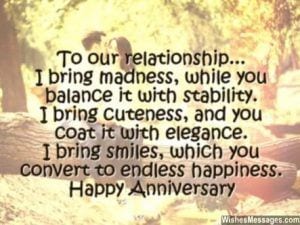 36- Picture Status for Husband on Whatsapp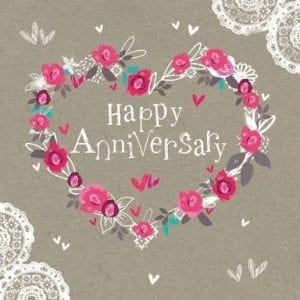 Via
35- Thanking Husband for Being a Best Friend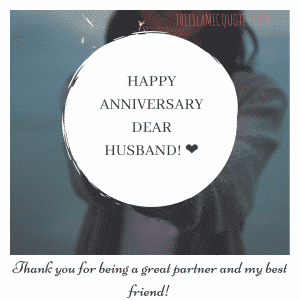 34- Thanking Husband for Being Strong
'Thank you for being my shield and always protecting me. Thank you for staying strong when I break down. Happy Anniversary'
33- Funny Picture Status

Via
32- Beautiful Wish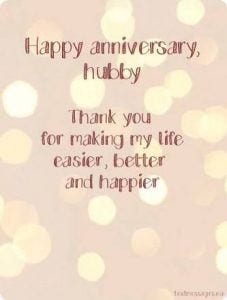 31- Beautiful Dua for Husband
'Dear husband, may Allah always keep you in His protection, may you always stay happy with me'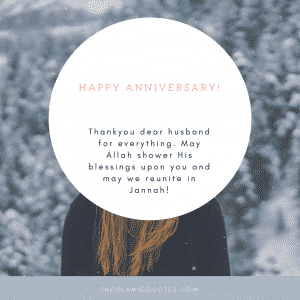 30- Our First Moment
'From the very first moment, I saw you I fell for you instantly. And I still am in awe of that moment'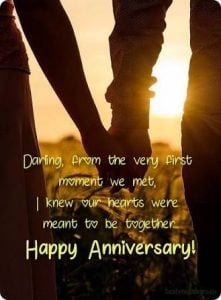 29- Wishing to Meet Sooner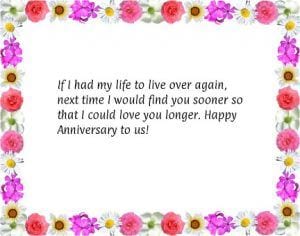 Via
28- Growing Old with the Spouse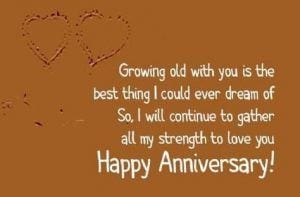 Via
27- Acknowledgement of Efforts of Husband
'Thank you, dear husband, for always believing in me and making every little effort to make me smile and our life happier' 
26- Creating Memories Forever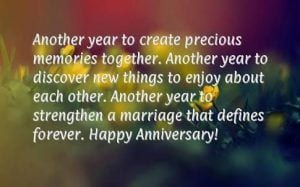 25- Meant to be Together
'Allah SWT has written our names together, no matter how much we fight, how much we argue, we are meant to be together and forever. Happy Anniversary! Here's to us!'
24- No Boundaries or Barriers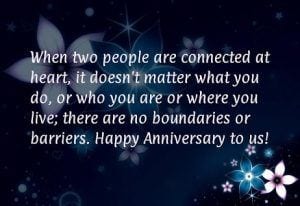 Via
23- Seven Years Marriage Anniversary Status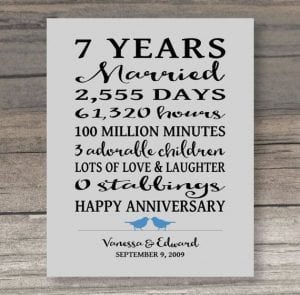 22- Happy Anniversary Greeting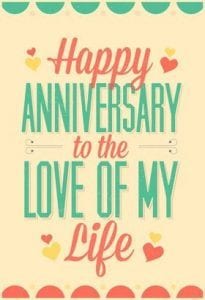 21-Beautiful Relationship
'This beautiful relationship of ours is forever. Our love will get stronger and stronger day by day. Happy Anniversary to the love of my life'
20- Perfect Partner
'You're a perfect partner a woman could ever have. Happy anniversary to my dear husband!'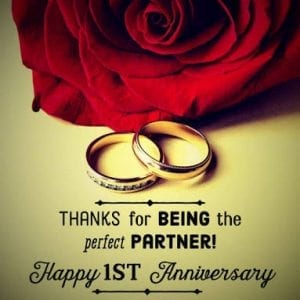 19- Anniversary Greeting Picture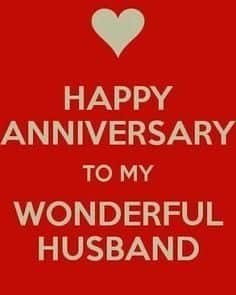 18-  Thanking Husband for Thoughtfulness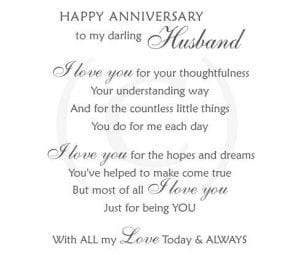 17- Thanking Husband for Kindness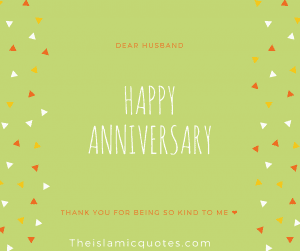 16- Always Be Together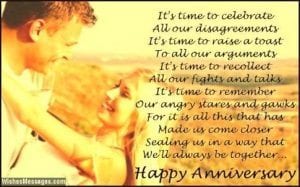 15- Silver Jubilee
'We have come this far and it took 25 years of hard work, love, and mercy. May God always keep us together. Ameen. Happy Silver jubilee Anniversary!'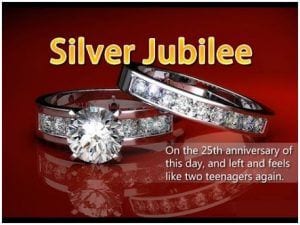 14- Blessed to Have a Nice Husband
'I'm blessed to have a husband like you and thank God every second to have you by my side. Happiest Anniversary!'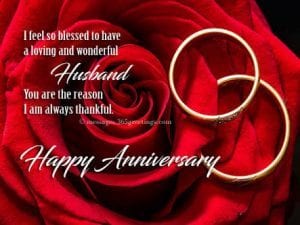 13- How Much I Mean to You
'Dear husband, I know I argue over small things, but I know how much I mean to you and you mean to me. Happy Anniversary!'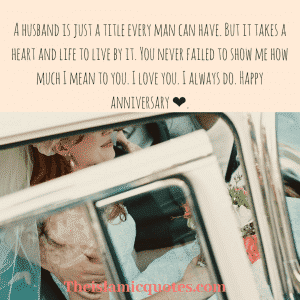 12- Loving Unconditionally
'This day makes me realize that how far we have come and how your love is always unconditional. Happy Anniversary to us!'
11- Truthfulness
'Thank you, dear husband, for your truthfulness and honesty. I'm lucky to have you beside me. Happy Anniversary to us!'
10- Amazing Husband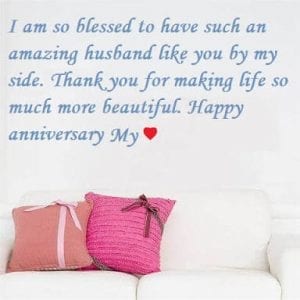 9- Anniversary Ecards for Husband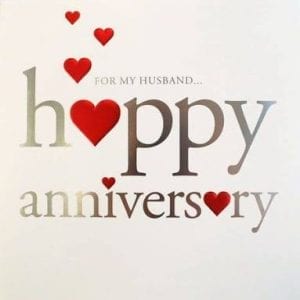 Via
8- Love of life
'You're the apple of my eye and the love of my life! Happy Anniversary dear husband.'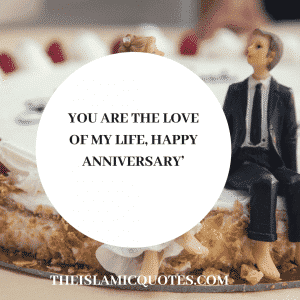 7- A Great Father to Kids
'You're a wonderful husband and a great father to our kids, our life is incomplete without you. Happy Anniversary!'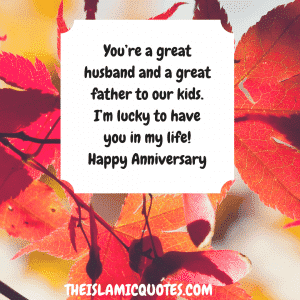 6- Husband Like You
'Hi dear husband, do you know how much I'm thankful to God for giving me a husband like you? Who supports me, encourages me, loves me. Happy Anniversary to my darling!'
5- Endless and Timeless Love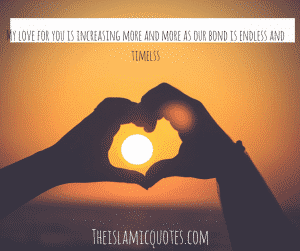 4- Thanking Husband for Making Life Better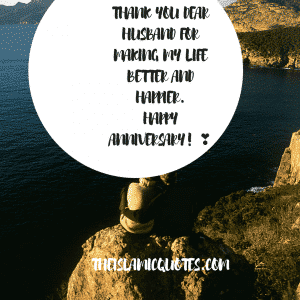 3- Thanks for Being my Lover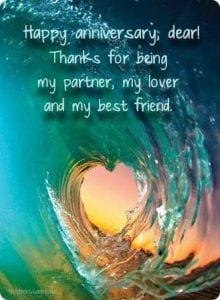 Via
2- The Strong Bond of Marriage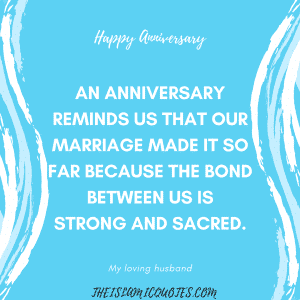 1- Ten-year Anniversary Status
'Today is a special day as it marks a decade to this relationship that has been created by God with love and affection. Happy Anniversary! May we witness days like today every year!'