WHAT IS TAHAJJUD? Tahajjud is an Arabic word that means giving up the Hujud (sleep). It is leaving off the sleep to please Allah (S.W.T). It is a voluntary, recommended prayer that Muslims perform in the middle of the night. Our beloved Holy Prophet Muhammad (S.A.W) used to offer tahajjud prayer daily and motivate His companions too.
Other than just performing five daily prayers, Muslims pray Tahajjud to bring themselves closer to Allah. One can perform Tahajjud after Isha prayer and before fajar prayer. But sleeping is obligatory to perform Tahajjud as Allah (S.W.T) has revealed in the Quran that you awaken from sleep and perform tahajjud. It is preferable to perform tahajjud in the last third part of the night. It is because when you remember Allah (S.W.T) at a time when most of the people are sleeping, Allah will reward you in multiple ways.
What Is Tahajjud & Its Importance In Islam?
While we have already covered How To Perform Salah (Prayer) With Our Step by Step Guide, today we'll be talking about a very special prayer that is tahajjud. There are many questions in minds of Muslim brothers and sisters regarding tahajjud and we hope to answer all these questions today in light of authentic Islamic quotes and the teachings of Prophet Muhammad PBUH. Praying tahajjud can have a great impact on your life. And even if you've never prayed tahajjud before, you can easily leab it and incorporate it into your routine.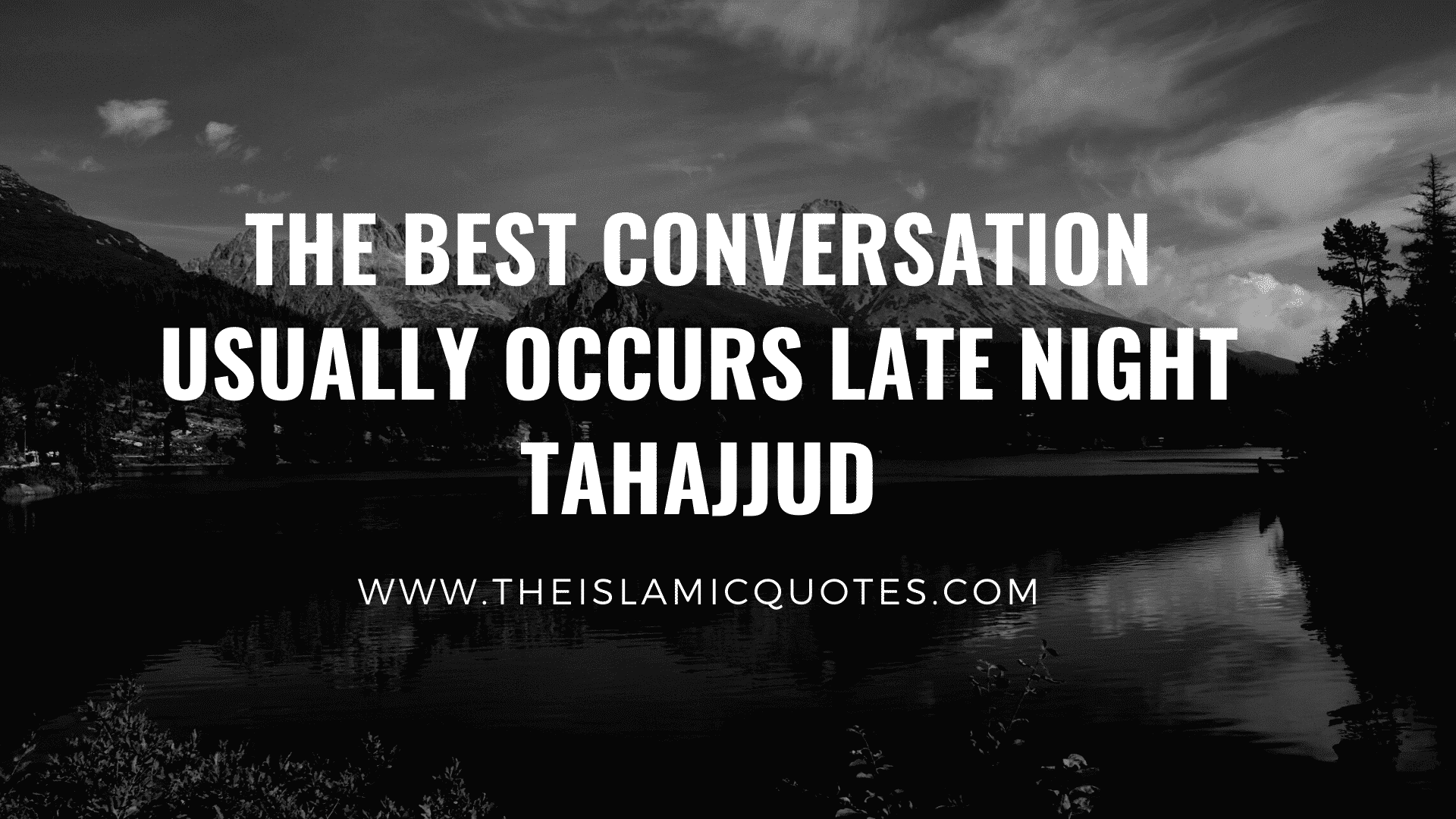 ↓ 8 – SIGNIFICANCE OF TAHAJJUD:
The tahajjud prayer is not compulsory, but Muslims try to make tahajjud a part of their daily routine. It is one of the excellent worship to ask for forgiveness from Allah (S.W.T). The night prayer is much higher ranking because the night is a time when you take rest after a tiring day, and you are away from all form of distractions. Tahajjud is harder on lower self as after a busy day, when you give up sleep to seek Allah's rewards, Allah (S.W.T) is the most merciful. The night is a time when doors of mercy are opened, prayers are answered and desires of those who ask are fulfilled.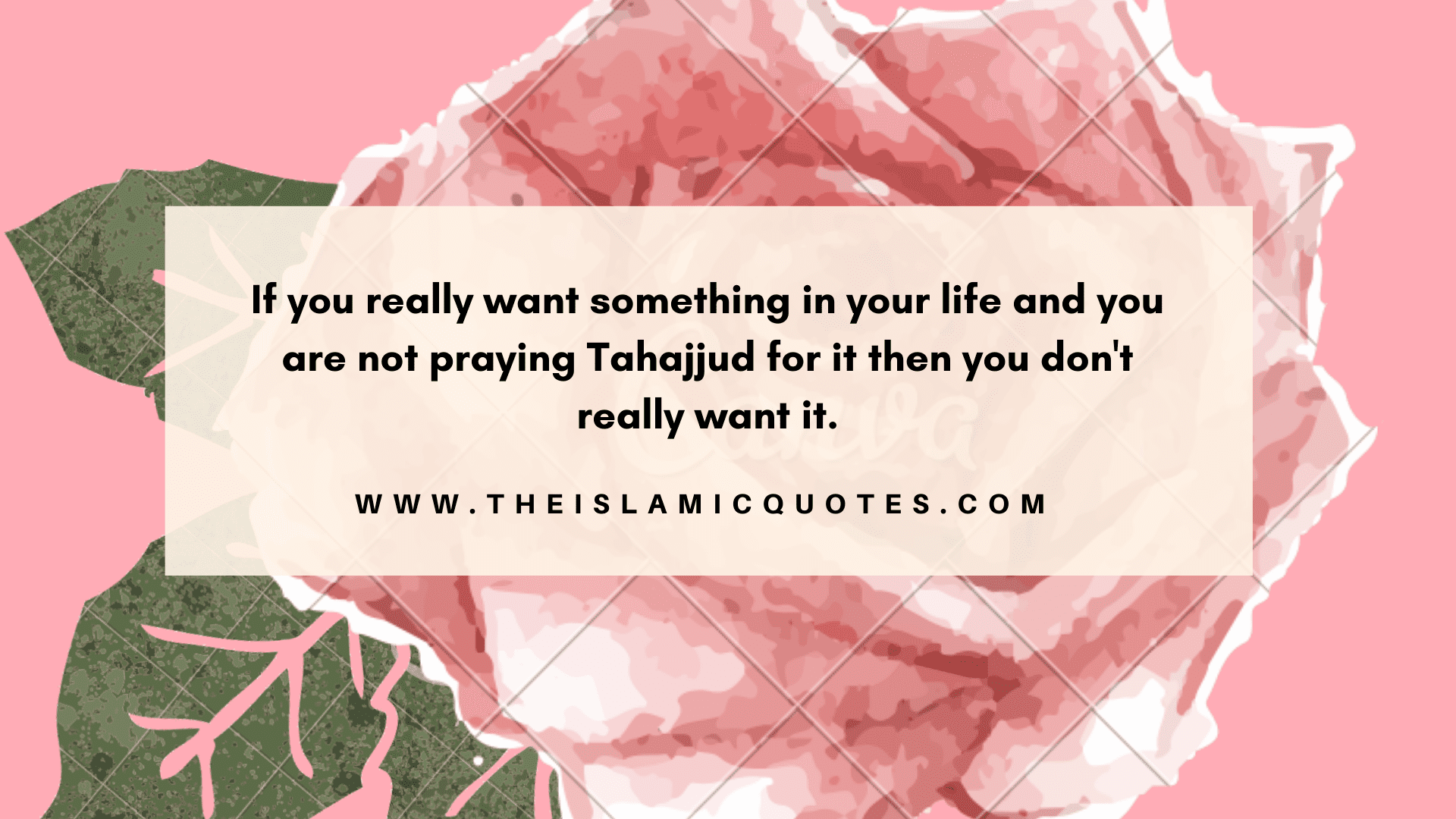 ↓ 7 – TAHAJJUD PRAYER IN THE QURAN:
Many verses in the Quran mention the tahajjud prayer, its reward, benefits, and blessings.
Allah (S.W.T) in the Quran says, "They abandon their beds to cry unto their Lord in fear and hope, and spend of what We have bestowed on them. No soul knows what is kept hidden from them of joy, as a reward for what they used to do". (32: 16-17)
In these beautiful verses, Allah (S.W.T) praised the ones who leave their beds and wake up at night in remembrance of Allah to seek forgiveness and mercy. No one knows about the rewards that Allah has hidden for them.
In another verse of the Quran, Allah (S.W.T) says, "The (loyal) servants of the Merciful are those who walk on the earth modestly, and when the foolish one addresses them, they answer Peace, And who spend the night before their Lord, prostrate and standing". (25: 63-64)
Allah (S.W.T) in this verse points out the faithful servants of Him. Those who act modestly, prevail peace and stand in prostration at night are the ones who are nearer to Allah.
"Those who pray for forgiveness in the moments of the night". (3: 17)
Allah (S.W.T) has great rewards for those who please Him out of hope and mercy.
"And from [part of] the night, pray with it as extra[worship] for you; it is anticipated that your Lord will revive you to a praised position." (Quran, 17: 79)
On the day of Judgement, Allah Almighty will resurrect those in an applaud position who spend a part of their night in worshipping Him. You should also go through these Islamic Prayer Quotes & 40 Beautiful Duas for Recitation.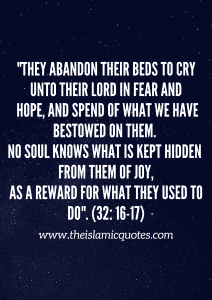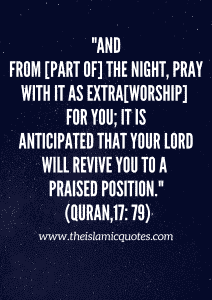 ↓ 6 – AHADITH ABOUT TAHAJJUD:
Hazrat Abu Huraira (R.A) narrates that the Prophet of Allah, Hazrat Muhammad (S.A.W) said, "The best prayer after the mandatory prayers is the night prayer."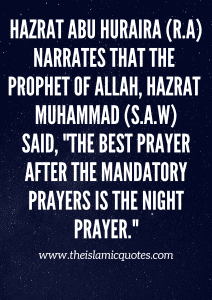 Hazrat  Abu Umama Al-Bahili (R.A) reports that our beloved Prophet (S.A.W) said,  "Hold fast to night prayer, for it was the way of the righteous people before you, a way of getting closer to Allah (S.W.T), a redemption for bad deeds, and a cover from sin."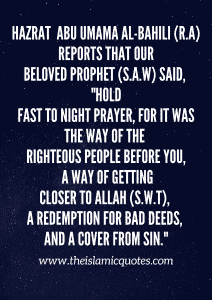 Hazrat Ibne Masud (R.A) narrates that the Prophet (S.A.W) said, "The rewards of night prayer over day prayer is like the reward of secret charity over open charity."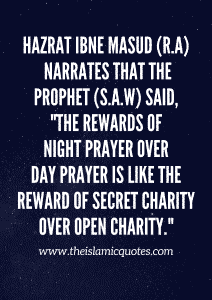 ↓ 5 – IS THERE A PARTICULAR WAY TO PRAY TAHAJJUD?

↓ 4 – WHAT IS THE BEST TIME TO PRAY TAHAJJUD?
The term "tahajud" means giving up prayer, so this prayer is made after one wakes up from sleep and before the fajr prayer. According to scholars, the best time to perform it is in the latter part of the night or the last third part.
↓ 3 – HOW TO PRAY TAHAJJUD:
When you wake up, perform ablution. You must be clean in all aspects. Tahajjud prayer has a minimum of two rakats and a maximum of twelve rakats. All rakats should be performed in sets of two. Leave all the worldly worries aside and focus on pleasing Allah. After completing the tahajjud prayer, one must supplicate and ask for forgiveness from Allah (S.W.T). You can also check the link down below to know how to pray Tahajjud.
↓ 2 – ADVANTAGES OF TAHAJJUD PRAYER:
It gives us inner peace and strength
It cures depression and anxiety
Supplications are answered
It brings us closer to Allah (S.W.T)
It is the best time to ask for forgiveness
Allah's mercy shower on those who pray tahajjud
It brings out positive and innovative thoughts
It prevents us from sins and wrongdoings
Tahajjud makes our bond stronger with Allah
It brings enormous rewards and blessings from Allah
The doors of mercy and forgiveness are opened in the last third part of the night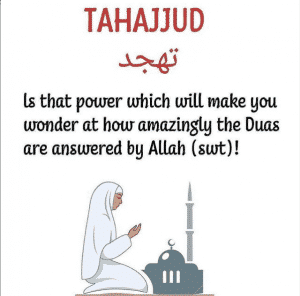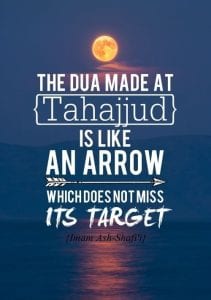 ↓ 1 – TIPS TO PRAY TAHAJJUD REGULARLY:
There are a few tips that we have gathered for our respected readers to make tahajjud a routine prayer. And don't miss out on these 50 Best Islamic Quotes About Namaz Prayers with Images.
Before you go to sleep, set the alarm of one hour before the fajr prayer or any time that suits you best and any time you can be consistent with. Prophet Muhammad (S.A.W) said that "The most beloved actions to Allah are the actions which are done consistently even if they are less".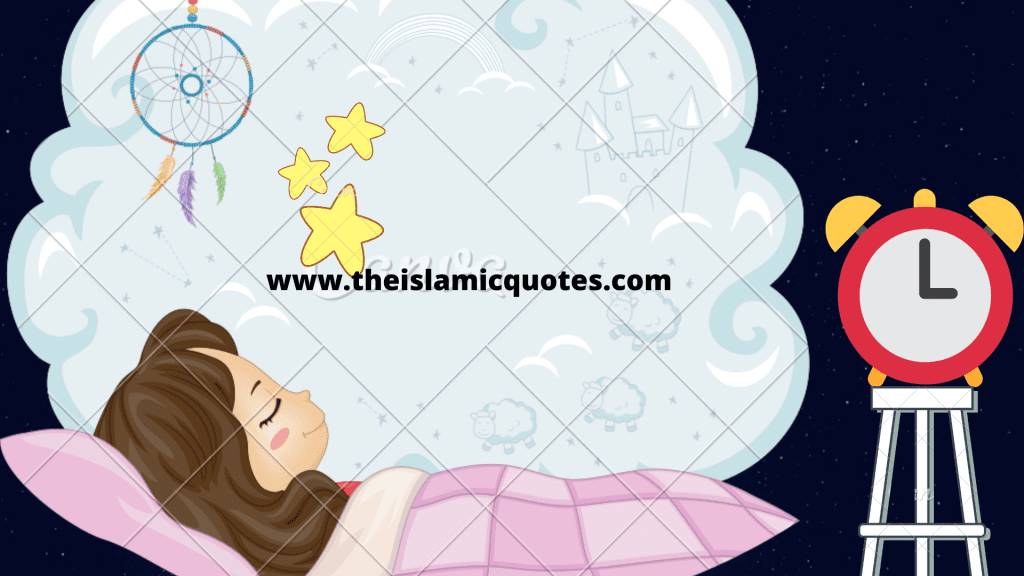 MAKE AN HONEST INTENTION TO PRAY:
As our Holy Prophet (S.A.W) said, "Intentions will judge actions". That means without a good intention; actions are not worthy. The purpose must be to please Allah (S.W.T) not to show off your religiousness to people. A good intention has great importance. Allah rewards you according to your intention. So If you make an honest intention to pray tahajjud, Allah will reward you even if you were unable to wake up. Also, this sleep will be a sadaqah for you.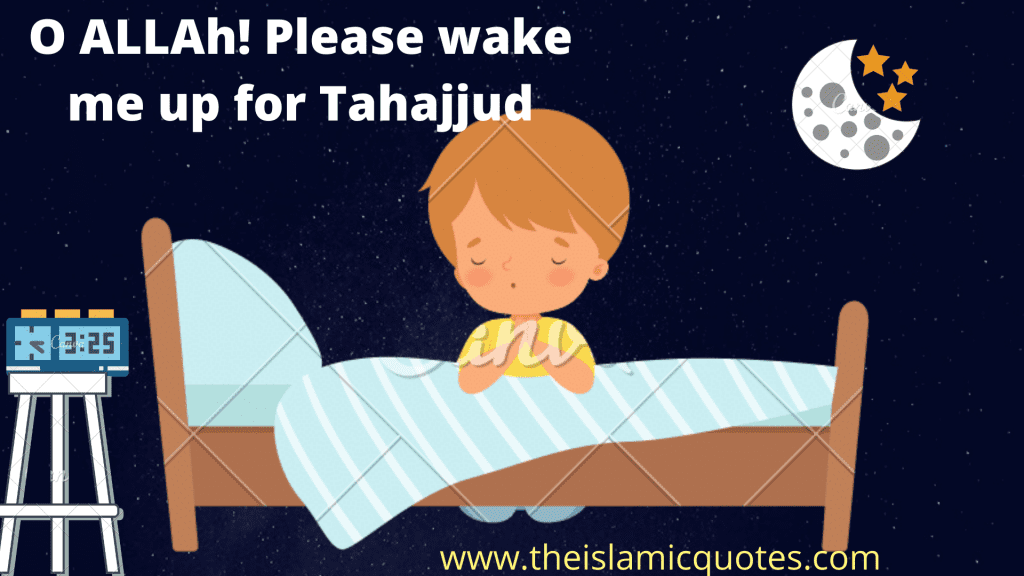 TELL YOUR FAMILY MEMBER/FRIEND THAT YOU WOULD WAKE THEM UP FOR TAHAJJUD:
In this way, you would feel responsible, and you will force yourself to wake up. Even if you manage to wake them up, it will maximize your reward.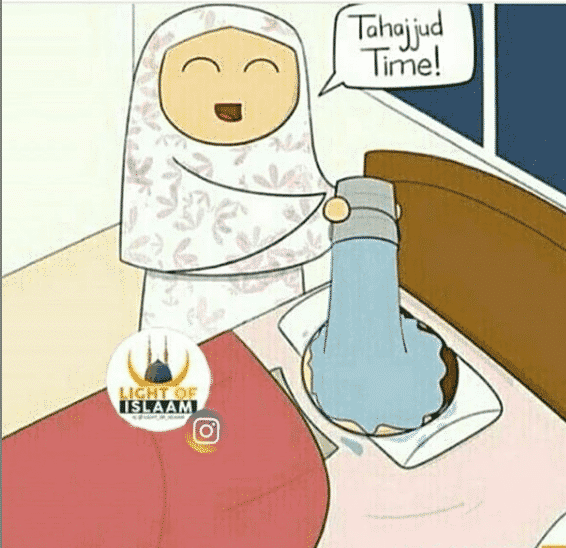 REMIND YOURSELF ABOUT THE REWARDS:
When you remind yourself daily about the rewards and benefits that you get on praying Tahajjud, you motivate yourself. Allah (S.W.T) gives us countless ways to turn to Him in the form of motivations.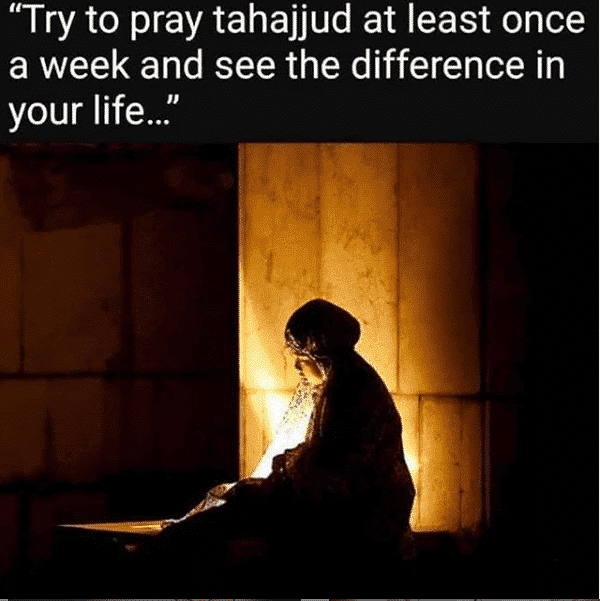 Go to sleep early and make an intention that you are sleeping not just to get rest but to wake up early for tahajjud. This intention will motivate you to pray Tahajjud and collect more rewards.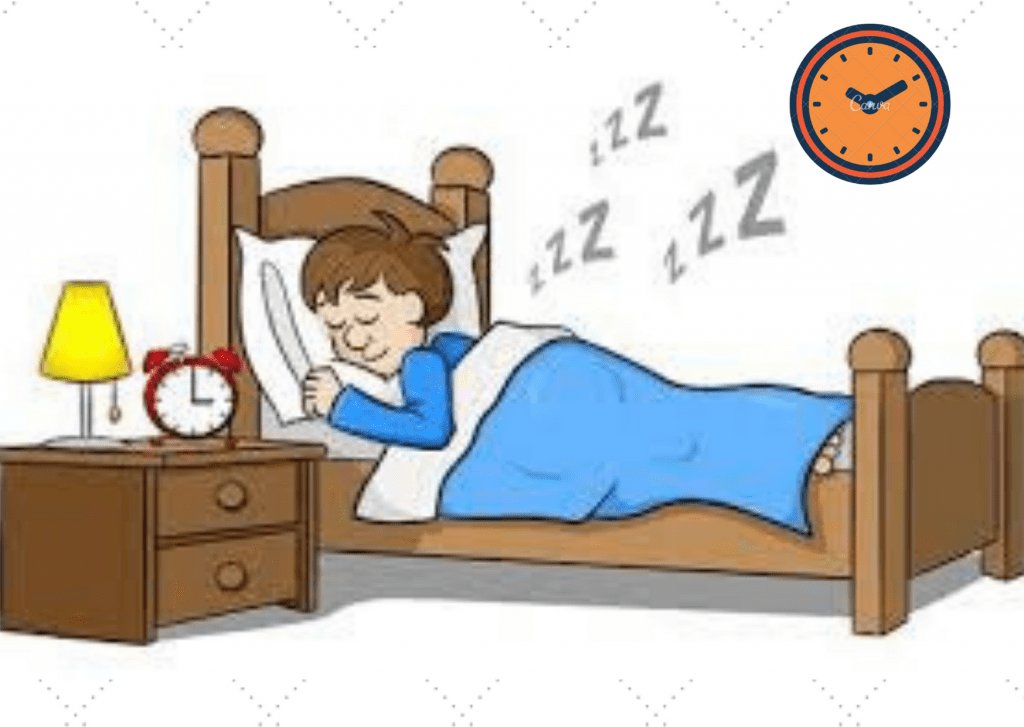 TRY NOT TO EAT AND DRINK TOO MUCH:
It will make you lazy. Our Prophet (S.A.W) used to have a light dinner, and Muslims love to follow their Prophet's sunnah.
If you're just starting to pray tahajjud, don't over burden yourself and take things slowly. Start with praying tahajjud once a week or even once a month and you'll soon notice a big difference in your life that will encourage you to pray tahajjud more often InshaAllah.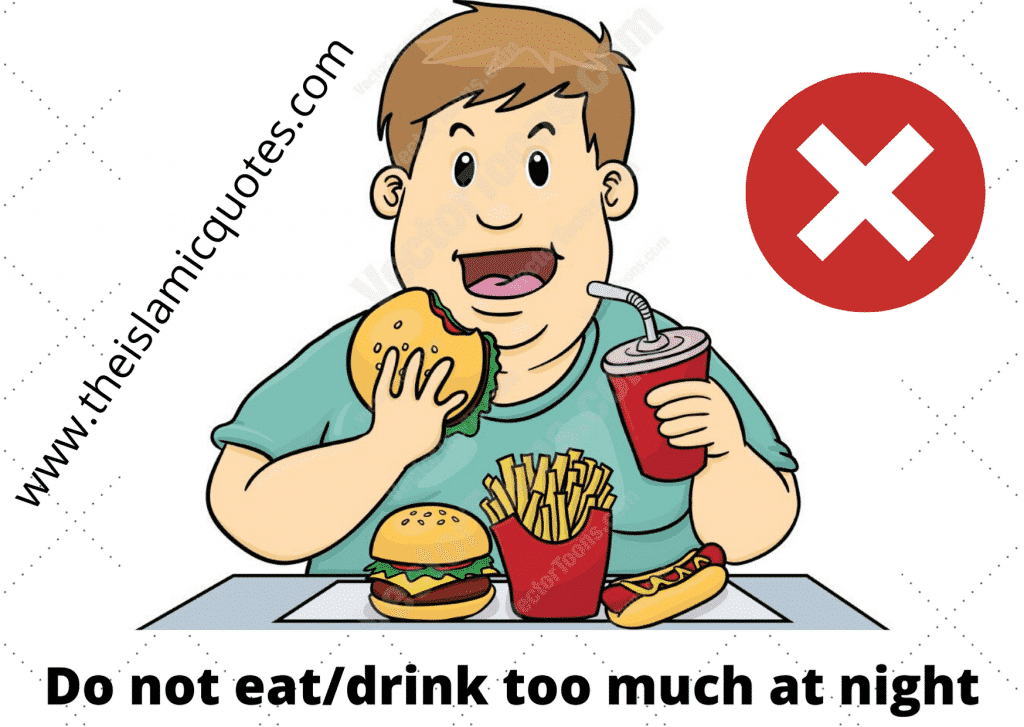 May Allah guide us and give us the courage to make tahajjud a part of our life. AMEEN