Eid Decor Ideas: Ramadan is halfway done, and Eid is just around the corner. Everyone is concerned about how they will decorate their place for Eid as it is such an auspicious occasion for Muslims around the globe. But there are some common hurdles that everyone faces.
For example, there are many ideas that have been executed to death and you don't really want to do the same décor over and over again. This is why we have compiled a list of amazing décor ideas for Eid this year.
How to Decorate Your Home for Eid?
These ideas will make your house look so much better and will definitely lift up the mood of everyone in these unprecedented times!
Get your notepad and start noting!
12. Take the Party Outdoors
If the weather is good, an outdoor Eid party is a fun and creative idea that everyone enjoys.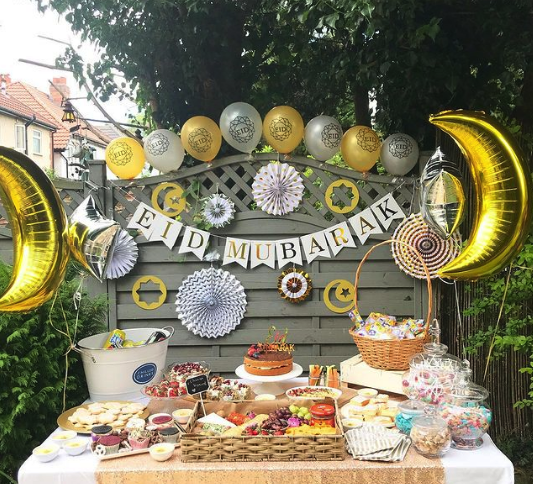 11. Use Fresh Flowers & Fairy Lights
Apart from balloons, fresh flowers and fairy lights are the easiest way to add life to any Eid party. I recommend buying some Crescent shaped fairy lights or Star shaped fairy lights that you can reuse every Eid. If you have some fresh flowers in the garden, just cut a few and arrange them on your dining table or Eid decor corner. These are the simplest things that can instantly add charm and grace to any Eid decor.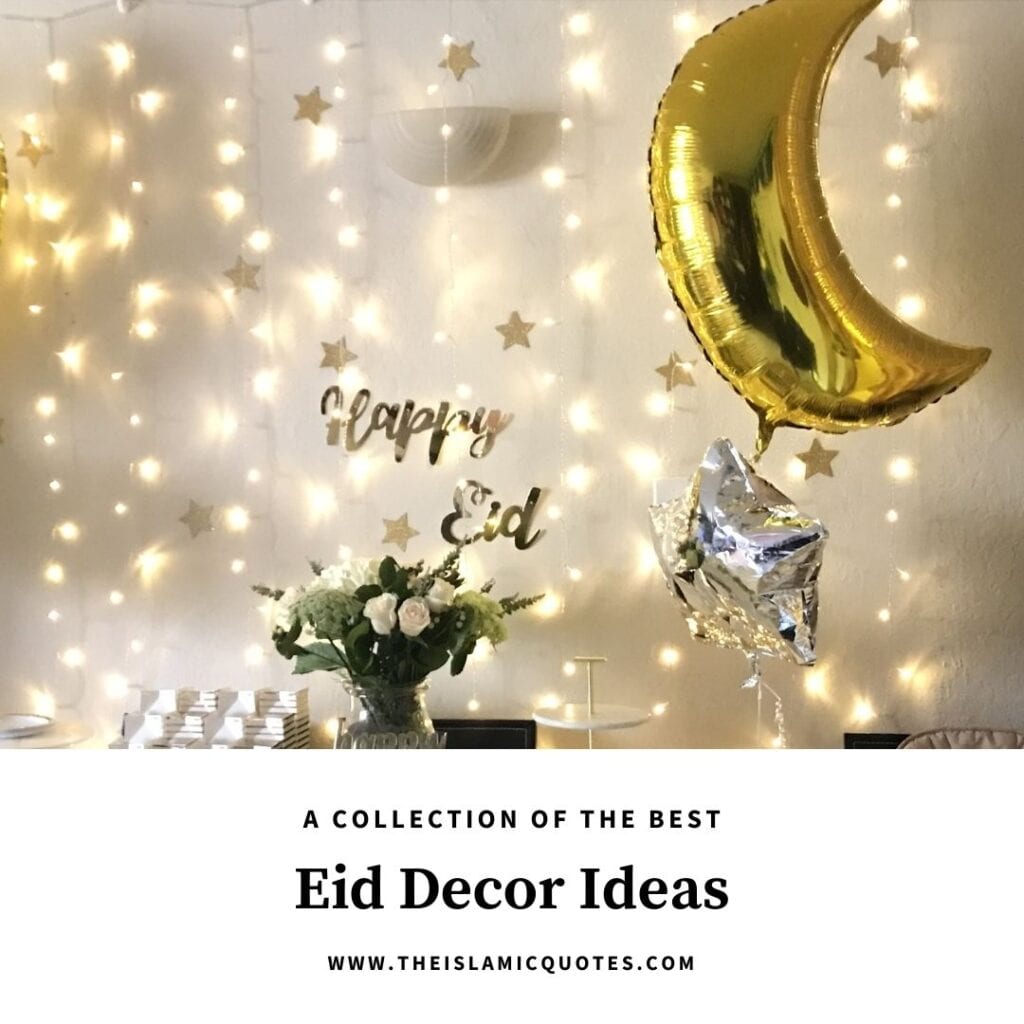 10. Make a DIY Eid Banner
Get the whole family together and make a new Eid banner for your home. There's nothing like an activity that brings us closer to our loved ones. Here are some more Halal Activities & Fun Islamic Hobbies to keep you busy during these Eid holidays.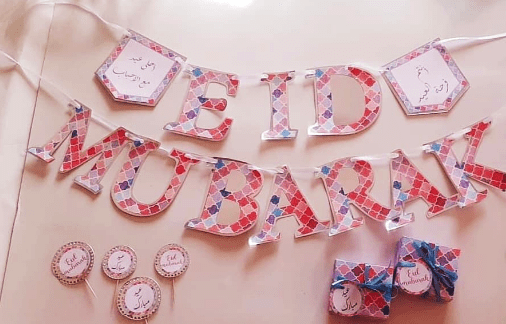 9. Eid Table Decor
How cute are these Eid themed paper plates and toppers! They can be the perfect way to brighten up your Eid table settings.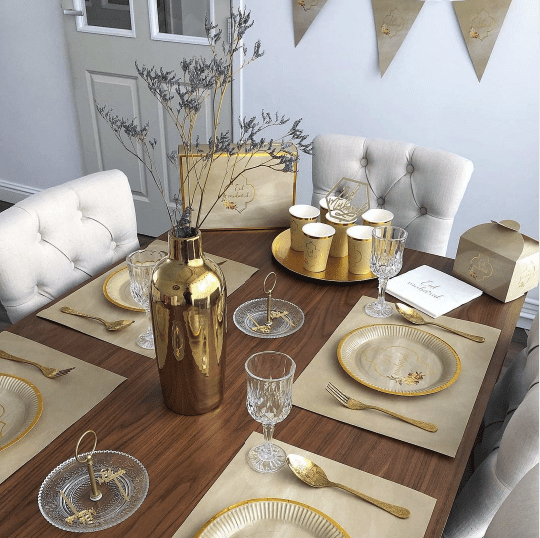 Here are some more of our favorite eid table set ups from Instagram: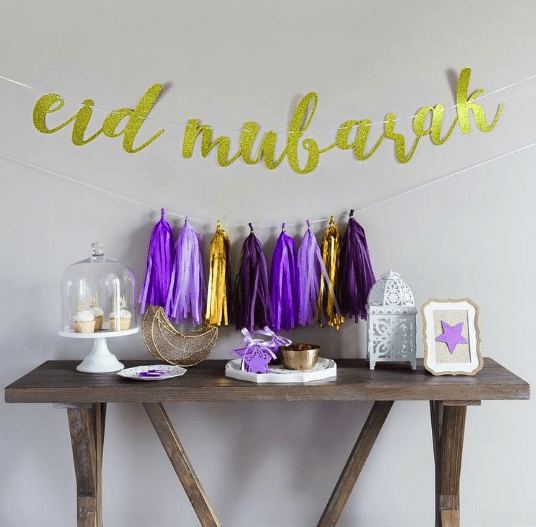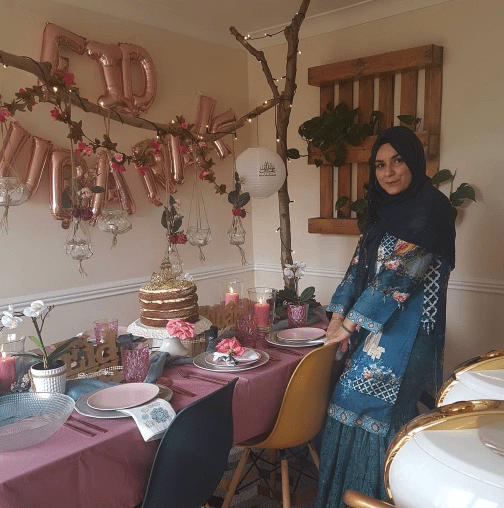 via
8. Minimal Décor with Balloons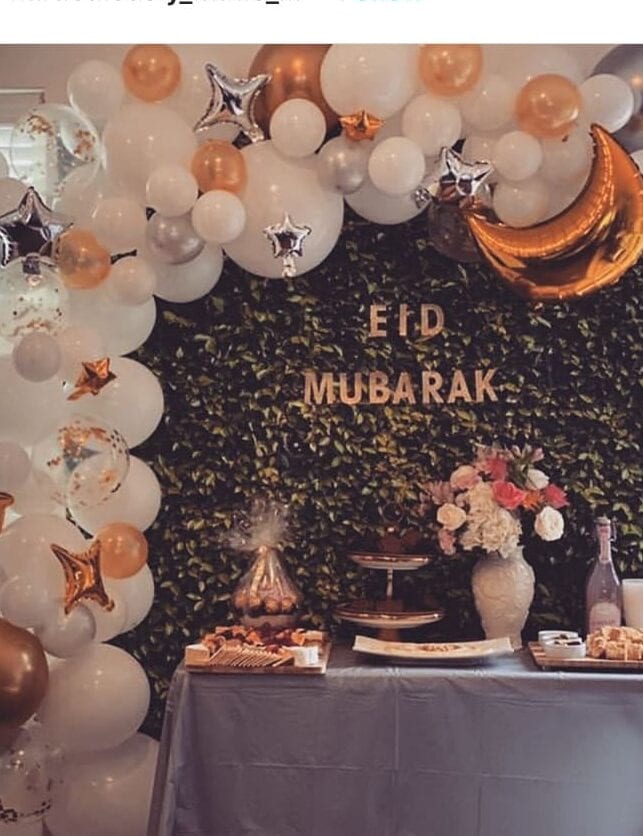 Let's start with something simple that you can get done without much effort. There are so many chores on Eid that people barely get time for the decoration. This is why this idea is a perfect solution to this problem.
Start with choosing a color for your theme and order some balloons off a website that will go with your living room and theme color. Ideally, a light color as summer is already here. Light colors will give you that calm vibe that you crave on a sunny afternoon!
Align all of the balloons on a rope or thread of your choice. You can stick the balloon using sticky glue or tape. After your balloons are aligned, stick that rope/thread to the wall, and you are done!
You can add some cards and fairy lights to your setup!
7. Eid Mubarak Balloons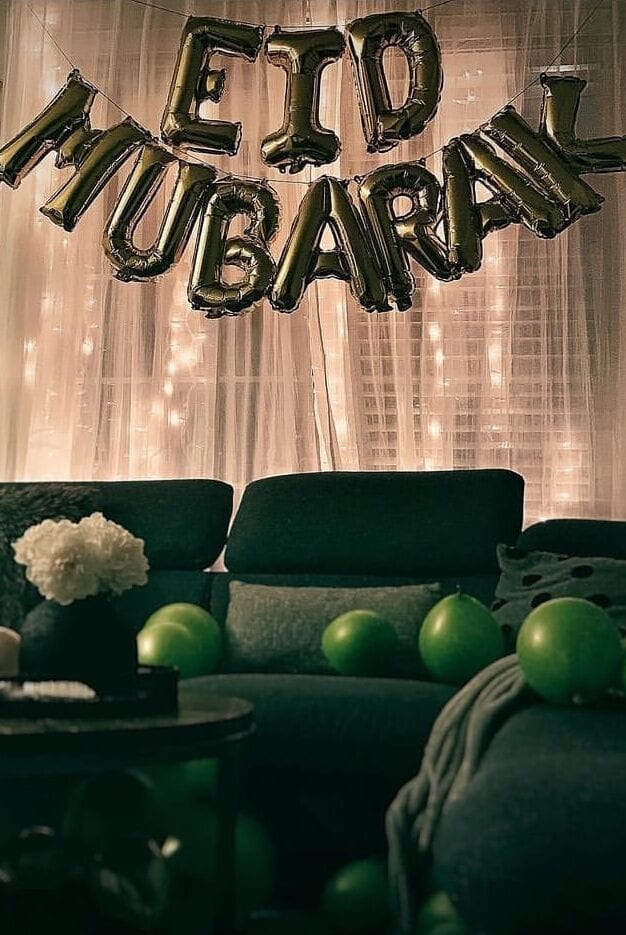 If you don't want to go along with the simple balloon and want to do something easy but innovative at the same time… Eid Mubarak Balloons will save your boat. You can easily get them from any website or shop. And sticking them up is even easier – just inflate the balloons and stick them on the wall with sticky tape or glue!
To make the setup prettier, add some fairy lights and vases – they will make sure the space looks more filled. A little effort can go a long way – unlike flowers and other décor ideas, these balloons and fairy lights will last you more than 3 days!
On top of this – your Eid pictures will come out even prettier with this simple and beautiful back drop.
6. Moon Shaped Platters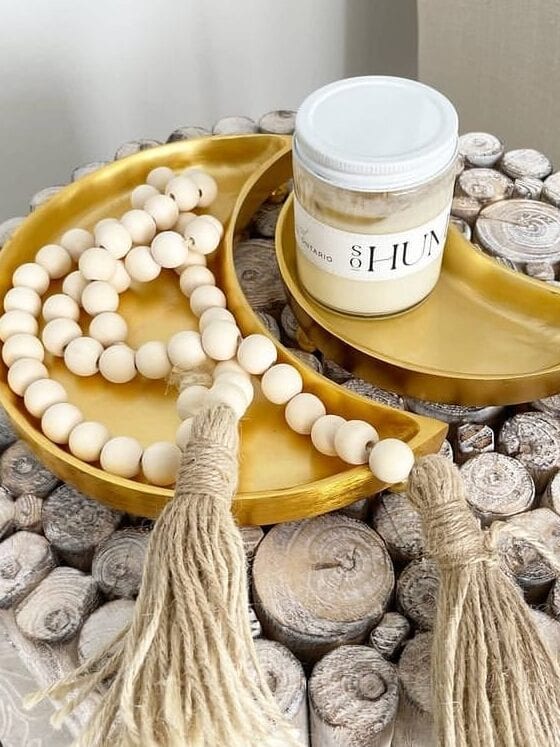 Simple items like the moon-shaped platters can make your Eid spread more beautiful and wholesome. The best part is that they are in trend these days. You can add these moon-shaped platters by rasm to your table to serve biscuits or sweets. Or utilize them for storing some Tasbeeh's for the family.
You can choose that according to your liking and they will surely make your décor more beautiful.
5. Prayer Corner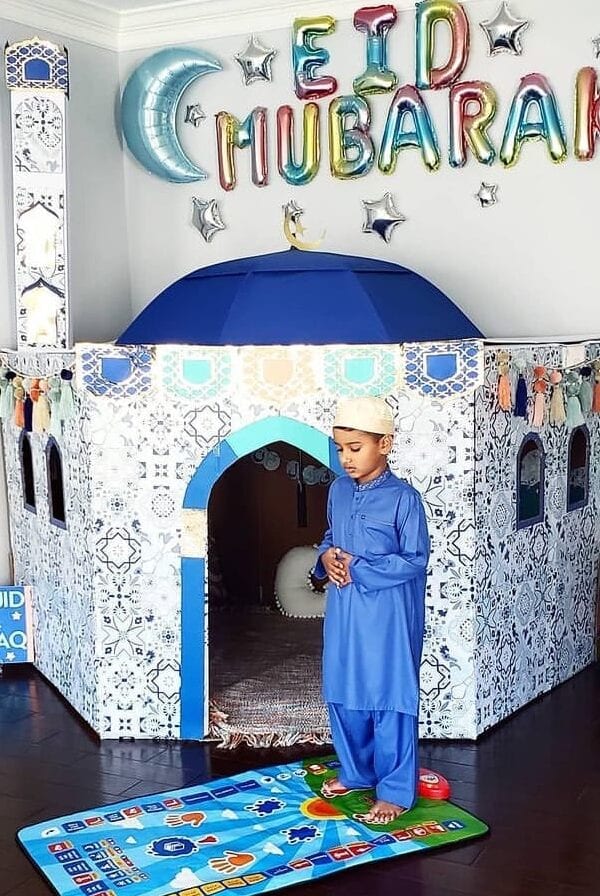 A prayer corner? Yes! Since the world is once again in distress – most of the mosques will be closed for the Eid Prayer. And the ones that will be open can be a super spreader for the virus.
Therefore, a prayer corner will a practical yet beautiful addition to your Eid décor. You can add some lamps and flowers in that corner. It will also make it interesting for kids and they will surely join the elders for the Eid prayer. So, it will be a win-win situation. Your family will remain safe, and your house will look stunning. Here are some more ideas on How To Make Kids Excited For Eid.
4. Add Sweet Boxes to Your Eid Table/Trolley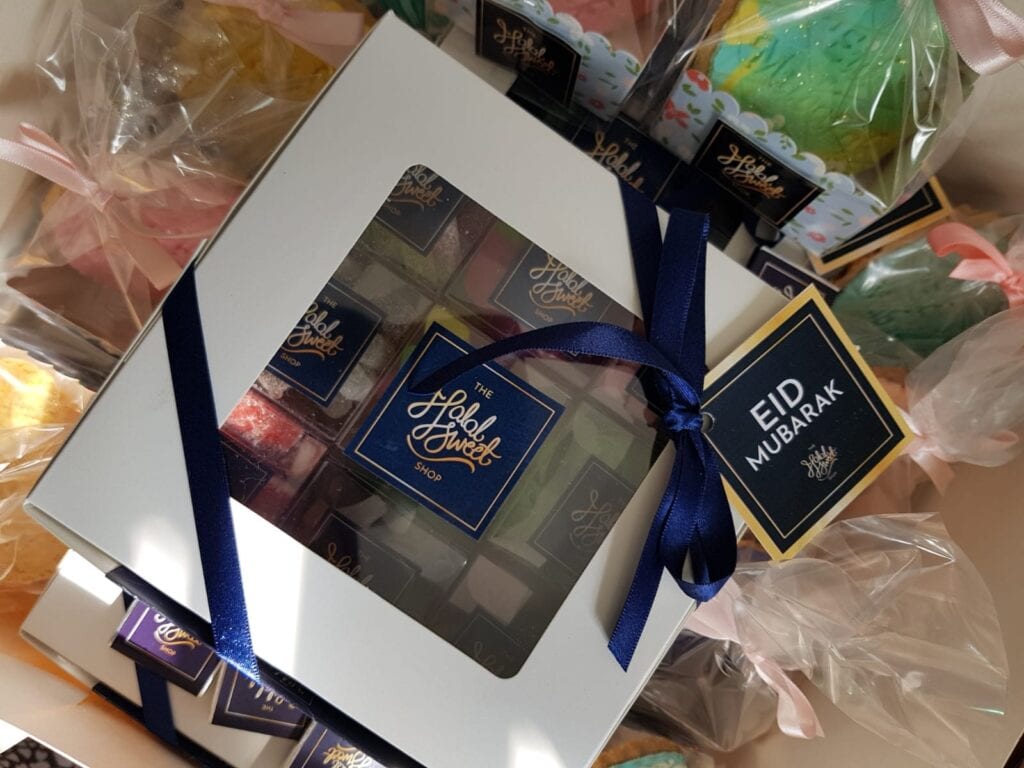 Everyone wants to send their loved ones something sweet to eat. But there is little to no attention paid to it – people use their simple Tupper wear to send food over. This time you can get your hands on some decorated boxes with Eid Mubarak written on them.
It's a small detail but will add to your Eid décor this year. Besides that, it's safer to send food over in disposable boxes rather than Tupper ware (Just pandemic things).
There are endless options to choose from on the internet. You can go for any theme you want.
3. Lanterns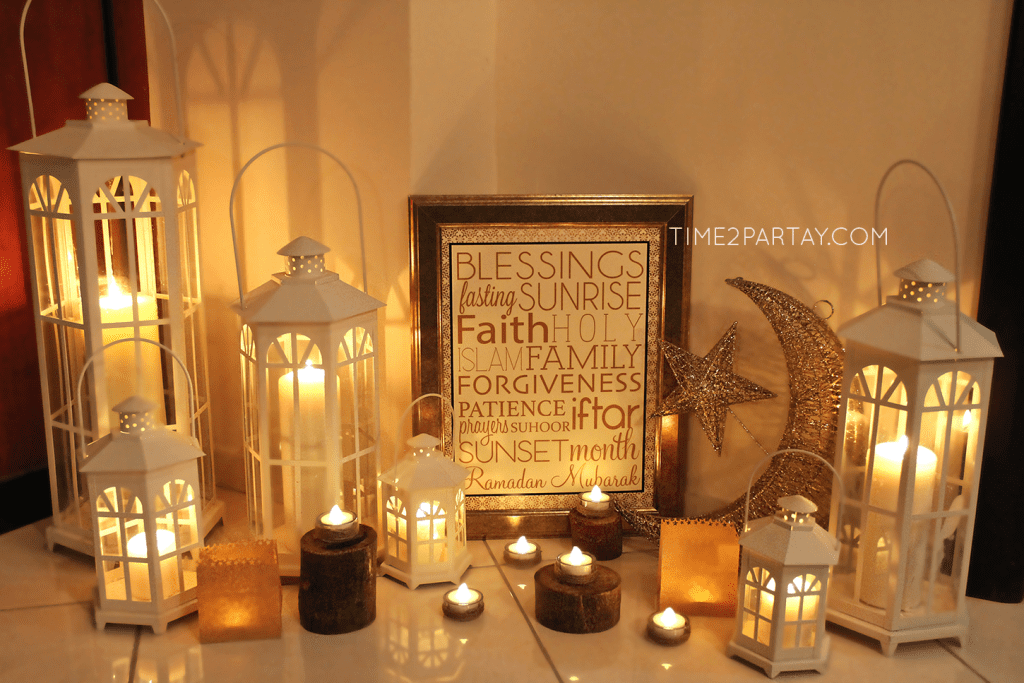 Lanterns may be centuries old, but they are still in fashion. You can utilize any type of lantern in your eid décor to make it more loyal. It doesn't matter where you put the lanterns as they can go pretty much anywhere.
Here are some ideas for your lanterns:
Put them on your bedside table

.
Place them in the middle of the dining table.
Make a corner with some snacks and use those lanterns to revamp the look.
2. Make Your Own Paper Décors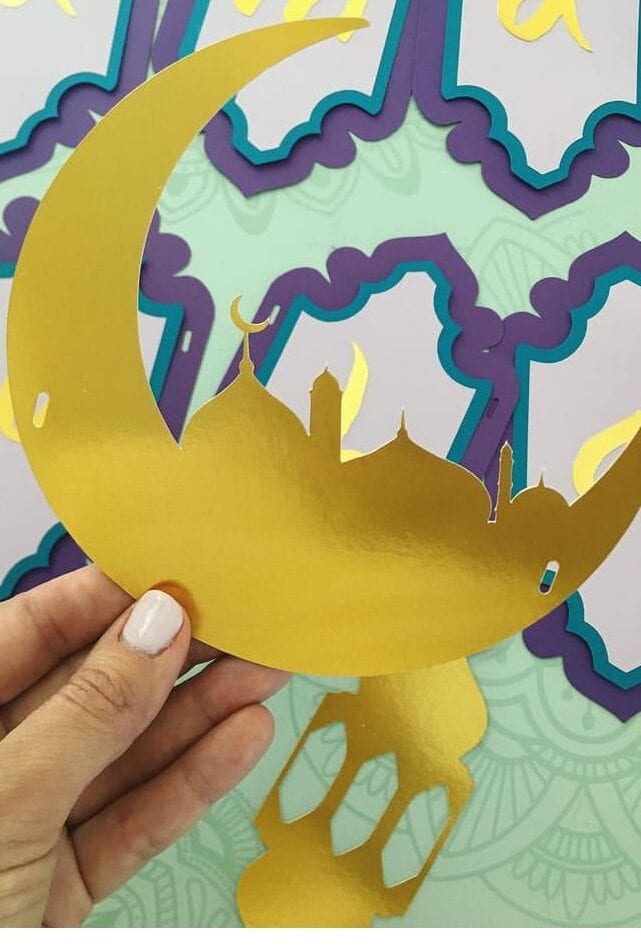 One of the most affordable and innovative décor ideas is to utilize paper in your décor. Look up on the internet and find some tutorials on YouTube. It can be a fun activity for your family and you can get the décor done too!
Use your imagination and cut out different shapes such as the moon, mosques, etc. after the cutting find threads and stick the cutting on them
And hand them around your house. These paper décor ideas are affordable and easy to make. And the best part is that you can use them every year. This will minimize your waste. Good for your décor, wallet, and the environment! Now that is a good deal.
1. Use Printed Cushions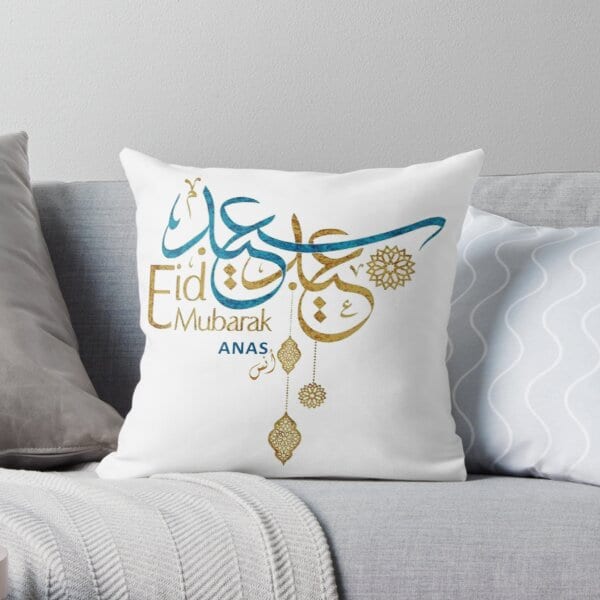 Believe it or not but most of the time of Eid is spent on couches while everyone eats and chats with each other. Therefore, adding customized cushions to your living room will be a beautiful addition to your Eid décor. They are affordable and practical.
These were some simple and affordable Eid décor ideas for your Eid this year. It is important to enjoy the process of decoration with your family so make sure you let the kids participate so they can rejoice on such an auspicious occasion.
Q. Where to shop for Eid decor items?
A. If you're short of time and energy for DIY decor activities and are wondering where to shop for the amazing items we've shared above, then I would recommend checking out Amazon or the Eid Party store. We've also tried to add links to most of the products mentioned in this article but if you still need help with anything, just leave us a comment below and we'll get back to you.