Islamic Duas and Quotes. The word dua in Arabic means 'calling', which in other terms mean the act of calling upon Allah (SWT). Dua is the most purest form of worship in Islam, a gift that Allah (SWT) bestowed on human beings.
It is like a source for a needy person where he is able to directly communicate with Allah Al Mighty, who is always willing to listen and help. Apart from the daily prayers, Muslims are encouraged to ask Allah for forgiveness, strength and guidance towards the straight path. Muslims can make dua or personal supplication in any language and in their own words but some of them are recommended examples from the Quran and Sunnah. Following are those examples;
Most Powerful Duas Every Muslim Should Know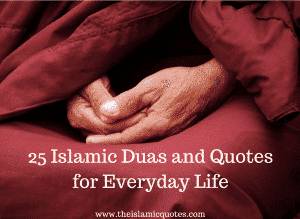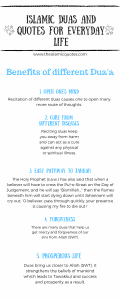 ↓25 – Dua Before Sleeping
اَللَّهُمَّ بِاِسْمِكَ اَمُوْتُ وَاَحْيَ

Translation: O Allah (SWT), with Your name, do I die and live. (Tirmidhi, Vol. 2, Pg. 178). Also have a look at these Islamic Quotes about Daughters.
↓24 – Dua When You Wake Up

Translation: All praise is due to Allah SWT who has given us life after death and to Him is the return after death. (Bukhaari Vol. 2, Pg. 934)
↓23 – Before Entering The Toilet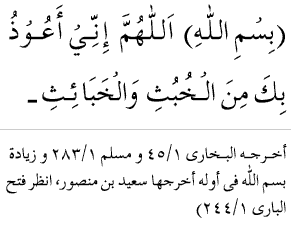 Translation: O Allah SWT, I seek Your protection from the male and female Devil. (Tirmidhi, Vol. 1, Pg. 3)
↓22 – After Leaving The Toilet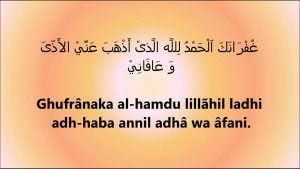 Translation: I seek Your pardon. Praise be to Allah (SWT) who removed from me discomfort and gave me relief. (Ibnu Majah, Pg.26)
↓21 – For Increase In Knowledge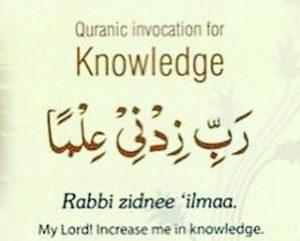 Translation: O My Lord, Increase me in knowledge. (Sura Ta'ha, S.20/V.114)
The benefit of reciting this dua will strengthen one's memory.
↓20 – Before Wudhu (Ablution)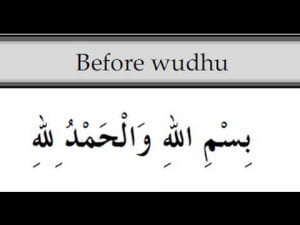 Translation: (I commence Wudhu), in the name of Allah SWT the Great and all praise be to Allah SWT (for keeping me faithful) in the Deen (religion) of Islam. (Majmauz-zawaaid)
↓19 – While Performing Wudhu

Translation: O Allah SWT, forgive my sins and grant me abundance in my home and blessings in my livelihood. (Amalul Yawmi wal Layla, Nasai, Pg172). Here are 35 Islamic Quotes About Greed.
↓18 – After Wudhu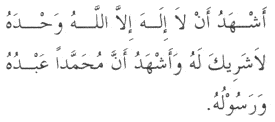 Translation: O Allah SWT, make me of the repenters and make me of the purified. (Tirmidhi, Vol. 1, Pg. 9)
The benefit of reciting this dua is that eight different doors of Jannah will be be opened for the one who recites this and he will have to chose which door he wants to enter from.
↓17 – Before Leaving The House
Prophet (SAW) said that whosoever recites this dua when leaving his home, then it is said to him (by the angels) "You shall be guided, your needs shall be taken care of, you will be protected and may shaytaan go far away from you." (Tirmidhi)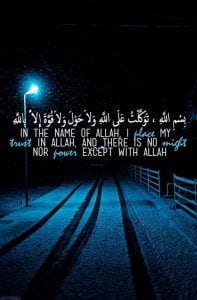 ↓16 – When Entering Home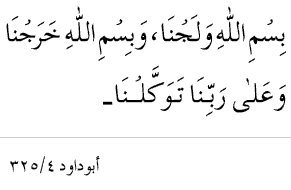 Translation: In the Name of Allah we enter, in the Name of Allah we leave, and upon our Lord we depend [then say As-Salaamu 'Alaykum to those present. [Abu Dau'd]
↓15 – Dua Before Meal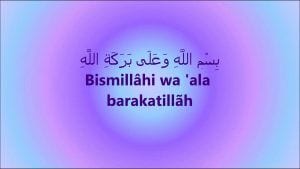 Translation: In the name of Allah (SWT) and upon the blessings of Allah (SWT). (Al-Hisnul Haseen Pg. 141)
↓14 – When Forgetting To Recite The Dua Before Eating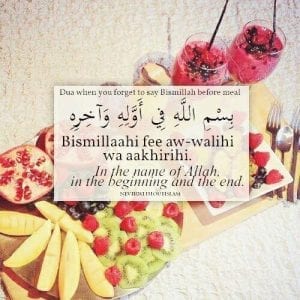 ↓13 – Dua After Meal
اَ لْحَمْدُ للهِ الَّذِىْ اَطْعَمَنَا وَسَقَاناَ وَجَعَلَناَ مِنَ الْمُسْلِمِيْنَ

Translation: All praise be to Allah (SWT) who gave us food and drink and made us Muslims. (Al-Hisnul Haseen Pg. 144).
Allah SWT becomes delighted to see his slave praise Him after the meal.
↓12 – Dua When Seeing Someone Who Is Facing Any Sort Of Hardship
Prophet (SAW) said, "If anyone sees a person who is caught up in any calamity (such as illness or some hardship etc.) then he should read the following dua and he shall be protected for the rest of his life from such an illness or calamity.
اَ لْحَمْدُ للهِ الَّذِىْ عَافَانِىْ مِمَّاابْتَلاَكَ بِهِ وَفَضَّلَنِىْ عَلىَ كَثِيْرٍ مِّمَّنْ خَلَقَ تَفْضِيْلاً
Translation: All praise is due to Al'laah Who protected me from that with which He tested you and Who definitely favoured me over much of His creation. (Tirmizi Shareef Vol.2 Pg.181).
↓11 – Dua for Entering A Mosque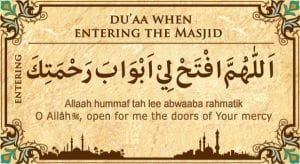 ↓10 – Dua When Leaving A Mosque

↓9 – Dua After Azaan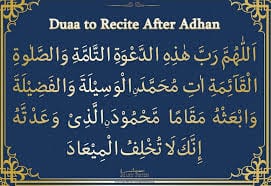 Translation: Oh Allah! Lord of this perfect call and this prayer to be established, grant Muhammad Al-wasilah (a high and special place in Jannah) and Al-fadheelah (a rank above the rest of creation) and raise him to a praised platform which you have promised him.
Jabir ibn Abdullah narrates that the Prophet (SAW) said, whoever recites the following when he hears the call (to prayer, i.e. after the Adhan) then my intercession for him becomes binding on the day of resurrection. Do have a look at these 50 Islamic Quotes about Success with Images.
↓8 – Dua for Travelling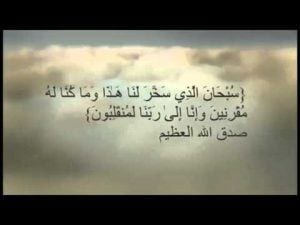 Translation: Glory be to Al'laah who has given us control over this (mode of transport) and without his Grace, we would not have been able to control it and undoubtedly we are to return towards our Lord. [Tirmizi, Abu Dawood]
There is always a matter of safety when it comes to traveling, so it is very important that one asks for safety from Allah (SWT) before traveling.
↓7 -Dua When Looking In The Mirror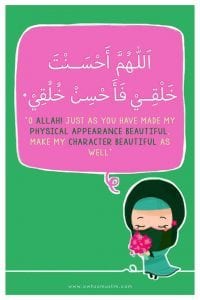 ↓6 -Dua When Wearing New Clothes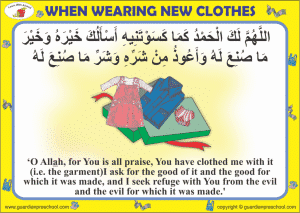 ↓5 – Dua After Drinking Milk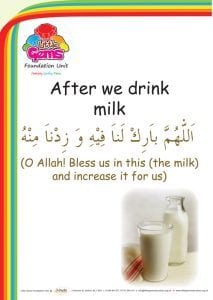 ↓4 – Dua When The Rain Falls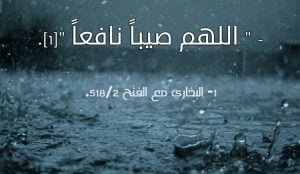 Translation: O Allah SWT, do send upon us beneficial rain. (Bukhaari, Vol. 1, Pg. 140)
↓3 – Dua When A Loss Occurs

Translation: Surely we belong to Allah SWT and to Him is our return. (Muslim, Vol. 1 Pg. 300)
↓2 – Dua for Difficult Situation
                                               لَا إِلَهَ إِلَّا أَنْتَ سُبْحَانَكَ إِنِّي كُنْتُ مِنَ الظَّالِمِينَ
Translation: O Allah, there is none worthy of worship besides You. You are Pure, definitely, I have oppressed my soul by sinning.
The Qur'an states that these words were recited when Yunus (A.S.) called upon Allah from the belly of the fish. Prophet Mohammad (S.A.W.) states that when a Muslim recites this dua and asks for something from Allah Al Mighty, He surely accepts it.
↓1 – When Sad Or Depressed
لَا إِلَهَ إِلَّا اللَّهُ الْعَظِيمُ الْحَلِيمُ، لَا إِلَهَ إِلَّا اللَّهُ رَبُّ الْعَرْشِ الْعَظِيمِ، لَا إِلَهَ إِلَّا اللَّه السَّمَوَاتِ، وَرَبُّ الْأَرْضِ، وَرَبُّ الْعَرْشِ الْكَرِي
Translation: There is no god except Allaah, the All-Mighty, the Forbearing; there is no god except Allaah, the Lord of the Mighty Throne; there is no god except Allaah, Lord of the heavens, Lord of the earth and Lord of the noble Throne. (Al-Bukhari 8/154, Muslim 4/2092, )
In al-Saheehayn it was reported from Ibn 'Abbaas that Prophet (SAW) used to recite this dua when he felt distressed or worried.