The Best Islamic Apps for Muslim Children. Technology, when used appropriately, can be a source of reward and blessings. Ramadan is here and the best way to get your kids to plug out of all the videos they watch on the screen is to use that screen time for something much better – Islamic apps that are specifically designed for kids.
As parents, we know what a tantrum for the phone or iPad looks like, so what better way to manage that time than to get your kids to do something productive?
What Islamic Apps Should You Download For Kids & Toddlers?
Whether you want to download the apps on android, iPhone or iPad, we have something for everyone including lots of Free Applications. Here is a list of the top ten Islamic apps for kids that we have handpicked for your kids to use this Ramadan instead of watching video after video on YouTube. Yes, you're welcome.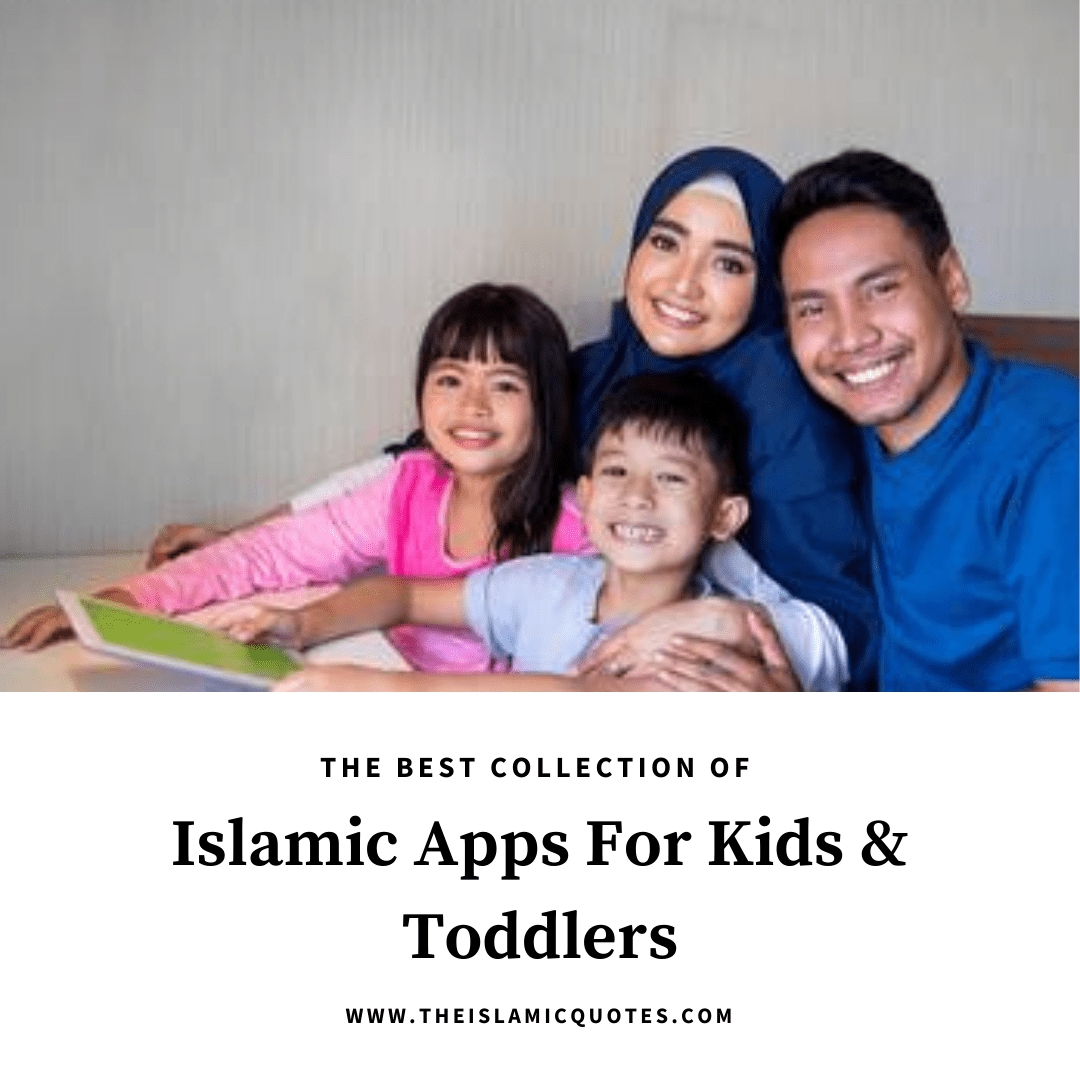 Ali Huda

The Seerah of Prophet Muhammad (PBUH)

Ali and Sumaya

Muslim Kids Series: Mufradat

10 Surahs For Kids

Islamic Quiz Games

Muslim Kids Series: Dua

Zain's Sing-Along

We're Little Muslims 

Noor Quest

99 Names

Muslim Kids TV
These apps will help your kid learn in a way they have never done before. Read below for the top ten apps you can download for Muslim kids.
12. Ali Huda
This is the Netflix for Muslim kids. If you're worried about your child being exposed to immoral content on Youtube or Netflix, then you need to download this app. It is a VOD streaming service where thousands of Islamic videos are available including Islamic songs, stories and shows that can increase your child's Islamic knowledge or help them learn the Arabic language.
A variety of great quality content is available.
Reasonably priced packages.
Series are available in many different languages including English and Urdu.
It's not as efficient in terms of performance or streaming experience as Netflix or other similar high-budget platforms, but we're hoping that the developers will keep on improving it.
11. The Seerah of Prophet Muhammad (PBUH)
This is a wonderful app that takes kids through 7 chapters of the life of the Prophet Muhammad (PBUH) and narrates authentic stories in an engaging and child-friendly manner.
Children will learn virtues like honesty, courage, and kindness.

Each character has a separate voiceover and the story takes you and your child through stunning visuals on an interactive interface.

It is recommended for all children (and even parents) as they learn about the life of the Prophet (PBUH) and engage in a discussion of how they can incorporate lessons from his life into theirs.

This app is only available on the App Store, so Android users would have to wait a while before they can also reap the benefits of this story-telling app.
Available On App Store For Free
10. Ali and Sumaya: Let's Pray!
This app is essentially an online classroom for Muslim kids as the app's two characters, Ali and Sumaya, take them through the basics of prayer and ablution.
The app guides children step by step through the different actions and even has a quiz to test their learning.

It was developed by Imanimation Studios Ltd. and does not use any musical instruments (a great improvement over other Islamic apps!).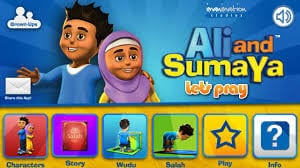 The only drawback that people seem to consider is the fact that it is not free. Otherwise, it is an excellent learning tool to help little Muslims perfect their prayer – the second most important pillar of Islam.
Available On App Store For Free
Available On Play Store For Free
9. Muslim Kids Series: Mufradat
This is a very simple, very cute app with simple illustrations to help your kids learn the Arabic language.
For each word, there is a picture, an Arabic word, and a voiceover in a kid's voice to help your child read along and learn spellings and pronunciations.

It has been designed as a fun app to help children learn better.

It includes coloring and matching, too, to really pique your kid's interest in the language of the Qur'an.

As parents, we all want our children to learn Arabic and understand the Book of Allah, and this app will bring your child one step closer to that.
Available On App Store For Free
8. Surahs For Kids
As your child grows, you should teach them surahs from the Qur'an to help them in their recitation in prayer and also to initiate their learning of the Qur'an.
The app, 10 Surahs For Kids, acts as a Qur'an tutor and helps your child memorize the last ten surahs of the Qur'an which are short and easy for kids to learn.

It also awards kids certificates as they tick each surah off and also highlights the importance and rewards of each surah.

A great way to facilitate the early Islamic learning of your kids!
Available On App Store For Free
Available On Play Store For Free
7. Islamic Quiz Games
This is a game designed to direct the competitiveness in children towards a positive channel.

The game presents three challenge levels: play until you get it wrong, speed-answer questions in a rapid-fire game, or answer all questions.

Your child can engage 4 other players and they can have a healthy and educational competition to see who scores the most and has the greatest knowledge of Islam.

Not only does this increase their knowledge, but it also makes for a fun activity.
Similar App On App Store For Free
Available On Play Store For Free
6. Muslim Kids Series: Dua
This a great guide to teach your kids the basic and essential duas and supplications for daily tasks. The duas come with cute illustrations and audios to reinforce the child's learning. Learning these supplications is something that will stay with your children for life as protection and guidance, and it can be done in an easy, hassle-free manner. 
The app is useful for not just kids and toddlers but also teens and adults.
Pictures and animation make it easier for kids to learn the duas by heart.
References have been added to ensure the authenticity of duas.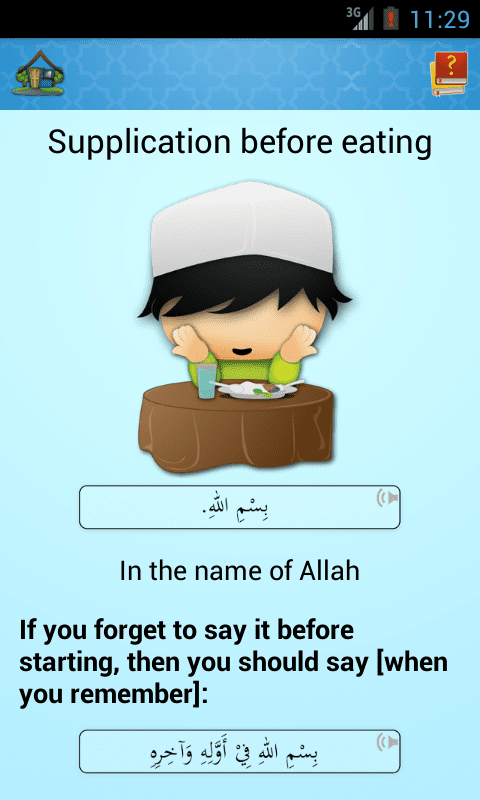 The addition of transliteration would make the app even better in my opinion.
Available On App Store For Free
Available On Play Store For Free
5. Zain's Sing-Along
Zain Bhikha is a famous voice artist who has sung hundreds of spiritual and educational nasheeds for children and adults alike.
In this app, Zain Bhikha takes children through a sing-along journey as he invites them to sing some Islamic songs with him.

The app even includes a game to help children learn essential Islamic values in a fun way which they will remember for life.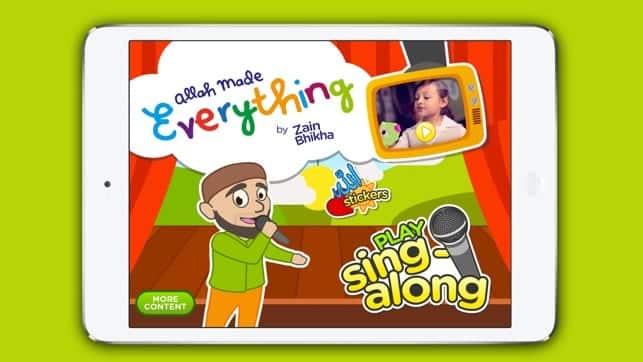 Available On App Store For Free
Not Available On Play Store For Now
4. We're Little Muslims
We're Little Muslims is an extensive app that includes games, quests, quizzes, and so much more. It can be played by children and parents both and includes engaging and fun visuals. The app focuses on the important aspects of child development: physical, social, intellectual, and emotional. The game's characters, Faatimah and Ahmed take your children on quests, each of which covers one or more of these 4 aspects.
It is based on the best-selling book of the same title so if your child is not into reading, he/she might enjoy the app more. Or it may encourage the child to read the book too.
With lots of fun activities, this can keep the kids occupied for hours.
It is suitable for kids of all ages.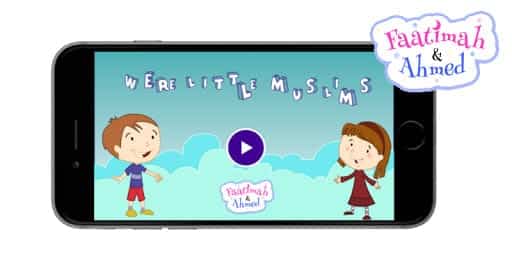 Available On App Store For $ 0.99
3. Noor Quest
Noor Quest is a game app that's for Muslim space kids. It introduces Arabic letters in a fun way: through games. It takes kids on a quest with 5 Muslimnauts as they try to recover the missing pages from their Qur'an. It includes funky sounds and even a space masjid for the little Muslimnauts to pray in – after all, you can't miss a prayer, can you?
The game makes learning fun and interactive and your kids will be sure to love the app. 

Arabic language is introduced in a very fun and interactive way so kids and toddlers can learn without getting bored.
The graphics and sound effects are really good.
It's a paid app but the price is negligible, and considering the fact that we spend hundreds of dollars a year on our kid's toys and books, this is surely a worthy investment.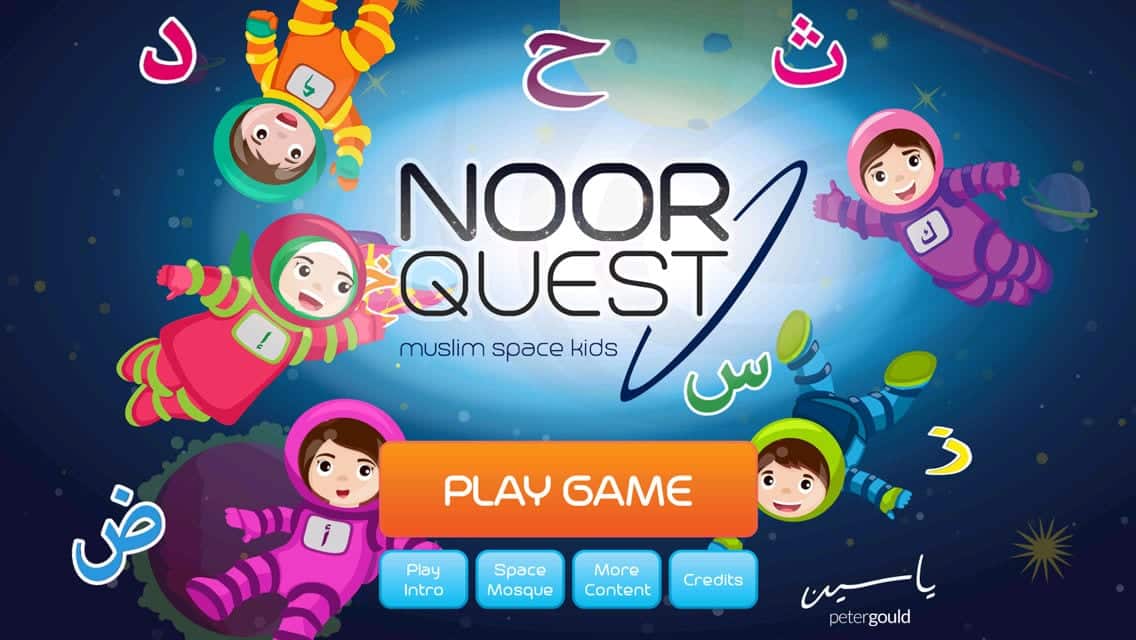 Available On App Store For $0.99
Available On Play Store For $1.99
2. 99 Names
Allah loves it when His believers invoke Him with His attributes and His names and there is also a huge reward for the person who learns these 99 names. That's why parents want their children to memorize the 99 names of Allah.
This app makes it very easy for children to learn the names on their own.

An audio and visual combo helps children learn the Arabic spellings and the names in a fun way.

You learn the good deeds that you can earn by reciting a particular name of Allah.
The font can be improved for better visual effect but it's still a truly enjoyable app for knowledge and learning.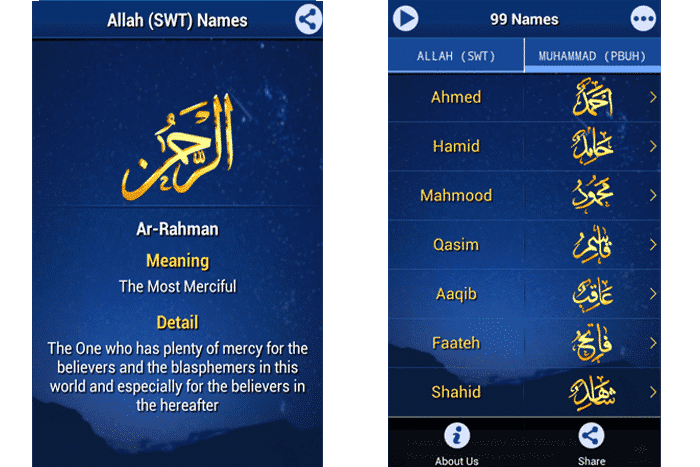 Similar App Available On App Store For Free
Available On Play Store For Free
1. Muslim Kids TV
This App had to be the number one on our list for a number of reasons:
It's available to download for free though there are certain in-app purchases, however, you can also sign up for the free 14-day trial to test the app and decide if it's worth paying for the complete features.
The animation for stories is really good.
Kids can learn lots of stories about the Prophet and his companions through interactive and entertaining story-telling.
Some drawbacks of the app are:
To truly enjoy the app, you need to have high-speed internet as otherwise, the browsing will be too slow.
Many stories are in Arabic language only but the developers are working on English versions too.
Available On App Store For Free