Islamic Youtube Channels for Kids: Internet and conventional media have made the dissipation and communication of information much less of a hassle. However, religious topics and teachings require much more attention.
An intricate balance of accuracy and ease of understanding is required when communicating religious concepts and history. This is even more important and significant when it comes to children.
What Are Some Youtube Channels for Kids to Learn About Islam?
Islam and its teachings are flexible and timeless. In the age of electronic media adapting is not only a necessity but the natural course of action. The benefits of this are best observed in the rise and overwhelming dominance of YouTube, especially its growth as an educational platform. I would also recommend that you go through our earlier post on Best Islamic Apps & Games For Muslim Children Of Any Age.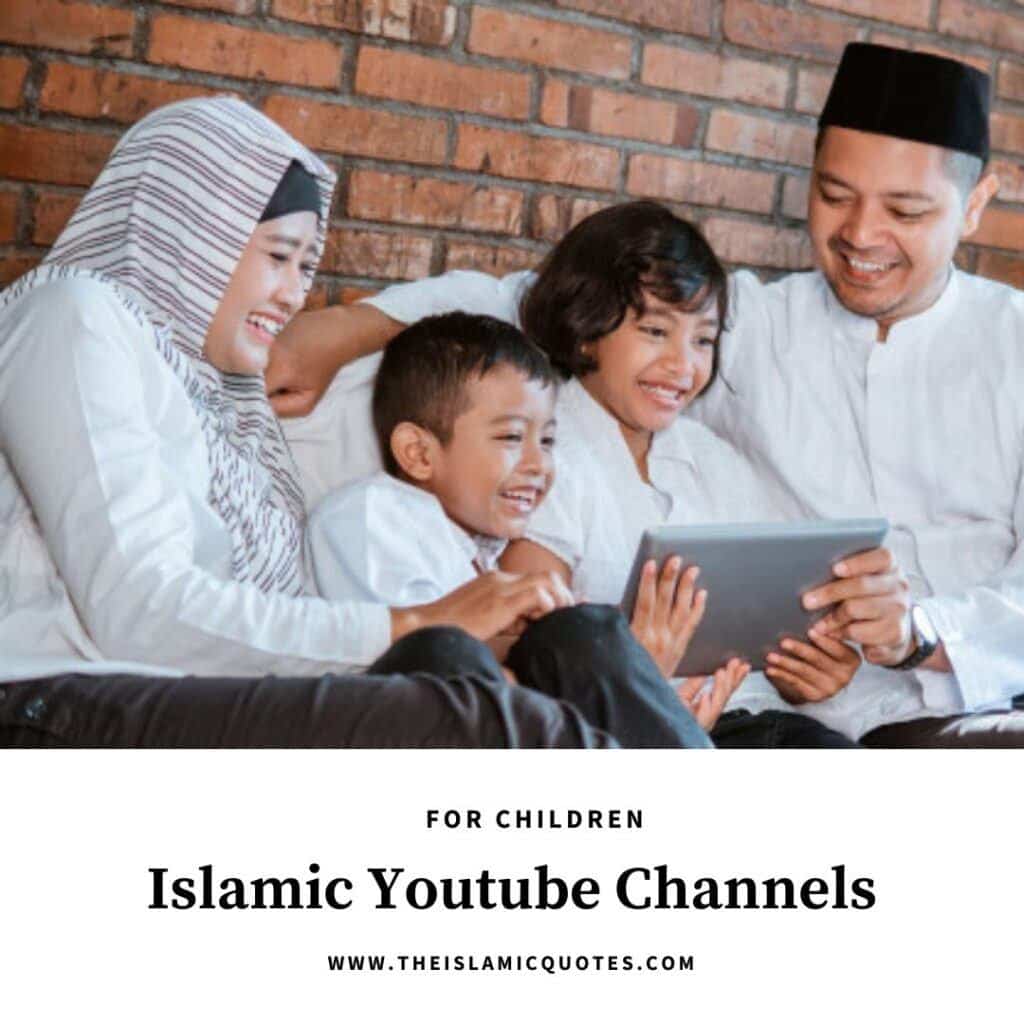 Below are 11 Islamic YouTube channels that aim to educate Muslims of all ages, but children and teenagers, in particular, will especially find it helpful:
Purpose-driven lyrics and catchy melodies are the highlights of this channel that has been created for young Muslim children. These videos are an amazing way to instill the love of Allah and His Prophets in the hearts of children from a very young age.
Founded by Dawat-e-Islami, this channel creates cartoons, poems and animated series that are all aimed to provide kids with Islamic knowledge and entertainment at the same time. Most of the videos are in Urdu language.
If you're looking for Islamic videos for kids in Urdu language, then this is definitely the best place for you. The kids can join Saad and Sadia on numerous adventures as they improve their Islamic knowledge. There are also many other interesting characters and their series so kids can relate to and learn from them, such as Ghulam Rasool, Kaneez Fatima and Raiqa.
Other than that, they also make it fun for kids to learn the Arabic language and if that is something you're interested in, you should also go through this list of the Best Places for Online Quran Classes.
This is a non-profit animation studio that makes fully animated Islamic videos so the kids around the world can improve their knowledge of religion.
My personal favorite from their videos is the Dua series in which a number of important duas for kids are mentioned. Other than this, they also teach the history of Islam in a very well-explained manner so the children can develop their interests.
On this channel, you will find the most beautifully animated videos on stories of different prophets including Prophet Muhammad PBUH. This is a great way for kids to learn about Islamic history, the habits and manners of the prophets and it will also encourage them to make these habits a part of their own lives.
There are hundreds of lessons about kindness, brotherhood and obedience of parents that kids can learn from these stories.
"Free Quran education" is a YouTube channel as well as a non-profit Animation and Illustration Studio based in Jakarta. It joined YouTube in 2010 and since then has amassed more than 95 million views. They have side channels in other languages such as Arabic, Hindi, Chinese, and even German that translate their English videos into those respective languages. They have a subscriber count of 1.18 million and have more than a thousand of both short and long videos.
The videos are beautifully illustrated and animated in appealing colors and designs. The videos often use excerpts from other scholars' video and audio clips but also use their narration as well sometimes. The studio and its animators aim to bring Islamic education to mainstream media, making it appealing and comprehensible, all the while keeping the videos free and accessible. They started with the goal of 1 new animated video every week and are now producing one new video almost every day and showing no signs of slowing down. The animations are specifically targeted at children but adults, especially new converts will also find them as useful reminders in our daily lives.
Muslim Kids TV is an educational platform and streaming service that primarily makes cartoons, video series, and games to make Islamic learning fun, interactive and entertaining. They also have a YouTube channel that features some of their video series like "hurray for baba Ali" and some songs and jingles for children. Their YouTube channel is comparatively small in following with less than 70 thousand subscribers and not even reaching 100 million channel views. Their videos are short and informative.
However, they function primarily as an entertainment and education company for children that air their video series on live tv and through revenue generated from subscription fees that they charge for accessing their entire library of games and videos.
Keeping kids busy with the right activities is definitely a very difficult task, especially for first time parents which is why I recommend that you go through these Top Islamic Movies To Watch With Your Kids.
One4kids is an animation company that was started in 2006 and focuses on children's education through an entertaining medium. It prioritizes creating halal and appropriate alternatives to existing children's entertainment. The fictional character 'Zaky' is their brainchild and prized creation and is adored by many children around the world. He teaches manners, ethics, and values to children in a friendly outlook.
It implies the streaming service business model across a variety of apps and an online live tv channel. It has a library of several animated films and songs to choose from. Its YouTube channel is fast-growing ever since its creation in 2008. It has close to 900,000 subscribers and has amassed above 400 million views on the channel. It also has a side channel in Arabic.
This channel and the series are innovative where it teaches Islamic fundamentals and concepts through the daily life and adventures of a brother and sister. It is a recent show which debuted in the Ramadhan of 2017 and has been a fan favorite for many kids. It is watched in almost 50 countries around the world through the internet and even satellite tv in Malaysia, where it was conceived and is based in.
The story of Omar and Hana is available in other languages like Urdu and Arabic as well. Along with an interesting set of characters like 'Ustaz Musa' and 'Sufi', the adventures of Hana and Omar have been very successful which can be seen in the growth of their YouTube channel in a short amount of time. There they have more than 700,000 subscribers and have reached the milestone of more than 300 million views.
The merciful servant is one of the most successful Islamic channels on YouTube that relies on evoking imagery and videos in high quality and intentional and creative editing techniques.
This makes the audio clips of notable Islamic scholars that are either recalling a story from Islamic history, answering questions, giving a sermon, reciting the Qur'an or Nasheed. They also use Islamic audio clips to give more impact to what is being said. The content can be consumed by teenagers and young adults.
The merciful servant channel was launched in 2010 and sorely relies on income generated by YouTube ads and through Patreon funding. It has surpassed 3 million subscribers on YouTube and is close to reaching the milestone of 4 million subscribers. Has amassed almost 700 million views and has videos of both medium and long videos.
It serves the purpose of educating Muslims about the Qur'an and Sunnah. The content, however, unlike previous recommendations may not be suited for young children but teenagers and young adults as the level and grade of the language are better suited for them.
The most notable and influential of these channels is Bayyinah TV which is headed and powered by Nauman Ali Khan. He is an Arabic linguist and specializes in the language of the Qur'an. Through his lectures, khutbahs, and live streams, he discusses and analyses in-depth the complexity and beauty of the language and structure of the Qur'an. His lectures are long. He not only discusses and attempts to deepen our understanding of the Ayaat of the Qur'an but also realign and adjust modern social, political, and cultural thoughts and concepts with the aid of the Qur'an and Sunnah.
Bayyinah is not just a YouTube channel but a vision and an educational dream of its creator to make the language of the Qur'an accessible to everyone across the globe. Therefore, it has also established itself as an educational institution where the Arabic language is taught with a key focus and emphasis on the language and style of the Qur'an.
It was started in 2009 and has now grown to 1.15 million subscribers and 125 million channel views. Due to the complexity of the videos on the channel which go about a more technical approach to the study of Islam, younger children might not comprehend and grasp the topics, but it is best suited for teenagers and young adults.
Summing up, Youtube is no longer a place that adults need to keep away from kids. Of course, supervision is essential but there is also so much for kids to learn from Youtube so let's make a conscious effort to ensure that our kids use it for the right purposes and learn from it.