Things to do in Medina: Who doesn't want to explore the world with all its beauty and splendor? Where there is the gorgeousness of Mother Nature, there are metropolitan cities that never sleep. However, as Muslims, our hearts are naturally inclined towards gaining a traveling experience that is spiritually pleasing and equally entertaining. One place that easily fulfills the criteria is the second holiest city in the world, Medina (Madinah).
Al Madinah Al Munawwarah (The Enlightened City) is as admirable to the believers of Islam as it was beloved to our Prophet Muhammad (Peace and blessings be upon him) and his companions. Yes, it was the town to which the Prophet (PBUH) migrated, but later on, it became well-known for housing the first Muslim community of Muhajirun (Emigrants) and the Ansar (helpers).
What are the Best Things to do in Medina?
For the lucky travelers who are planning to visit this peaceful city, here are eight things to guide you to a perfect stay in Medina: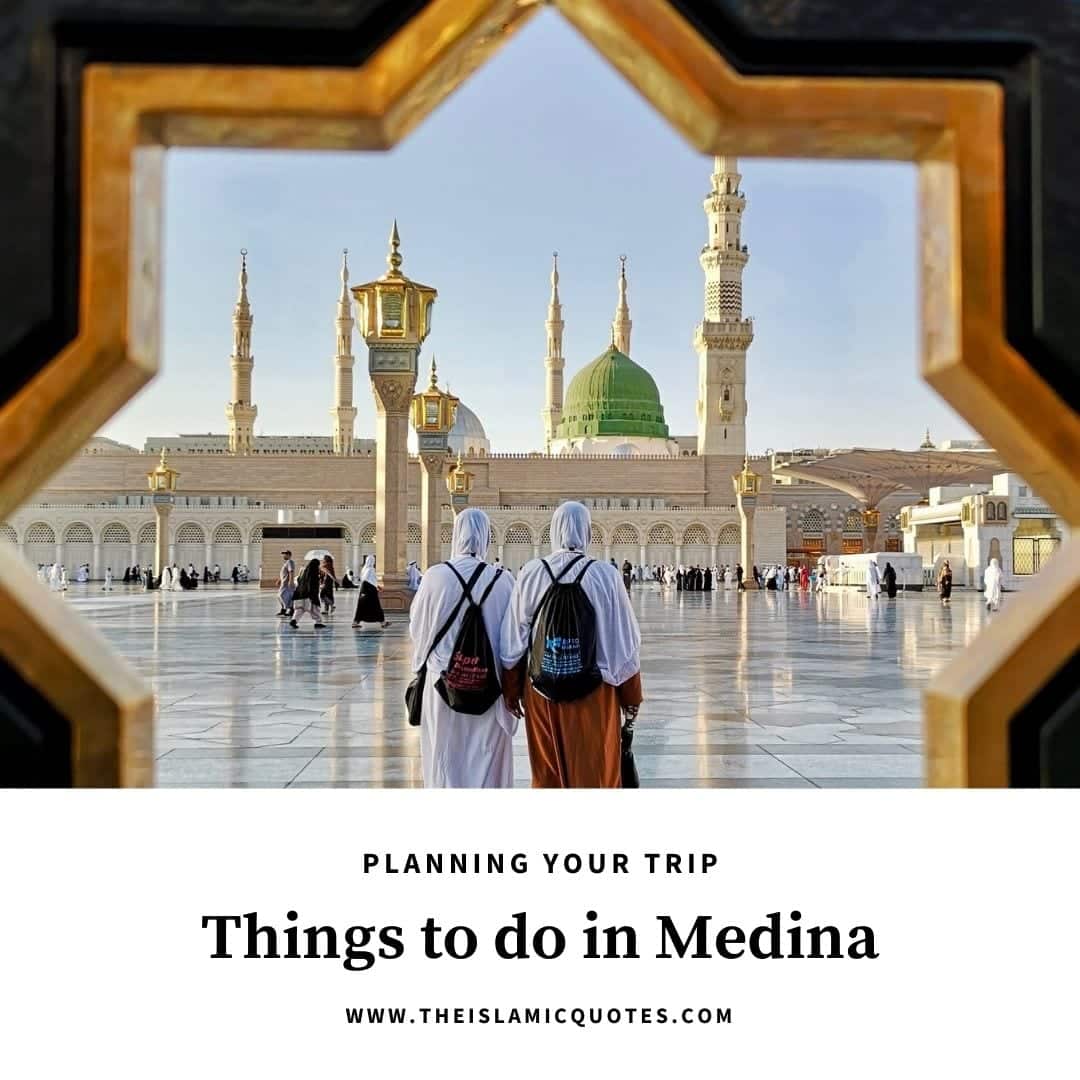 Book the best hotels:
When embarking on a journey, finding comfortable accommodation with nice clean rooms and ample facilities is everyone's number one priority. The best thing about Medina is that you can find hotels anywhere according to your suitability. Most of the tourists that come to visit are pilgrims, and they come with only one request that their hotels should be near Al-Masjid an-Nabawi. The Oberoi, Dar Al Taqwa, Madinah Hilton, Anwar Al Madinah Movenpick Hotel, Shaza al Madinah, and Dar Al Iman Intercontinental are few names topping the list. For those searching for budget-friendly options, Crowne Plaza Madinah, Pullman Zamzam Madinah, and Elaf Taiba Hotel are pleasant places to stay. If you love traveling, I highly recommend that you go through these Top 10 Muslim Countries You Should Visit.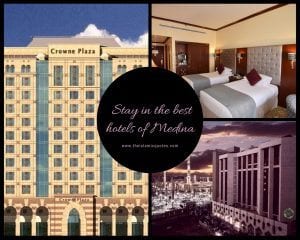 Indulge yourself in worship in Al-Masjid an-Nabawi
Once you are all unpacked, it's time to visit the glorious Al-Masjid an-Nabawi or Mosque of the Prophet (PBUH). Such is the captivating aura of this mosque that it always receives teary-eyed greets of Muslims, which overwhelms their hearts with joy, devoutness, and love for our Last Messenger (PBUH). Offering Salah (prayer) in this structure of magnificence is a wish of every Muslim. That is why Allah Almighty has reserved huge rewards for His servants who pray in Al-Masjid an-Nabawi Maimunah (R.A), the wife of the Prophet Muhammad (PBUH), said:
"I heard the Messenger of Allah (PBUH) say: 'One prayer in this Masjid of mine is better than a thousand prayers in any other Masjid except Al-Masjid Al-Haram." (Sunan an-Nasa'i 2898)
Make the pilgrimage to Rawdah Mubarak
To stand in the same vicinity where Allah's Messenger (PBUH) used to live, and worship is an out-of-the-world feeling. That is why touring Rawdah Mubarak or the Sacred Chamber is something every Muslim looks forward to while visiting Medina.
Rawdah Mubarak is the highlight of Al-Masjid an-Nabawi and is characterized by the iconic green dome. It is the burial place of Prophet Muhammad (PBUH), the room in which he (PBUH) passed away, in the house of his (PBUH) wife Aisha (R.A). Besides the grave of the last Messenger (PBUH), the chamber also houses the tombs of two Caliphs, Abu Bakr (R.A) and Umar (R.A).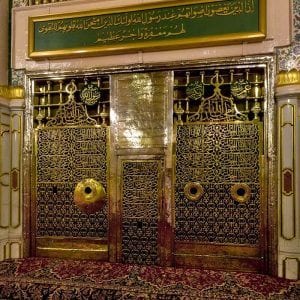 The Sacred Chamber is usually crowded with visitors throughout the year and especially in the post-Hajj season. While there is no restriction for men except Salah times, women are allowed during three times only, at sunrise after Fajr prayer, after Dhuhr prayer, and then after Isha prayer. However, it is advisable to plan your pilgrimage during morning and night time to avoid the rush.
Offer Nawafil in Riyadhul Jannah
As you draw near to the Rawdah Mubarak, it is hard to miss the green carpet in contrast to red, which covers Al-Masjid an-Nabawi. This part is the Garden of Paradise or Riyadhul Jannah, which extends from the Sacred Chamber to the pulpit (mimbar), where Prophet Muhammad (PBUH) used to give sermons. Another notable construct that can be easily spotted is the golden Mehrab, the praying area of Allah's Messenger (PBUH). As narrated by Abu Huraira (R.A):
The Prophet (PBUH) said, "Between my house and my pulpit there is a garden of the gardens of Paradise, and my pulpit is on my fountain tank (i.e., Al-Kauthar)."(Sahih al-Bukhari 1196)
While visiting, every Muslim must preserve the sanctity of Riyadhul Jannah. Since the area is jam-packed with worshippers, so avoid any pushing and shoving. If you are lucky to find a suitable location, offer two Rakkah, make supplication and vacate the area for your brother or sister. Somehow if you can't, don't get disheartened. You can always try again when the guards' open doors to Riyadhul Jannah again.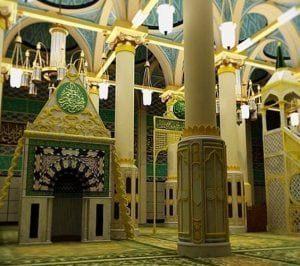 Trek the mountains
Praying and worshiping sure takes a lot of energy. If you feel tired and want to replenish your strength, there is nothing like exploring Medina's renowned mountain ranges. Jabal Al-Hujjaj (The Pilgrims Mountain), Jabal al-'Ir (Caravan Mountain), and Mount Sela are common among sightseers, but Mount Uhud, in the north, is the real crowd puller.
The very sight of the mountain range of Uhud sparks the feeling of righteousness and God-fearing in a Muslim's heart. Climbing this rocky mountain is surely a physical and emotional workout because it reminds us of those historical moments when the battle of Uhud was fought here with our Prophet Muhammad (PBUH) in the lead. There are notable spots to see along the way, including the archer's mound, the cave of Uhud where Prophet (PBUH) took refuge during the Battle of Uhud, and the graveyard where the martyrs of battle are buried.
If you are still thirsty for adventure, there is nothing more exciting than watching your car ascend on its own along the magnetic hills of Wadi-al-Jinn or Wadai-al-Baida.
Admire the famous mosques
Medina is home to many famous mosques apart from Al-Masjid an-Nabawi. While they are all amazing to visit, what is interesting is that each of them has a story linked to the life of Prophet Muhammad (PBUH) and his stay in this city. Starting with Masjid Quba, the first mosque constructed in Medina by Allah's Messenger (PBUH) himself and his companions. The following Hadith highlights the importance of worshipping in this mosque
(Sahl) bin Hunaif said:

"The Messenger of Allah (PBUH) said: 'Whoever purifies himself in his house, then comes to the Quba' Mosque and offers one prayer therein, will have a reward like that for 'Umrah." (Sunan Ibn Majah, Book 5, Hadith 610)
Masjid al-Qiblatain (Mosque of the Two Qiblas) is that honorable mosque where Allah Almighty's commandment for the change of Qibla from Masjid-al- Aqsa to the Holy Kaaba was received by the Prophet Muhammad (PBUH).
Masjid Jummah is penned down in history as the mosque where the first Jummah prayer was conducted by Allah's Messenger (PBUH)
Last on our list are actually six mosques, but they are known as the Seven Mosques of Medina. These mosques are located at Mount Sela's base and mark the site of the "Battle of Trench."  Al- Fath Mosque (Mosque of the conquest) or Al-Khandaq Mosque (Mosque of the trenches) is the largest and most visited among them. 
Shop till you drop:
Shopping in Medina is surely a delightful experience. From locally manufactured to international brands and commercial plazas to traditional markets, it greets its explorers with open arms. Coming towards the shopping centers, Al Noor Mall is the highlight of Medina. It holds the title of being the largest mall where you can find various stores under one roof including many International brands like Sephora. Besides, it is equipped with an extensive food court and playing area for kids, so no one gets bored here. Al Rashed Mall and Taiba Commercial Centre are other famous malls in Medina.
No shopping in this city is complete without visiting the central dates market or Souq Al Tumor. It is few kilometers away from Al-Masjid an-Nabawi and houses 150 varieties of dates. Ajwa, Kalas, and Sukkari are more popular than the rest.
And right outside Masjid e nabvi, you'll find plenty of local shops selling dates, souvenirs, prayer mats and more. If you want to do a quick grocery trip, then there's Bin Dawoon just outside the gate of Masjid e Nabvi where you can find all kinds of items under one roof. Another mall right outside Masjid e Nabvi is the Al Shaya Mall at The Oberoi which has many International shops including MAC, the Body Shop, mothercare, H&M and it also has a Starbucks.  
Last but not least, a trip to Medina's Old Bazaar should be on your bucket list. You can find small merchants selling all types of things here. It is a good place to shop at reasonable rates only if your bargaining skills are top-notch.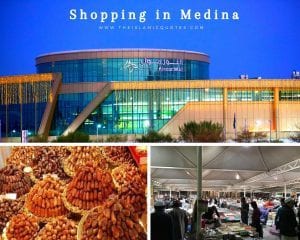 Try the local cuisines:
Finally! It's time to fill your tummy with the scrumptious food of Medina. The best part is that the food here is as diverse as the tourists who make their way to this holy sanctuary. The indigenous cuisines like Shakshuka, Mandi, Shawarma, and Sambousek have a pure Arabic touch and is a treat for protein lovers. For those who are in search of spicy food, there are plenty of Indian, Pakistani, Lebanese, and Middle Eastern restaurants to satisfy your cravings.  For fast food lovers, the local Al Baik Restaurant is a must to visit, but other internationally acclaimed fast-food chains are also prevalent in the city.
Since most Muslims visiting Medina also make it a point to visit Makkah for Umra, here are the Best Things That You Must Do In Makkah.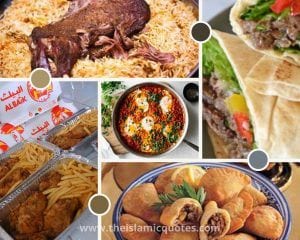 Conclusion:
Since childhood, when one starts reading about the Prophet Muhammad (PBUH), a desire develops to tour all the places he (PBUH) used to live. This desire becomes an emotional outburst of warmth and divine love in our hearts at the very sight of Medina. The following Hadith narrated by Anas (R.A) is also a true depiction of how Prophet (PBUH) felt about Medina.
"When the Prophet (PBUH) would return from a trip and see the walls of Al-Madinah, he would speed up his riding camel, and if he was upon a beast, he would agitate it, out of his love for Al-Madinah. (Jami' at-Tirmidhi 3441)"