Islamic Gift Ideas for Hajj and Umrah. Hajj is the pilgrimage that is performed once a year during the month of Dhul-Hajj and Umrah can be performed any time throughout the year. The process of hajj and Umrah cleanse the soul of a Muslim from sins and instill the love for Deen and Allah SWT in the hearts of every Muslim.
When people come back from Hajj and Umrah, people in every culture greet them with love and respect and give Hadiya (gift) on their return from the sacred place. They can prepare meals or give some valuable gifts.
They can also give Hadiya before they leave such as planners and duas, set in order to help them on this spiritual journey. The returners also, give Tabbaruk (Aab e Zam Zam and dates) to their relatives and friends.
What To Give To Someone Who's Going To Hajj/Umrah?
Whether your loved one is leaving for hajj/umrah or they've already arrived back, you can make this trip even more special for them with these unique gift ideas.

↓ 20 – Bakhoor
Bakhoor is like a natural air freshener that is made from woodchips like Oud, natural oil and other organic ingredients like Saffron. It is used to perfume the house, clothing or just to add positive energy all around. It has been around for centuries and according to Islamic traditions, many Prophets including our Holy Prophet PBUH would use it regularly. It is also known as Agarwood and has many healing properties. Due to its Islamic significance, we believe it would be an ideal gift for anyone coming back from Hajj or Umrah. We also recommend that you go through these Beautiful Lessons From Surah Yusuf That Will Change Your Life.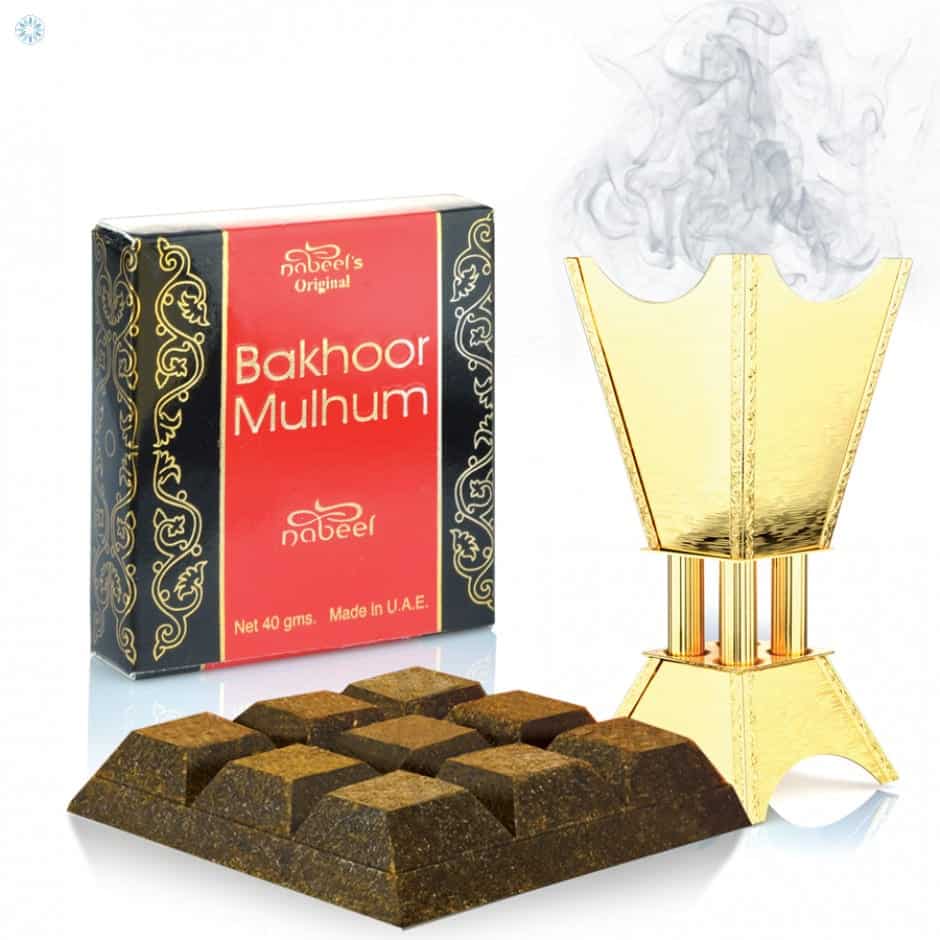 ↓ 19 – Wudu Foot Washer
If you're thinking of buying a gift for a mature person like your parents, aunt or uncle who performed hajj/umrah then a wudu foot washer would be a good idea. This is because as we get old, many of us are unable to wash our feet in the sinks for wudu because of knee problems or weight issues and this foot washer can be incredibly handy in such cases. It's a gift that they'll use forever and it will make their lives much easier.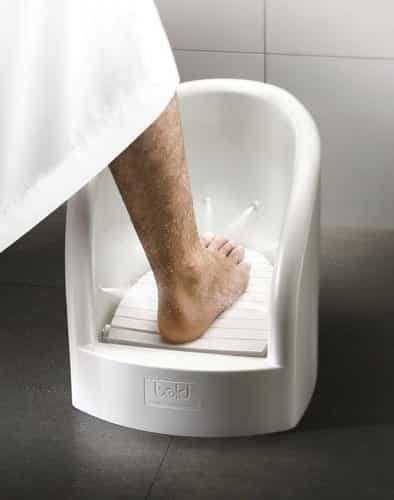 ↓ 18 – Preparing Meals
Preparing meals for someone who has come back from a long journey is always considered a beautiful gesture. People who return from this spiritual journey need time to settle back and if we cook or prepare a meal for them, it will always be appreciated by them. We can make their favourite food and dessert and pack all of it beautifully and send it to their house.
↓ 17 – Spa Day or Pedicure Set
As you know that both umrah and hajj require a lot of physical exertions and pilgrims are usually extremely tired on coming back so it would be a good idea to gift them something that can help them relax. For example, you could gift them a spa day so they can get a massage, pedicure or facial. Or you could gift them a pedicure set or massager that they can use to relax at home.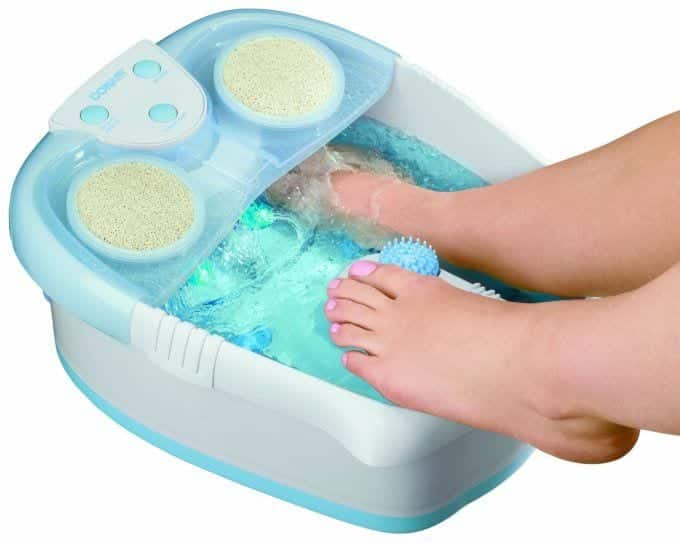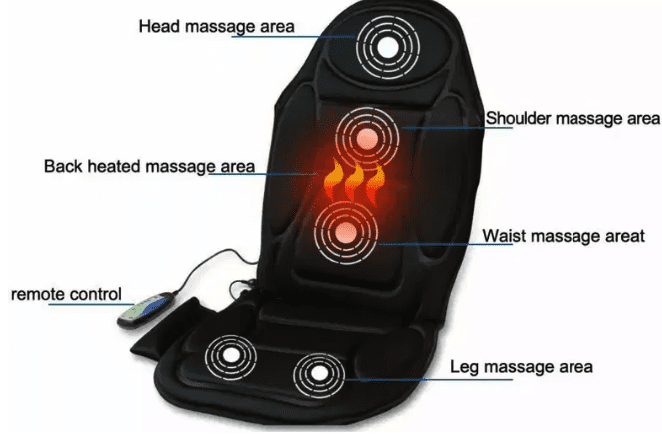 ↓ 16- Hajj/Umrah Travel Kit
Hajj Umrah travel kits can also be given as a gift and they are considered as a beautiful gesture. People need to be prepared for this spiritual journey and a travel kit meant only for Hajj/Umrah can be very useful. This kit can include a mini Quran, digital tasbeeh, unscented shampoo, soap and sanitizer. This kit will come handy during the whole journey.
↓ 15- Hajj/Umrah Planner
Hajj and Umrah are the memorable journeys that need to be planned and everything should be done according to the rules. An Umrah/Hajj planner is the perfect gift that can be given to the person going on this beautiful journey that will help him to record memories and write down the steps necessary to perform Umrah/Hajj, the necessary duas and salah timings. There are many planners available for these spiritual journeys and they're not just a beautiful gift but also a very useful one.
↓ 14- Beautiful Prayer Mats
Prayer mats are needed everywhere. A prayer rug of soft fabric and beautiful designs can be given as gifts to the person who has returned from Umrah or Hajj. Every time the person prays on that rug, the reward will also be given to the person who gifts it. Colorful prayer rugs can be chosen for little children in order to motivate them to pray more and more.
↓ 13- Customised Gift Basket
A customized gift basket is always a good option to give. One can buy favorite personal things of the people who come back from Hajj. Which might include their favorite perfume, clothes, bags and skincare products packed beautifully in a basket. You can also add chocolates, candles, crockery, new clothes or anything that you feel they'll enjoy. A personal note or card can be put inside to make them feel more loved.
↓ 12- Beautiful Frames
Frames are always taken into consideration as gifts but making one in a creative way is what makes it more unique. Hajj and Umrah hold countless beautiful memories and one memory in the form can be framed with Hajj/Umrah Mubarak caption as a gift. This beautiful gift would hold so much importance for them and they'll cherish such a thoughtful gift forever.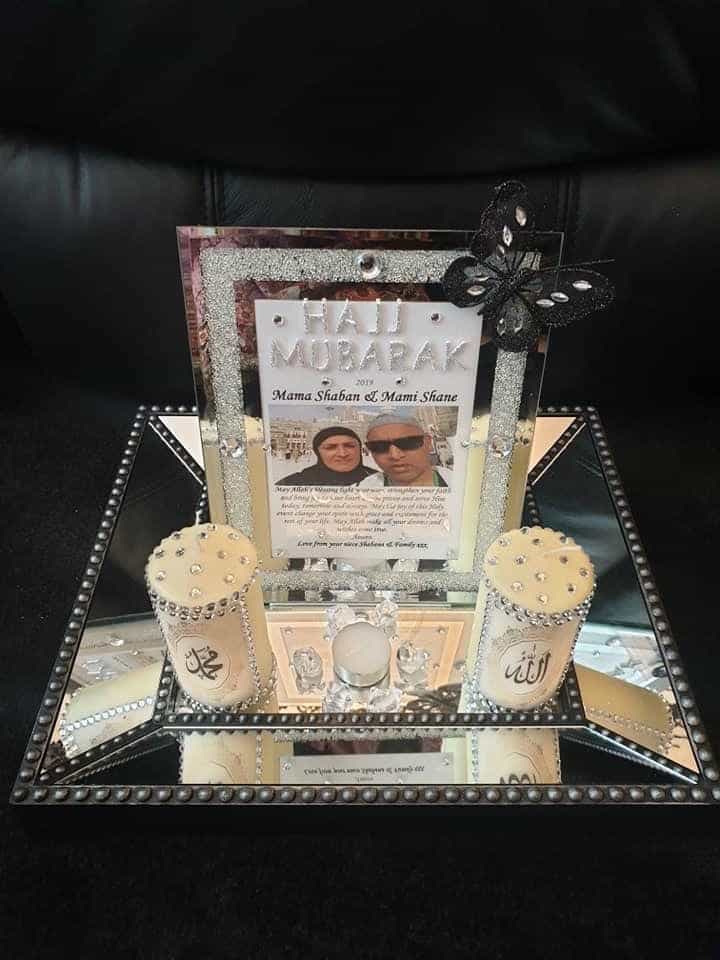 Marble frames and simple hajj/ Umrah Mubarak frames can also be given on this occasion.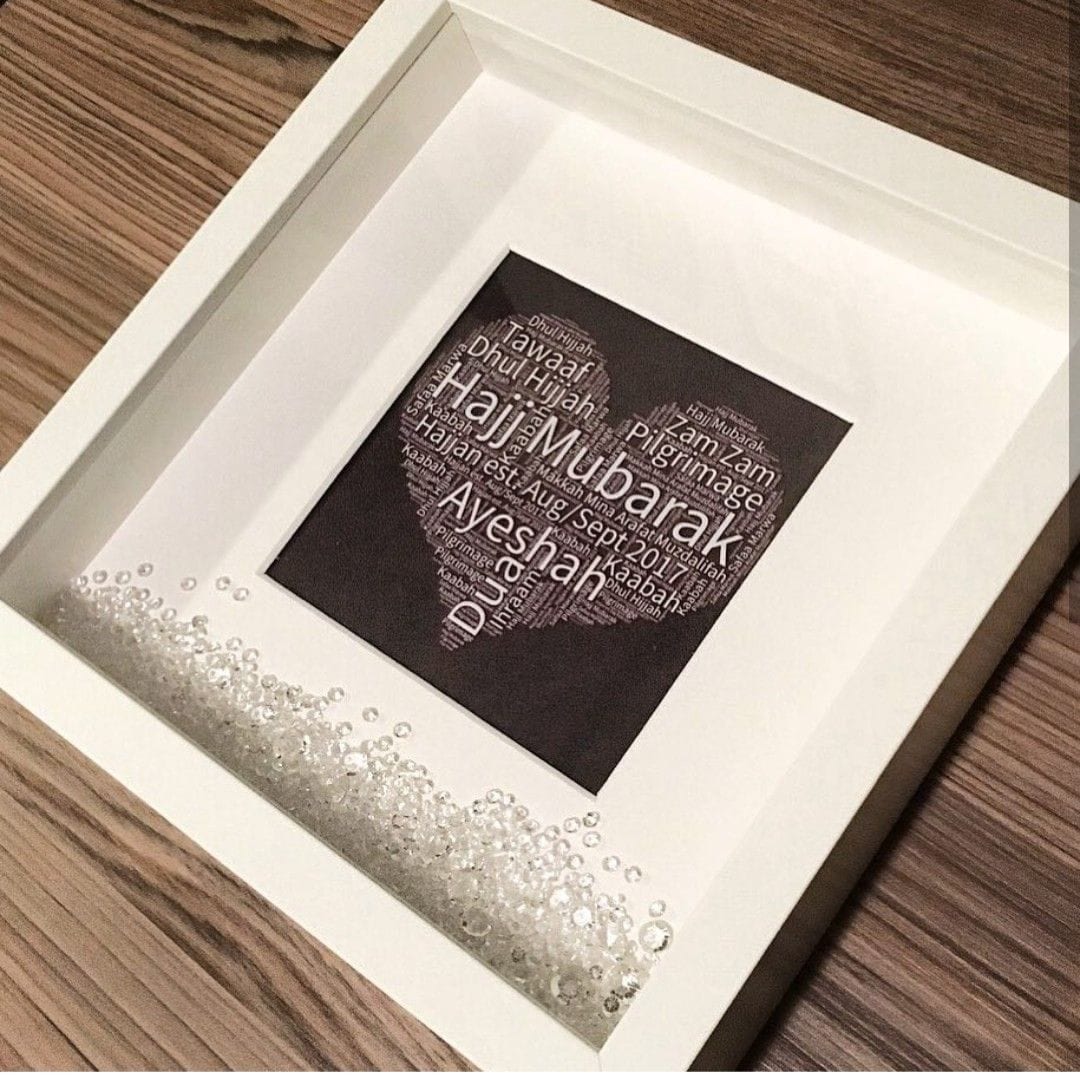 ↓ 11- Hajj/Umrah Mubarak  Cakesicles and Cookies Boxes
There's a tradition that good news and happiness are always celebrated with sweets and cakes. When somebody comes back from Hajj and Umrah he/she can be welcomed with delicious customized cupcakes and Hajj themed cookies. One can make them easily at home or buy them from a nearby bakery.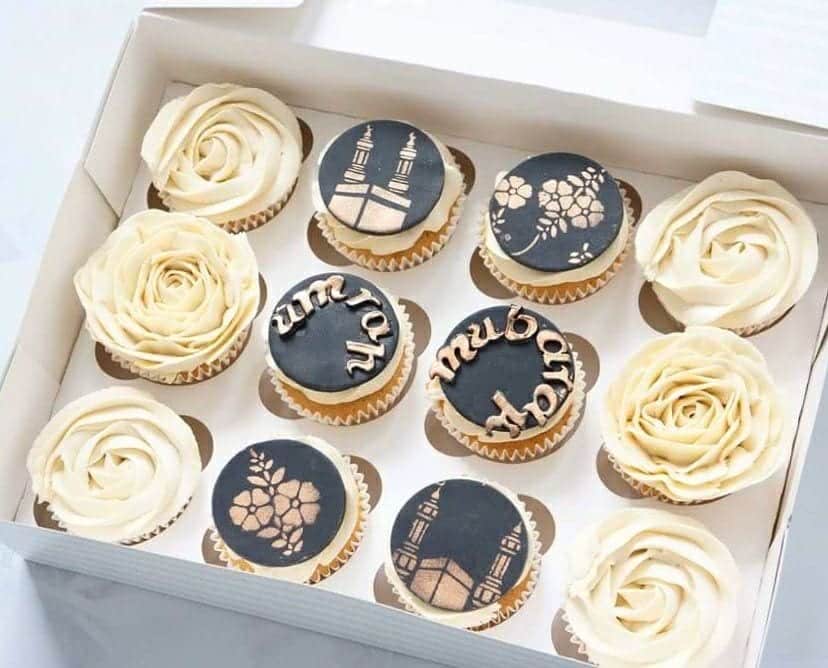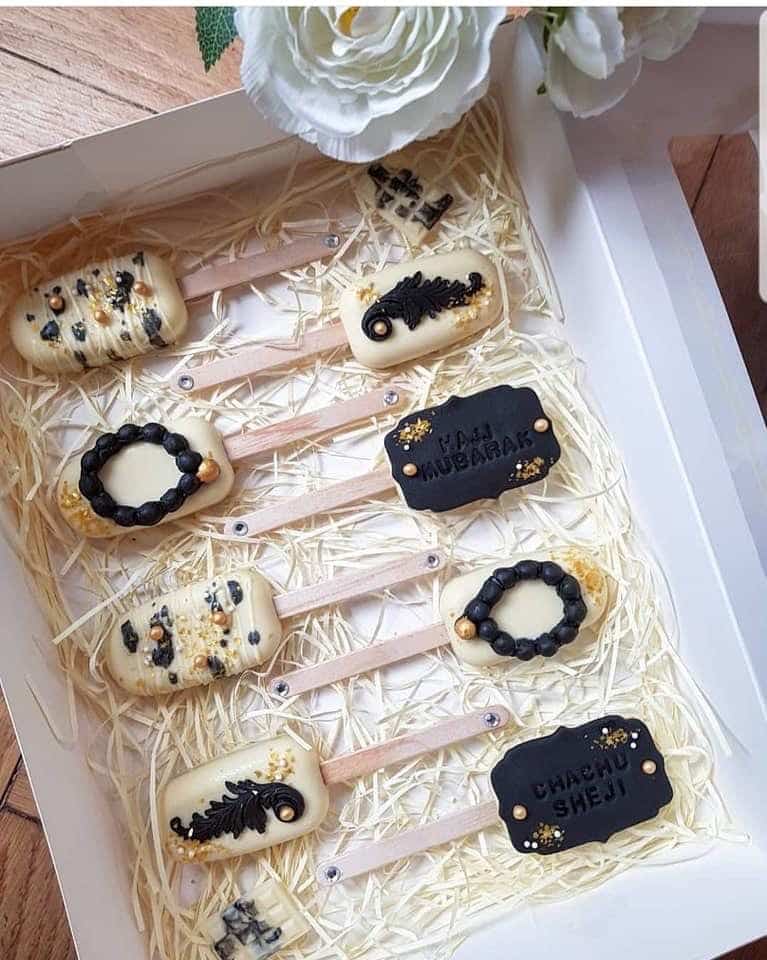 ↓ 10- Beautiful Hajj/Umrah Mubarak Candle Sets
Candle sets are being customized for every occasion. One can gift a beautiful candle set with Hajj/Umrah Mubarak written on it with a crystal stand. Here are The 10 Most Beautiful Sunnah To Follow In Daily Life.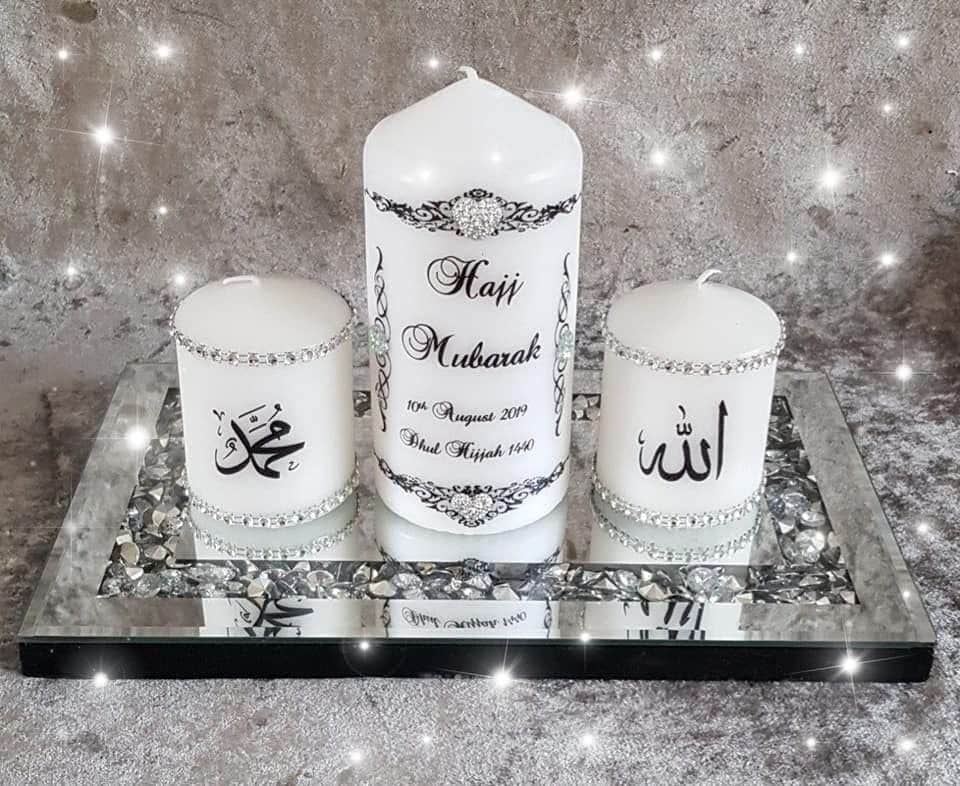 ↓ 9- Ka'ba Themed Flower Box
A Ka'ba themed flower box is one of the most beautiful gifts one can gift to the person who has returned from Umrah and Hajj. This box is beautifully wrapped with flowers and Ka'ba decoration is placed in the center. This beautiful gift can be bought online from different crafters at pretty reasonable prices.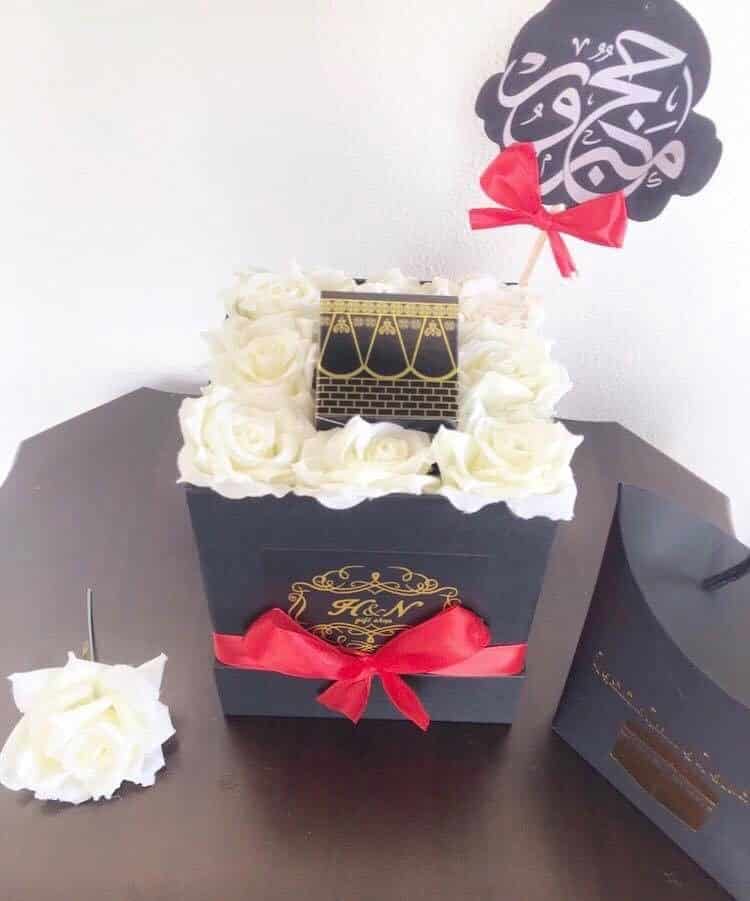 ↓ 8- Flowers and Chocolates Bouquet
Bouquets are also given as a welcome gift but there are also different types of bouquet that are being made for many occasions. One can gift a chocolate bouquet or a beautiful artificial flower bouquet as a Hajj/ Umrah Mubarak gift. This type of bouquet is different from the usual real flowers one.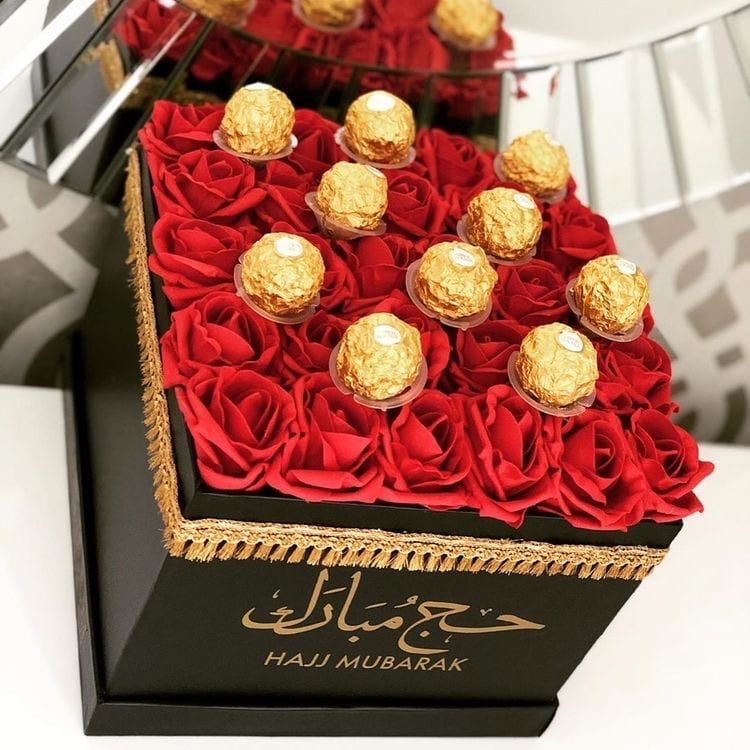 ↓ 7- Beautiful Ka'ba Themed Cards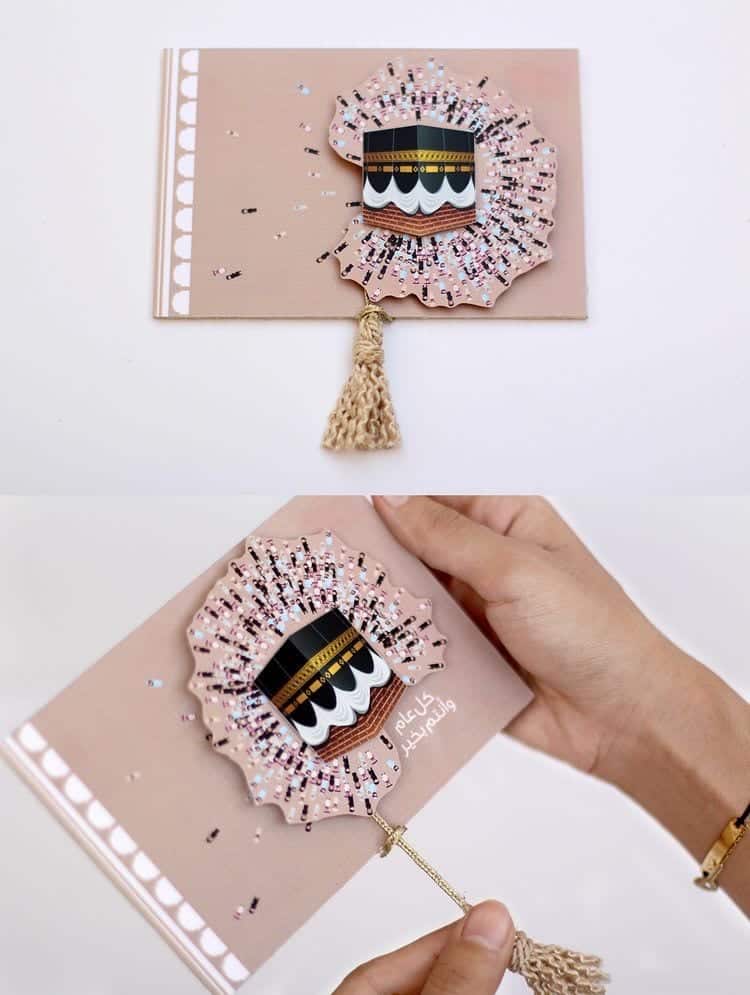 ↓ 6- Beautiful Mini Quran Sets or Crystal Quran
Today, mini beautifully embellished Quran sets are being made and can be given as a gift to anyone. Whenever that person recites any ayah from that Quran, Allah will reward the person who gifts His book to another.
↓ 5- Dua Books for Children
Childhood is the age when children learn everything. Little books of duas for children can be gifted to them before going to Hajj/Umrah or when they return so that they can learn the duas too. Hiba Magazine have specially designed this book for children to take along with them on this journey and note down all the duas that they want. It is indeed a great idea to strengthen the children's relationship with Allah.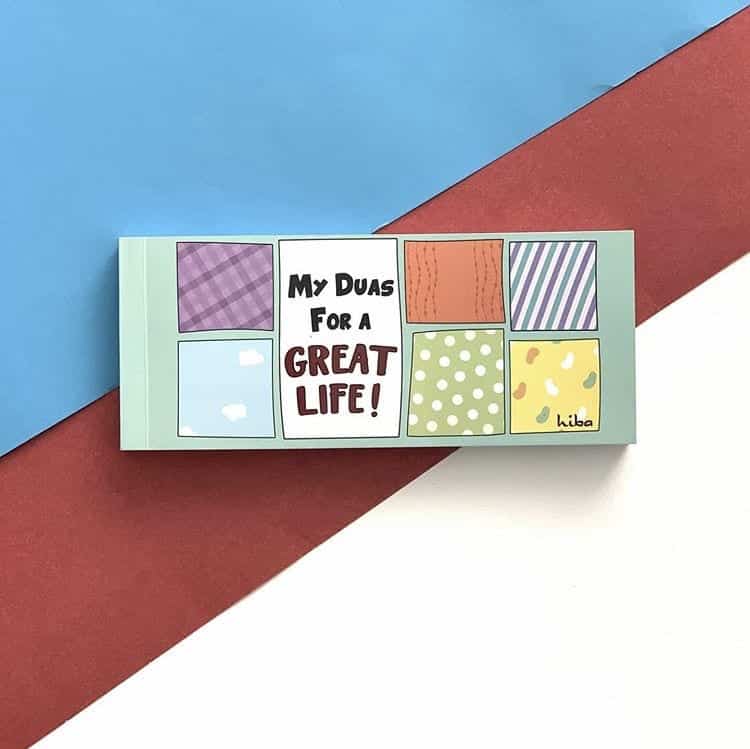 via
↓ 4- 
 Hajj/Umrah Mubarak Explosion Box
Postcards and explosion cards are a unique way to show love for others. Explosion cards can be made by oneself or some crafter by using pictures and memories pasted on it.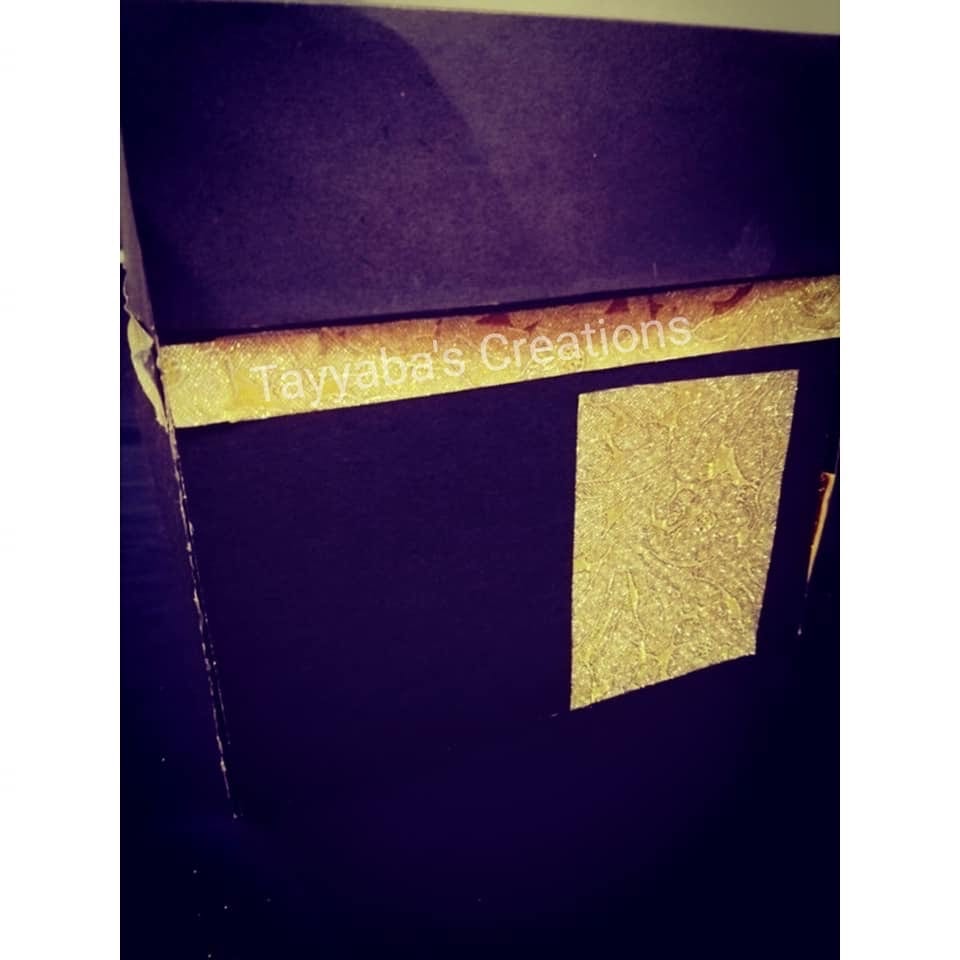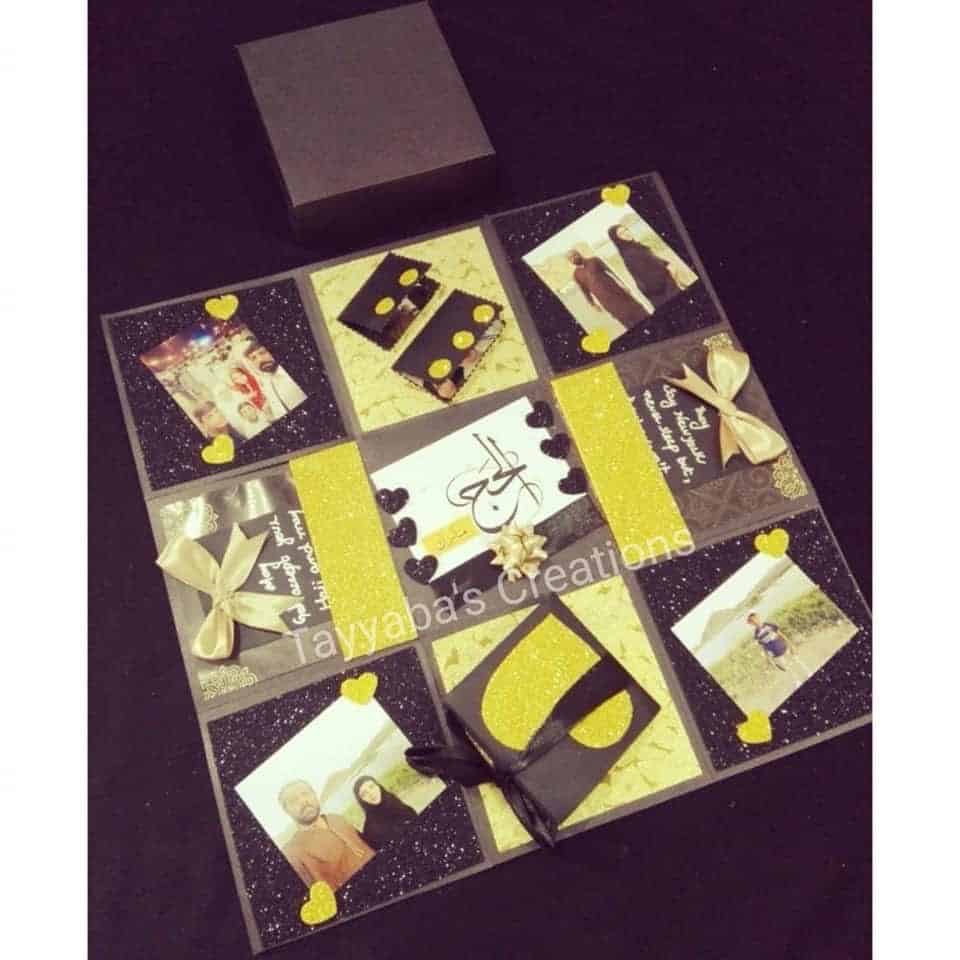 ↓ 3- 
Beautiful Umrah Mubarak Gift Box
Umrah Mubarak gift boxes can be customized according to one's choice. It can include candles, frames, chocolates, flowers and personally written notecards.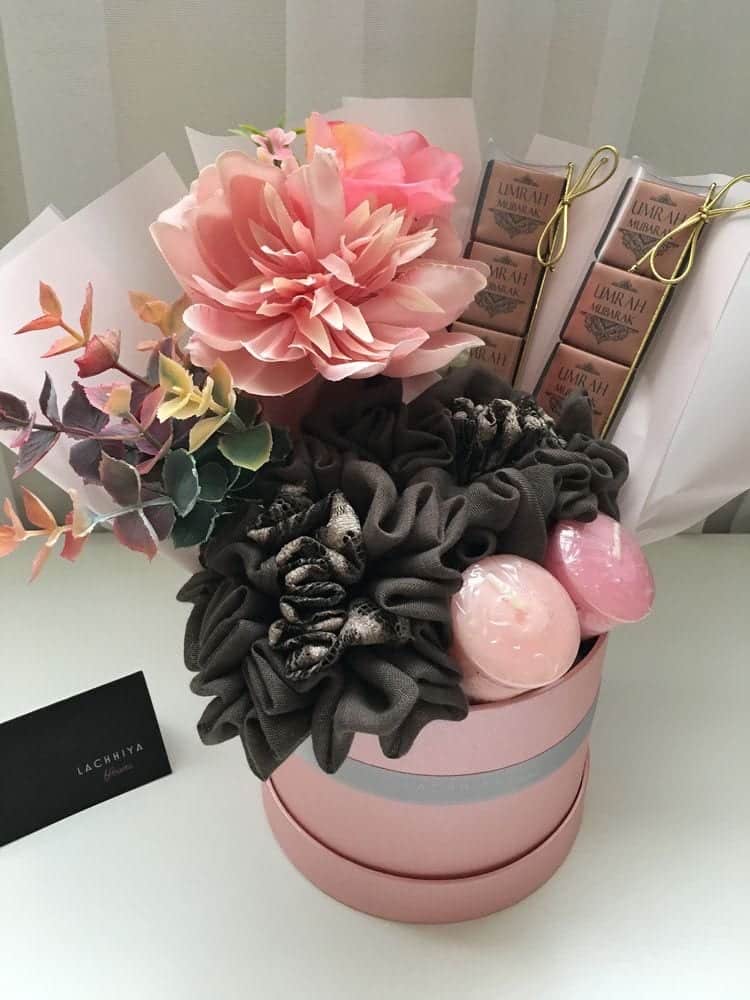 ↓ 2- Personalised Umrah/Hajj Mubarak Gift Stand
Gift stands according to any occasion are being customized for gifts. They're beautiful and one can put them on a coffee table or bookshelf. Hajj/ Umrah Mubarak wish gift stands are a good option to be gifted on such occasion.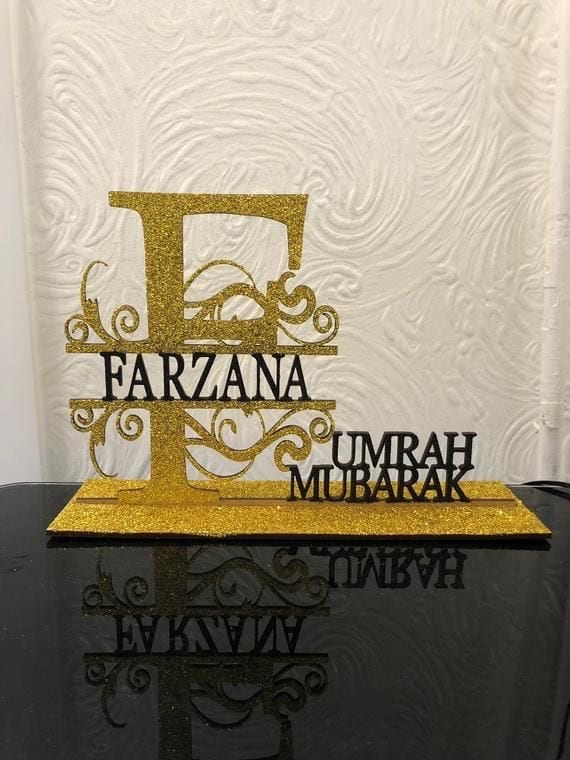 ↓ 1- Beautiful Islamic Wall Art
Wall arts increase beauty of the room and are also given as a gift. Islamic calligraphy wall arts always look beautiful and can be bought easily online or from talented calligraphers. Names of Allah SWT and Ayah from the Quran are a few examples.
We love this beautiful Islamic wall art that commemorates hajj with the Labbaik chant that is recited on hajj and umrah. It can even be customized with the name and date of the person who performed this special ritual. You can order it at Little Wings Creative for 19 to 29 USD.