Top Muslim Scholars On Twitter 2023: If you want to boost your knowledge of Islam, then Twitter is a great place to start. Scholars on Twitter are an ideal way to keep up with the latest news, analysis, and Islamic thinking. They can be very useful if you want to learn more about Islam or understand your spirituality better.
You can also connect with some of the most respected voices from across the Muslim world who share their views on current topics. This article lists 10 Islamic scholars on Twitter to follow who can help you stay informed and up-to-date regarding Islam in today's world.
I'm sure you'll also enjoy learning about these amazing Muslim scientists and their achievements.
The Impact Of Islamic Messages On Twitter
The social media platform is a great source of information. It is a medium where you can get to know new things, meet new people, and even spread a message of peace. But this platform can also be used differently. The internet is a platform where people can easily spread hate messages and ideologies against Islam.
This is why Islamic scholars are now using Twitter to spread the message of Islam. The number of Islamic Twitter accounts is increasing, and there has been a recent increase in the number of Islamic hashtags on Twitter.
Most Popular Islamic Scholars on Twitter
Islamic scholars on Twitter are people like us who deeply understand how Muslims should live their lives. This is because they know the teachings of Islam and try to follow them as good examples. The impact of Islamic messages on Twitter is easily seen in the increased number of followers or likes on these scholars' tweets.
By following these scholars, people can learn more about Islam and have their doubts answered. Moreover, many Islamic scholars on Twitter also offer advice on how to live a positive lifestyle according to the Qur'an and hadith.
01. Dr. Bilal Phillips
Bilal Phillips is one of the best Islamic scholars on Twitter. Writer, speaker, and scholar Abu Ameenah Bilal Philips is a Canadian Muslim who resides in Qatar. He promotes a traditional style of Islam on Peace TV, a 24-hour Islamic satellite TV program.
As one of the pioneers in online Islamic education, Dr. Bilal founded the Islamic Online Institution (IOU), a tuition-free, recognized B.A. in Islamic Studies with free Islamic courses. Also, IOU offers a free diploma and a higher diploma that can lead to an M.A. in Islamic Studies.
He is on Twitter with the handle @Dr. Abu Ameenah Bilal Philips.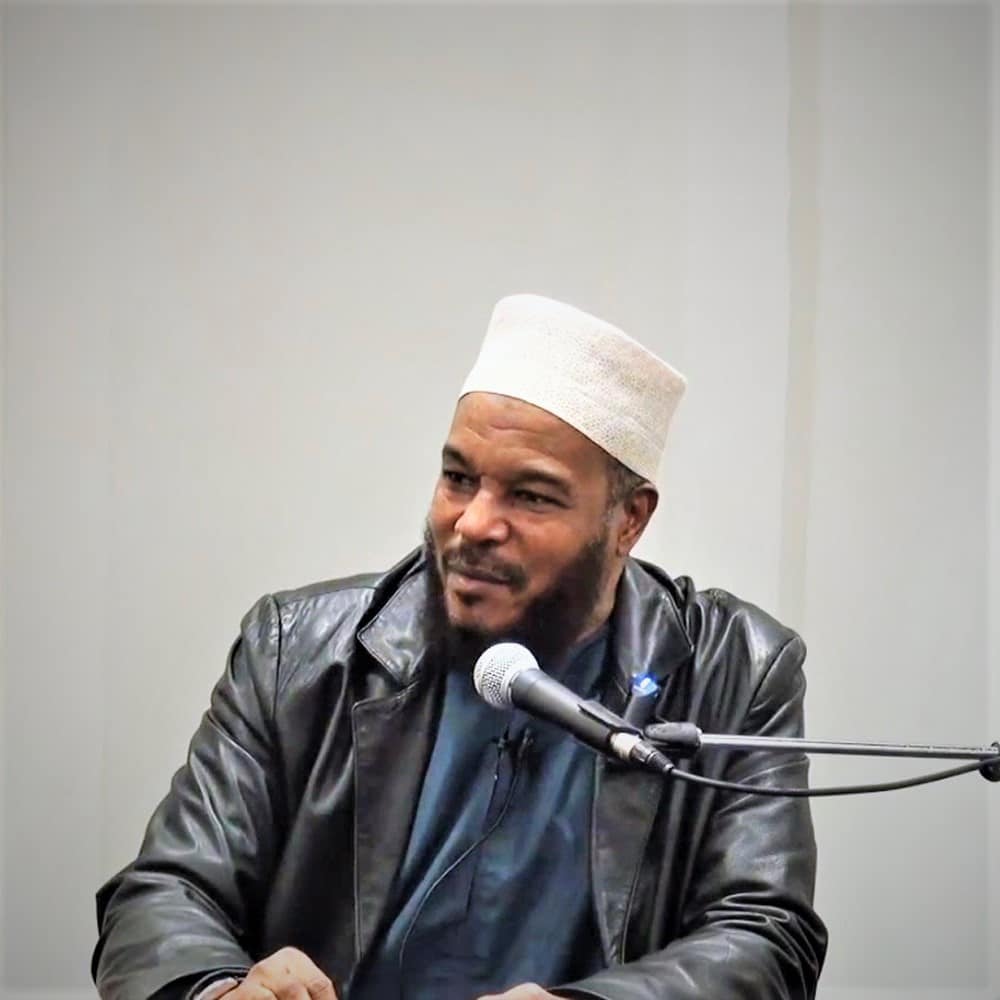 02. Dr. Farhat Hashmi
Pakistani-born Dr. Farhat Hashmi is a scholar of Islam. She previously worked as a professor and associate professor at the International Islamic University of Islamabad's Faculty of Usul-al-Din. She is most well-known for starting Al-Huda International, a center for Islamic education for women, in 1994.
Pakistan has two Al-Huda International locations, while Canada opened its doors in 2004. There is a large collection of audio lectures, video lectures, and an e-library available on Al-Islamic Huda's official website in both Hindi and English. Al-Huda has also created various Islamic apps for the iPhone and Android platforms.
She is one of the ideal Islamic scholars of Pakistan, and her Twitter handle is @Farhat Hashmi.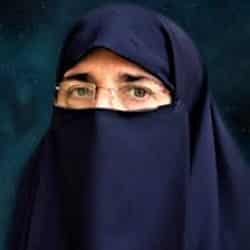 03. Mufti Ismail Menk
Mufti Menk, also recognized as Ismail Ibn Musa Menk, is a Zimbabwe-based Muslim cleric. He received his doctorate in social guidance from Aldersgate University and studied sharia in Madinah.
Due to his well-regarded lecture series, which is available online via his main website and YouTube channel, Mufti Menk has grown in popularity as his quotes became viral.
In addition to his 4.8 million Facebook fans, 9.4 million Twitter followers, and he mostly tweets motivational Islamic tweets. Moreover, he is one of today's most in-demand scholars.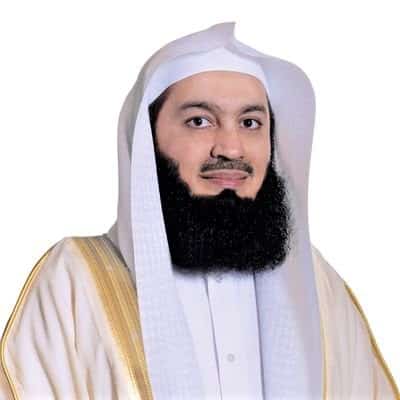 04. Maulana Tariq Jameel
Maulana Tariq Jameel is a Pakistani Muslim scholar, preacher, and public speaker. He is a scholar who directs a Madrasa in Faisalabad, Pakistan, and a member of the Tablighi Jamaat. The book "The Muslim 500," lists Tariq as a well-known Muslim speaker.
He is also responsible for Muslim Youth, an online global da'wah network that offers other online educational resources. In this e-Fatwa area, Muslims can submit questions for scholars to answer.
Three languages—English, Urdu, and Arabic—are used on the website. Internet distribution of Tariq's audio lectures is also quite successful. There is an app for his extensive library of video lectures on the App Store.
He is on Twitter with the handle @Tariq Jamil.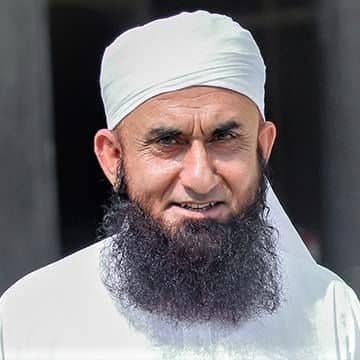 05. Imam Suhaib Webb
American Muslim scholar and educator Imam Suhaib Webb is the imam of the Islamic Society of Boston Cultural Center at the moment. He also founded Center DC, oversees City Sundays, and is active in the youth division of the Muslim American Society.
Suhaib Webb's online videos and lectures, in which he discusses current political events and issues affecting Muslims, are popular. Thus, he has become a leader in Islamic education and current affairs on the Internet.
He is on Twitter with the handle @suhaib Webb.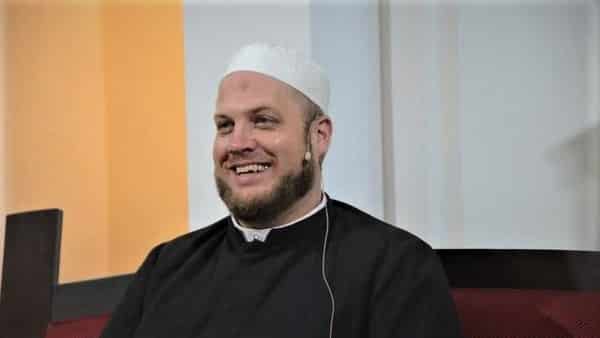 06. Sheikh Abubakr Ahmad
Sheikh Abubakr Ahmad is India's great scholar and social worker. His real name is Kanthapuram A.P. Aboobacker Musliyar.
He is also a Chairman of Siraj Daily, General Secretary of the All India Sunni Jamiyyathul Ulama and a Chancellor of the Jamia Markaz.
Due to his dedication to helping orphans and the poor, he is commonly referred to as "Abul Aytam" or "Father of Orphans." He promotes social harmony, peaceful coexistence, and global dissemination. He has established thousands of cultural centers and educational institutions throughout India. Sheikh Abubakr has written and published over 60 Arabic, Urdu, and Malayalam books on many topics.
Moreover, he is on Twitter with the handle @shkaboobacker, and his Islamic Tweets are mostly based on life experiences.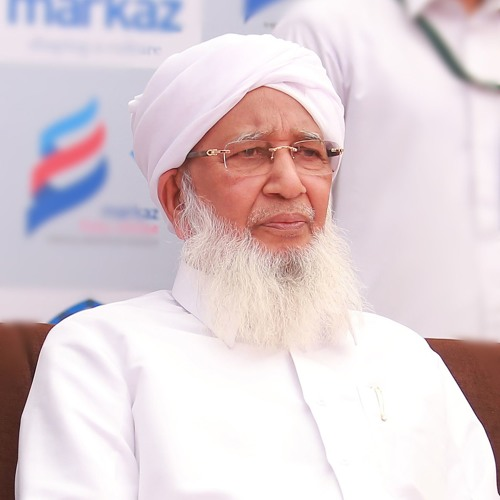 07. Ustadha Maryam Amir
Ustadha Maryam Amir received her bachelor's in Islamic studies from Al-Azhar University, and her master's in education from UCLA. She memorized the Quran in Egypt. Additionally, she has studied the Quran, Islamic law, and women's rights under Islamic law.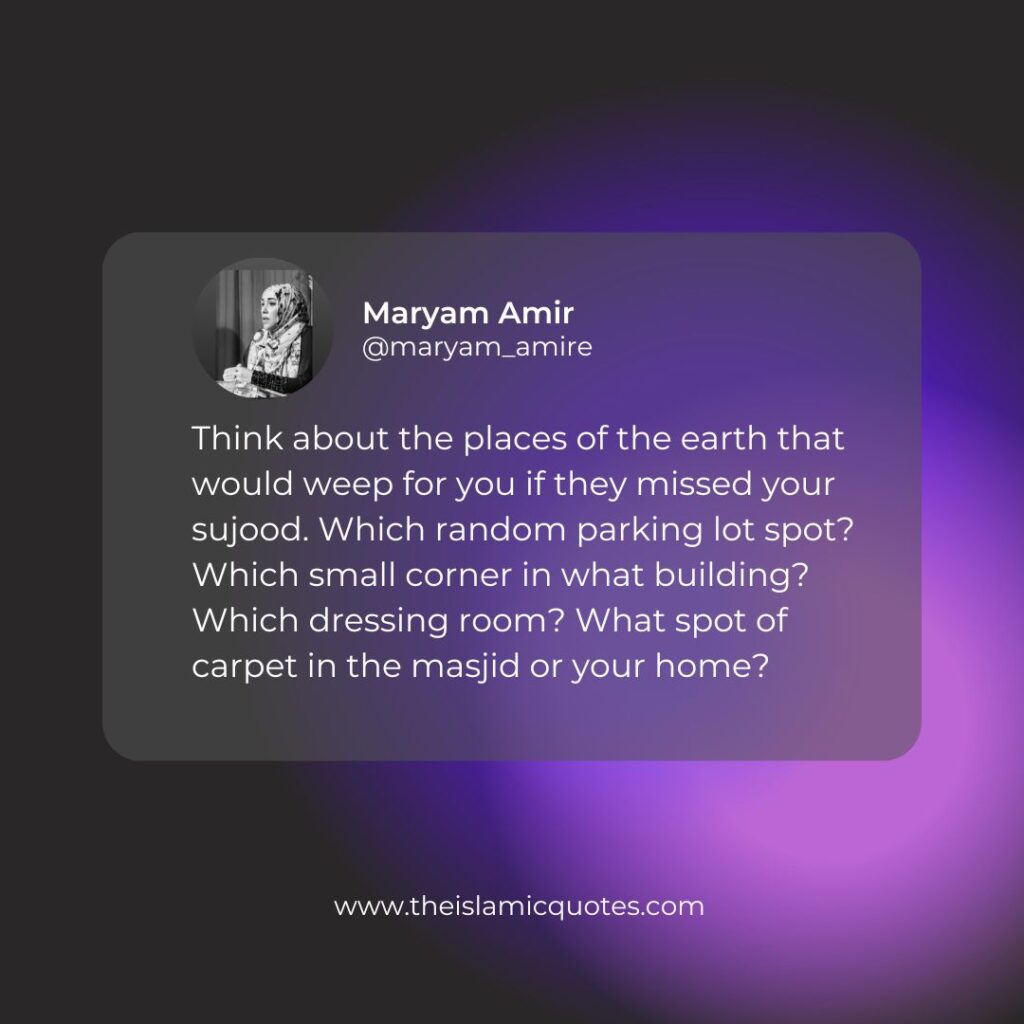 Her app, Qariah, features female Quran reciters from around the world. She actively encourages women who have memorized the Quran worldwide to share their adventures through the #FOREMOTHERS initiative.
Moreover, her Twitter handle is @Maryam Amir.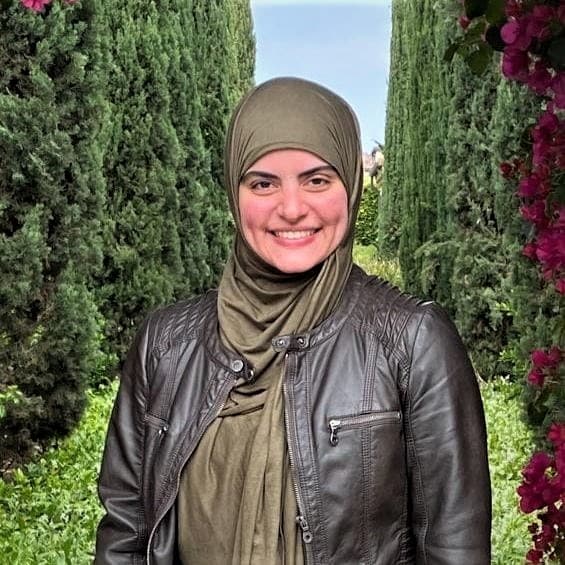 08. Yasmin Mogahed
Yasmin Mogahed is a psychotherapist and recognized speaker across the world. In terms of creative writing, she is highly talented. She currently writes for the Huffington Post. Her work is primarily concerned with spiritual and personal growth.
The best-selling book by Yasmin is titled "Reclaim Your Heart: Personal Insights on Breaking Free From Life's Shackles." She is recognized for being the Al-Maghrib Institute's first female lecturer.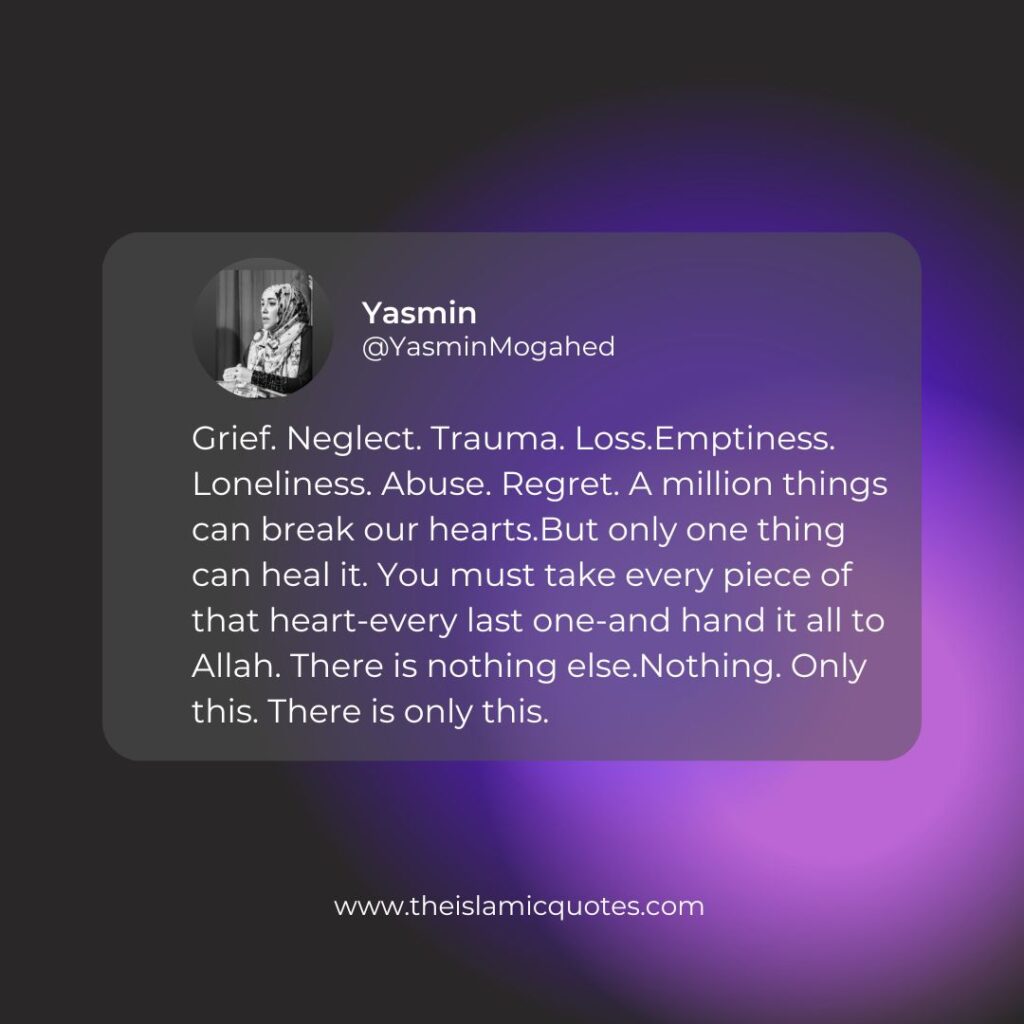 Her Twitter handle is @Yasmin, and she mostly shares her Islamic thinking on various life topics with her followers.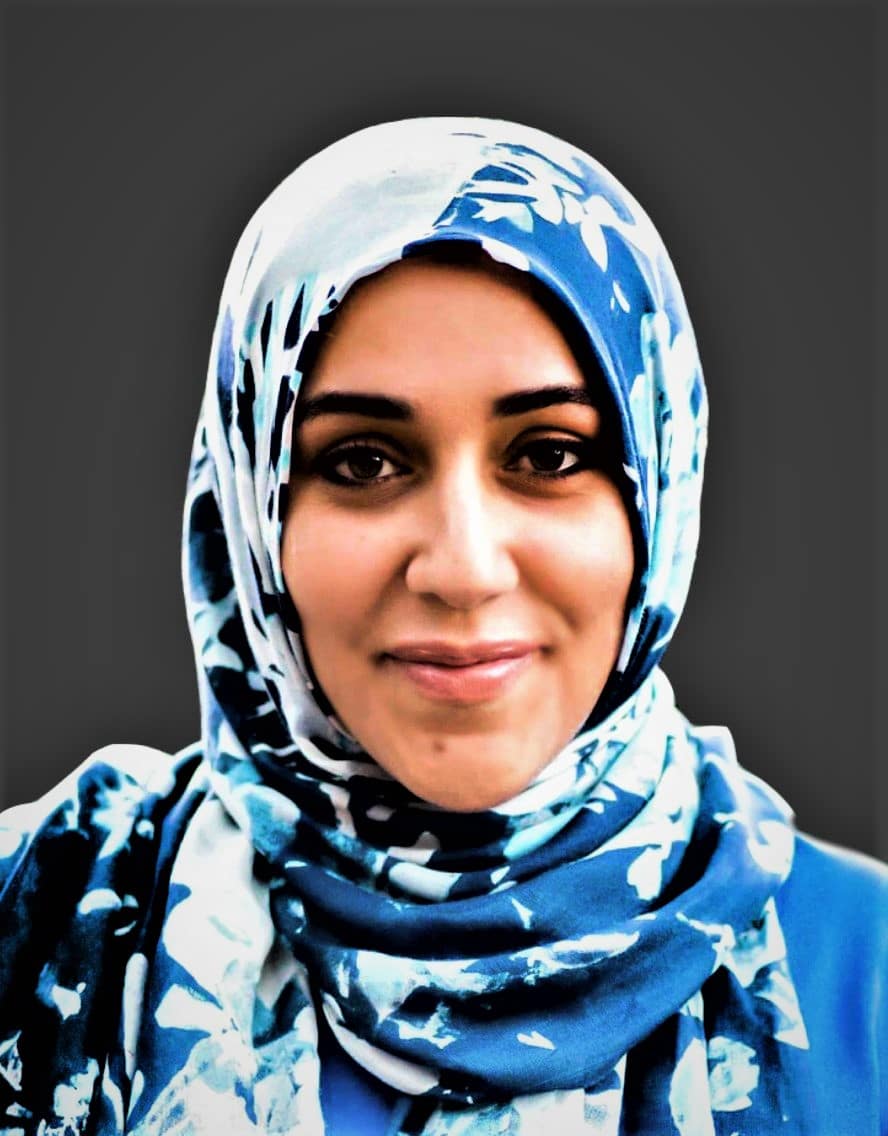 09. Dr. Zakir Naik
The Honorable Zakir Abdul Karim Naik, an Indian Muslim preacher and comparative religion expert, founded the Islamic Research Foundation in 1991 to promote Islam's message of peace.
Further, Dr. Zakir founded Peace TV, an English- and Urdu-language Islamic international TV channel. Moreover, he has released booklet copies of his lectures on comparative religion and Islam. Zakir Naik's quotes are truly eye-opening which is just another reason to follow him on Twitter.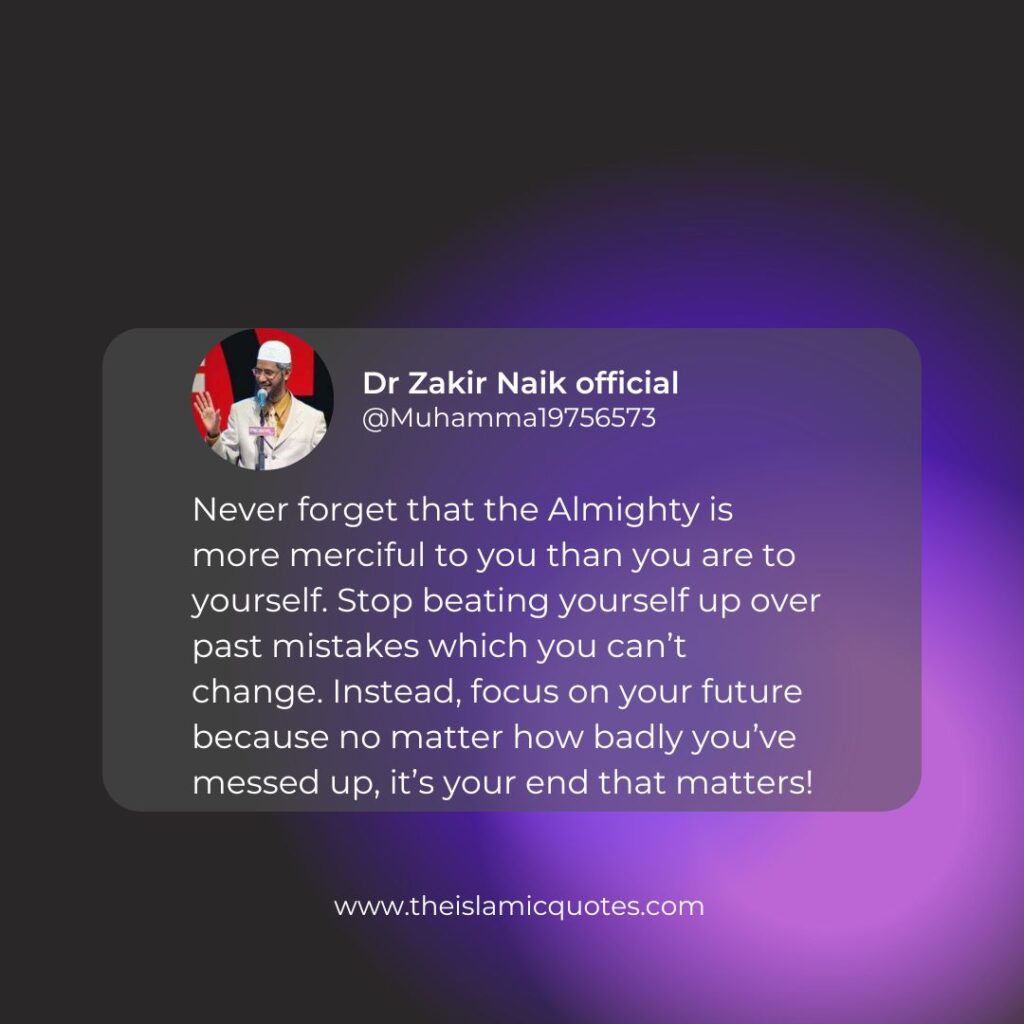 He is well-known for his critical analysis, and persuasive responses to challenging issues brought up by audiences after his public presentations. As a result, his films are shared and extensively distributed online.
Moreover, Zakir Naik is among the best Islamic scholars on Twitter, and his Twitter handle is @Dr Zakir Naik official.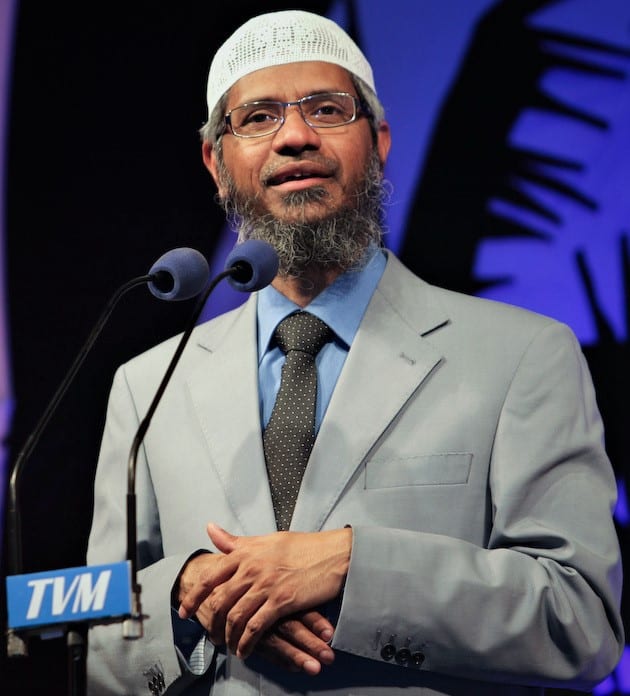 10. Omar Sulieman
The Yaqeen Institute for Islamic Research's president is Imam Omar Suleiman, a professor of Islamic Studies at Southern Methodist University.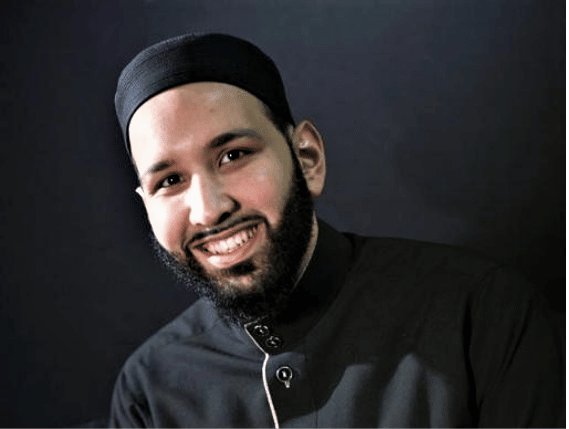 Moreover, he serves as the resident researcher for the Valley Ranch Islamic Center and is Co-Chair of Faith Forward Dallas, an alliance of faiths dedicated to peace and fairness.
His Twitter handle is @Dr. Omar Suleiman.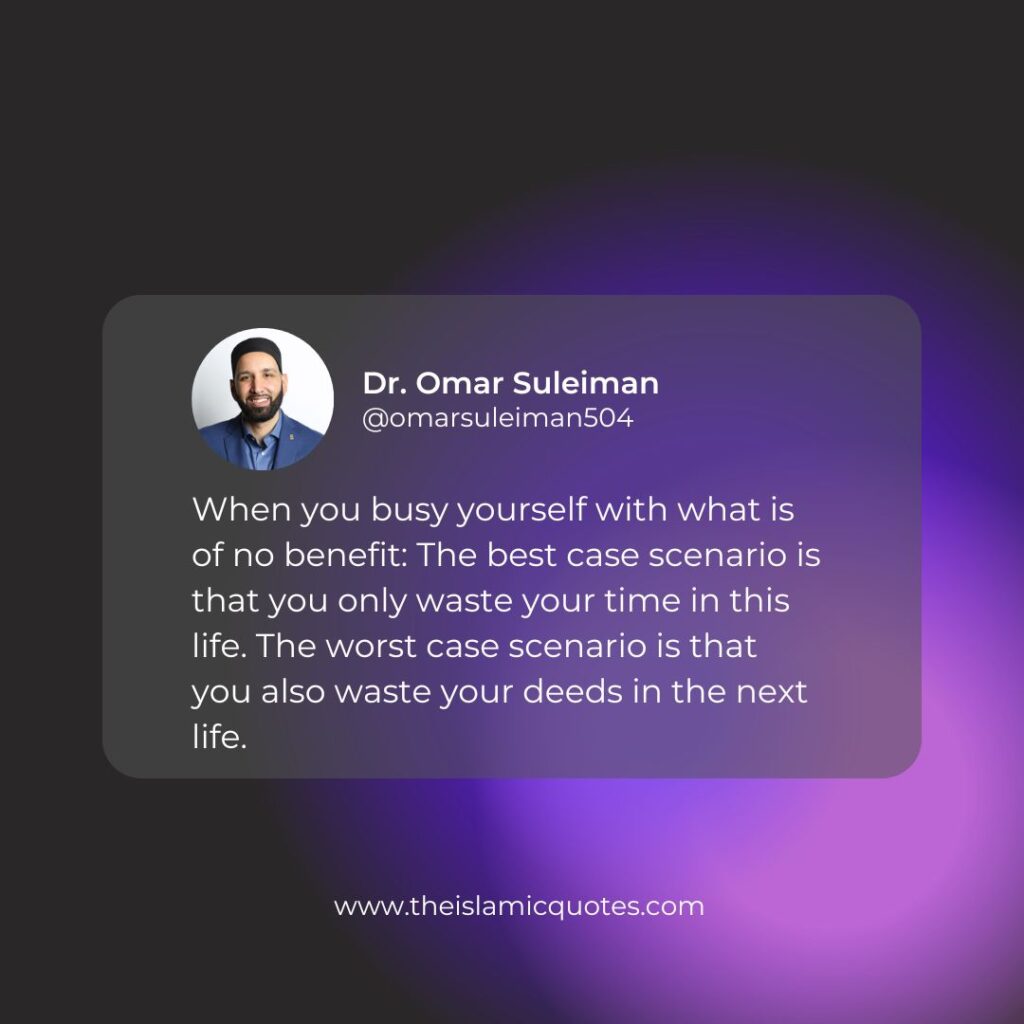 11. Sheikh Azhar Naseer
Based in Canada, Sheikh Azhar is an Islamic scholar and teacher who got viral on Twitter recently because of his amazing sense of humor.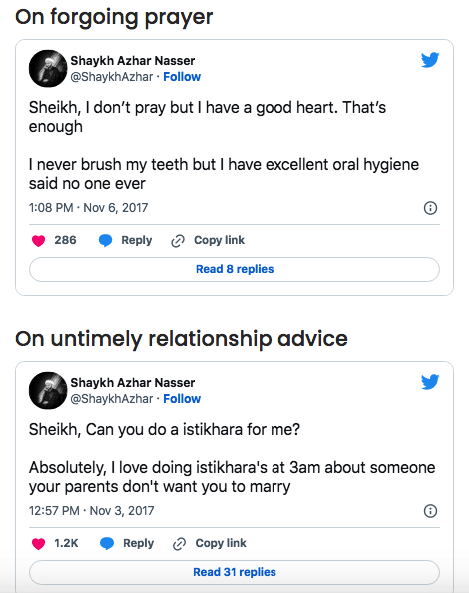 12. Shaykh Assim Alhakeem
Shaykh Assim is the Imam of a mosque in Jeddah and he is very active on Twitter where he shares Islamic knowledge, guidance for the Ummah and also some pretty funny tweets. You can follow him @Assimalhakeem.
What his followers love the most about him is that he takes time almost every day to answer the questions that his followers have about Islam and religious practices.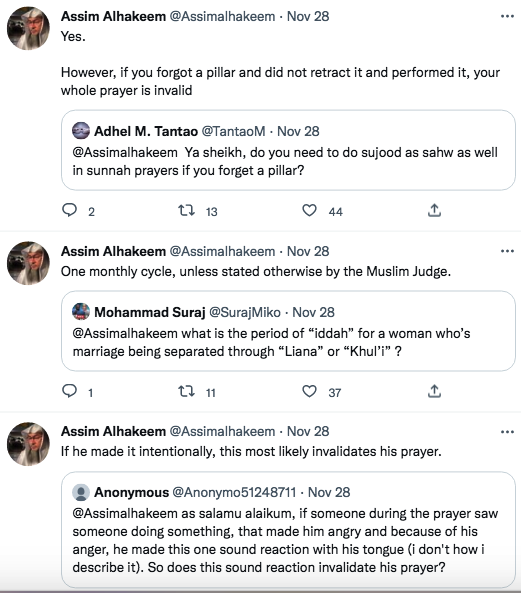 Frequently Asked Questions
Q. Who is an Islamic Scholar?
The terms "aalim" (scholar), "faqeeh," and "mujtahid" all refer to people who are capable of generating shari'a decisions from the evidence and who work to arrive at the shar'i ruling. The scholars paid attention to these requirements so that no one, young or old, could speak about Islam without first understanding it.
Q. Who does Mufti Menk follow on twitter?
Mufti Menk is known for being an Islamic scholar, and a religious leader. He has more than 9.3 million followers on his Twitter account and he follows only one, The President of Zimbabwe.
Q. Who is the most followed Islamic scholar on Twitter?
Mufti Menk is the most followed Islamic scholar on Twitter. He is known as a famous Zimbabwean scholar.