2019 Muslim Wedding Invitation Designs. Marriage is one of the most beautiful relationships, bonding two souls for a lifetime. While a wedding is the most memorable occasion of a person's life, right? So, to make the wedding ceremony joyous and the marriage indelible, inviting the guests is mandatory for which you need seamlessly designed wedding invite-cards.
Since no wedding is complete without the guests, therefore, beautiful yet vibrant and elegant wedding invitation cards are necessary. Here are 24 Muslim wedding invitation designs which will make the selection of "The Perfect Card" easier.
Designs for Muslim Wedding Invitation Cards
Here are a few things you need to keep in mind before choosing the wedding invitation card design.
Always go according to the theme, select the colors which match the whole concept of your wedding, including your wedding dress.
Do not stuff your card with motifs, designs, and emblems.
Choose darker writing for a lighter base, and lighter writing for a darker base, for instance, black on white and vice versa.
Never forget to mention the exact venue, timings, and phone numbers. This makes it easier for guests to reach the wedding destination.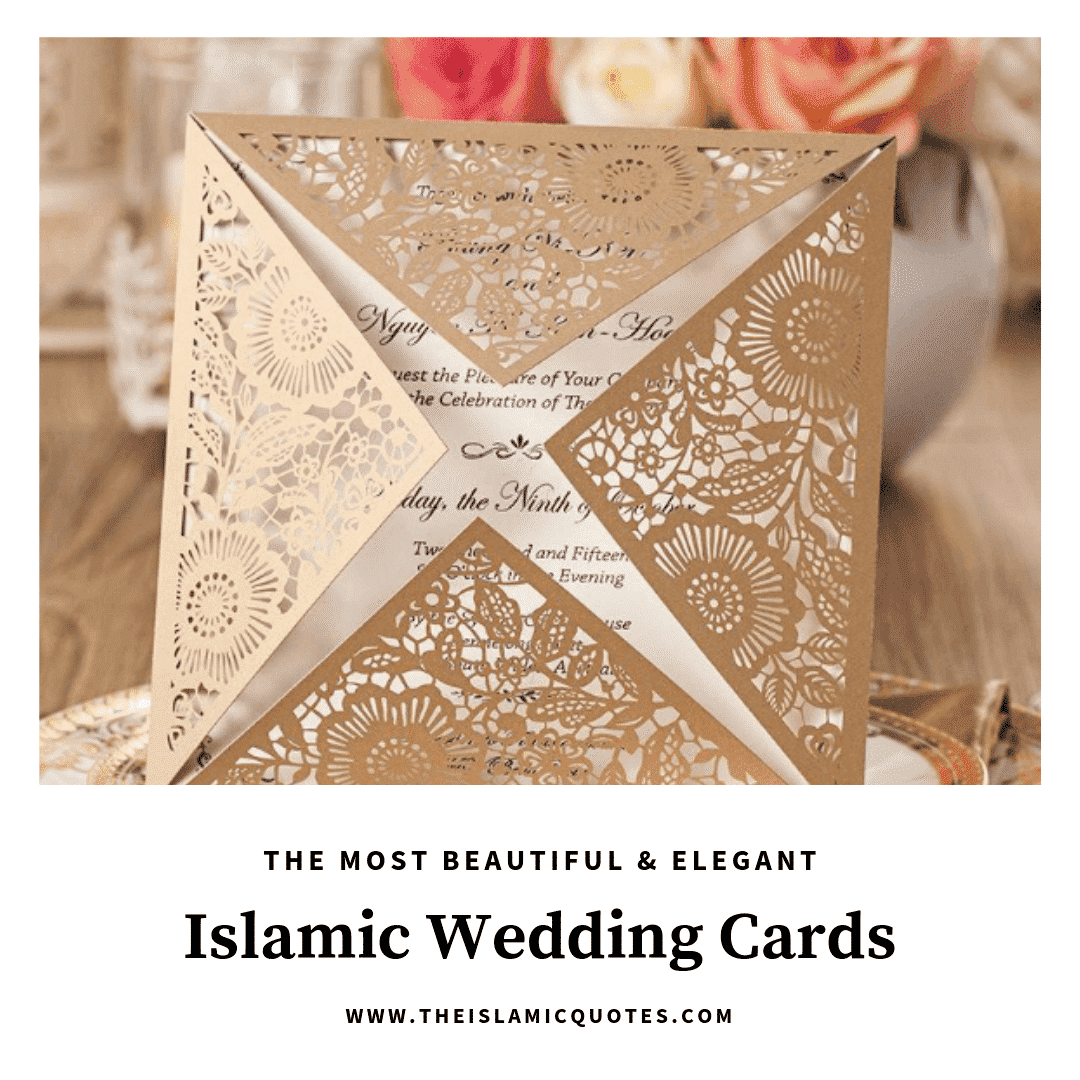 ↓ 25 – Add Customised Arabic Calligraphy Signature
We all know that Islam and calligraphy have a special bond for ages as it is one of the most popular forms of art amongst Muslims. So why not have a special calligraphic signature designed with your name that you can add to your card? You can design it yourself if you know calligraphy or you can ask your card manufacturer to show you some samples.

↓ 24 – Muslim Wedding Card Invitation Message:
Your words and gestures mean everything. Welcoming your guests with politeness and a humble message is always the right way. A simple card with a submissive and respectful message is the best way to invite your guests on your big day. You can find some more great messages to add in the card from these 100+ Islamic Marriage Quotes For Husband and Wife.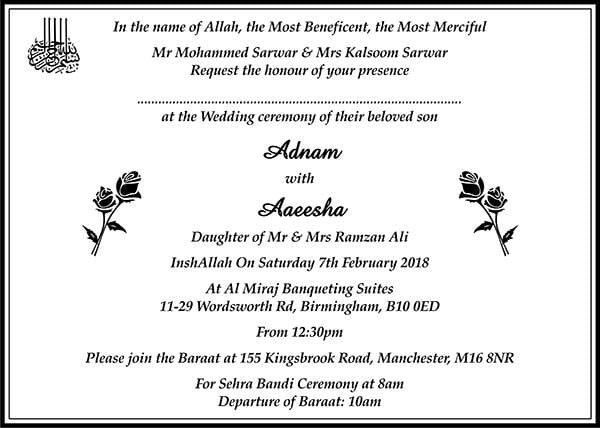 ↓ 23 – Muslim Wedding Card with "Bismillah" Logo:
Initiating your journey and beginning your new life with the name of Allah protects you all the way throughout your life. Since it is the essence of Muslim's holy book Qur'an, therefore, you can design your wedding day card with a beautifully written "Bismillah" logo with gold foil and a combination of colors like bottle green, maroon, red and moonlight blue.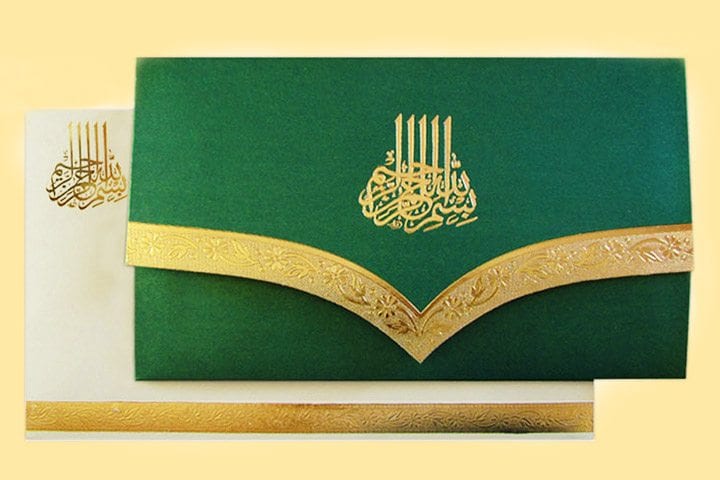 ↓ 22 – Islamic Wedding Card with Arabic Wording:
Everyone is looking for something different on their wedding, something that would astound the guests, isn't? Well, if you want to go all classic and sophisticated than choosing the right design for your card is the best way to do so. Arabic wording in white and gold combination is both contrary and amazing.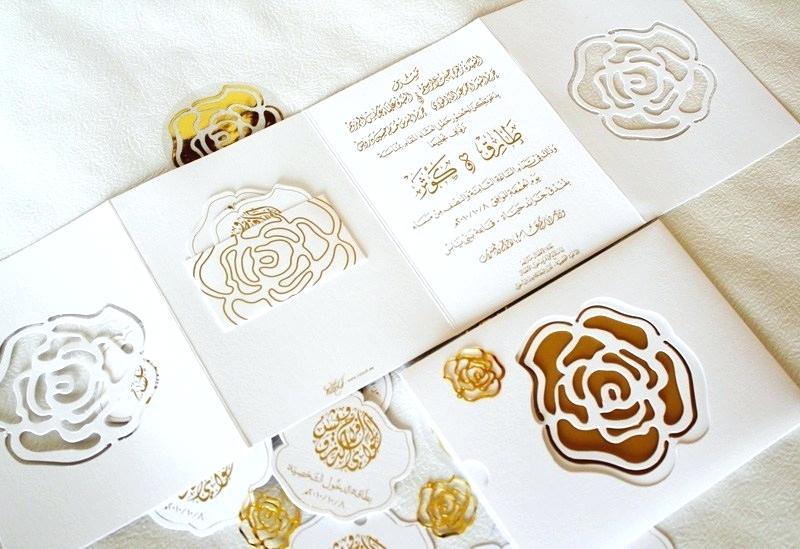 ↓ 21 – 3D Pop-up Muslim Wedding Invitation Cards:
Want a distinctive and impressive wedding card idea? Well, if yes then you definitely need to have a look at the wide range of 3D pop-up wedding cards. The cards are not only inimitable but are available in an array of colors and designs as well. Amazing, isn't?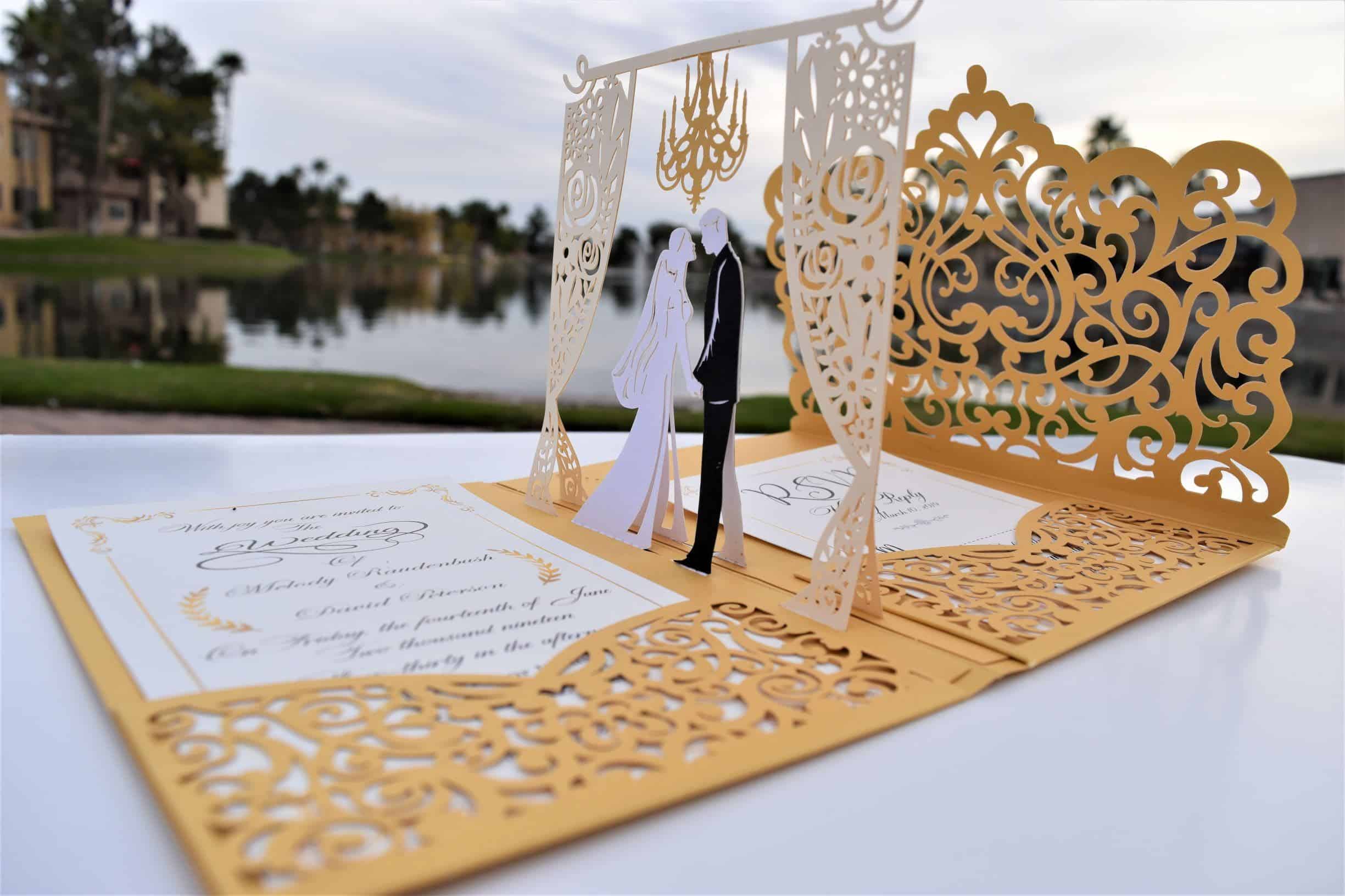 Via
↓ 20 – Classic Damask Gold Favor Box Muslim Wedding Invite:
Damask Designs are everyone's favorite!!! What if these designs are used to design your wedding invite favor box (containing a card, some chocolates or dates and little pieces of jewelry) so that your guests are totally astonished. These white and gold damask favor boxes are totally perfect for a Muslim wedding. If you're getting married soon, you should also be aware of these 30 Beautiful Tips For Married Muslims.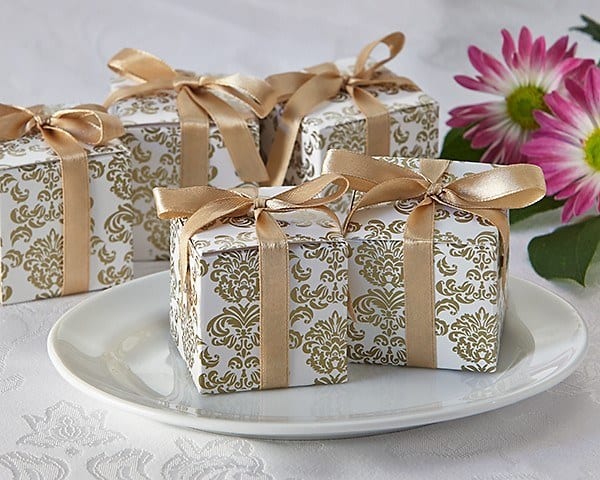 Via
↓ 19 – Gold Metal Wired Wedding Invitation Box:
The trend of gold metal wired wedding invitation boxes will never get old. If you want a uniquely designed wedding invitation idea then this wired metal box is definitely the best. Your guests will love this seamlessly designed wedding invite for sure.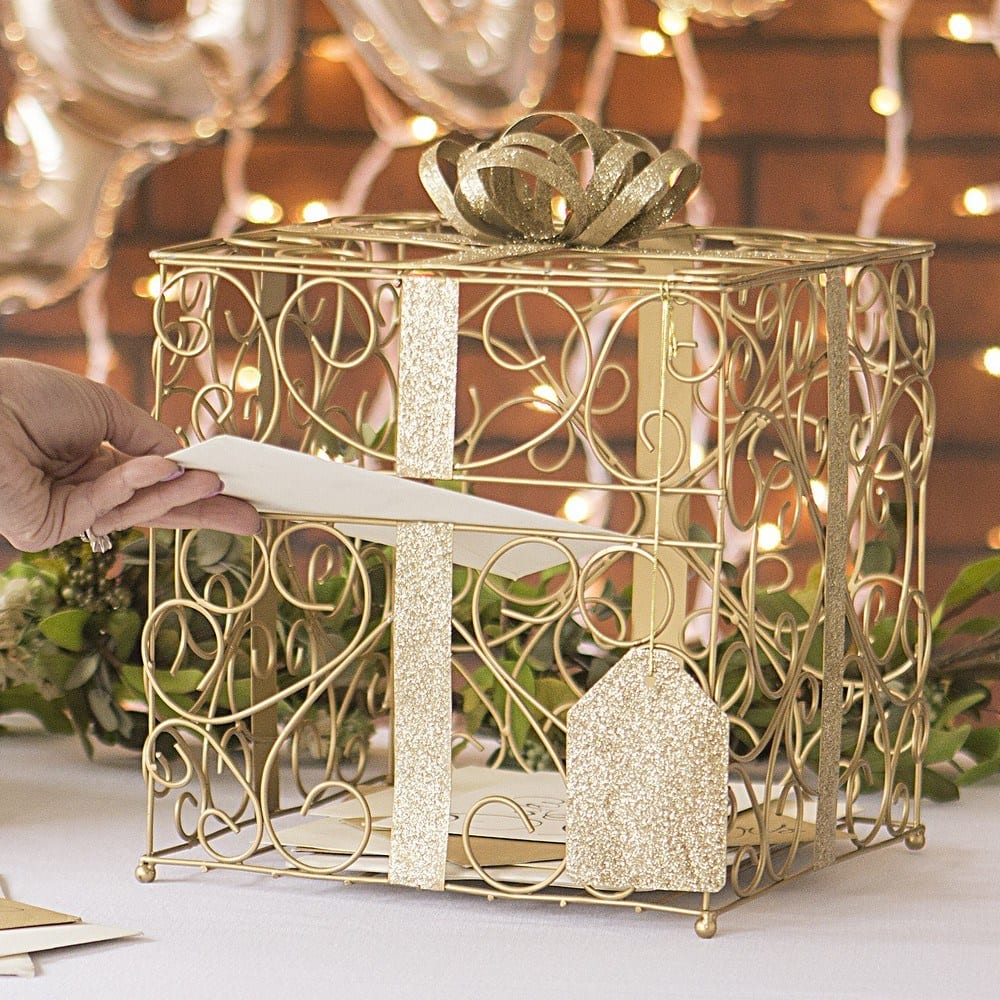 ↓ 18 – Arabic Style Muslim Wedding Invitation:
Handmade Arabic style wedding cards with beautiful calligraphy are quite subtle and elegant, especially for nikkah invitation. Dark colors like black, navy blue and maroon look more exquisite but it's your wedding so the color selection is totally up to you.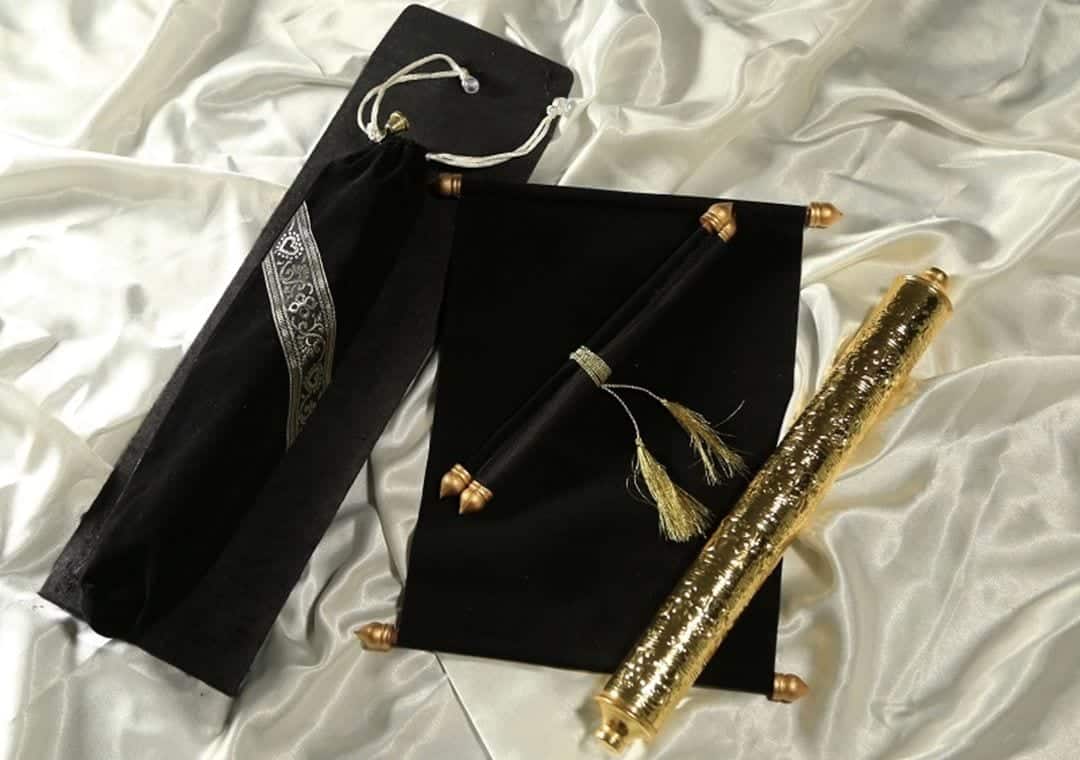 Via
↓ 17 – Heart-Shaped 3D Muslim Nikkah Invitation Card:
Wedding and marriage is the bond of love and commitment. To symbolize love, you can choose the 3D heart-shaped design for your wedding card to startle your friends and family.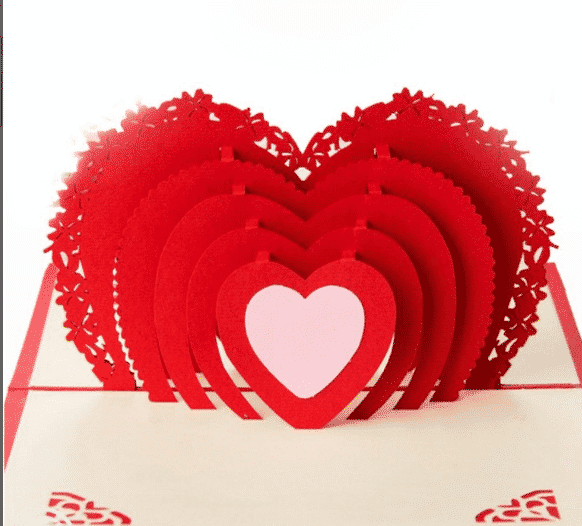 ↓ 16 – Mughal box-style Red and Green Muslim Wedding Invitation:
If you are opting for a big traditional wedding, then why step back on the card? For a traditional Mughal themed wedding a vibrantly colored Mughal style wedding box with favors and a wedding card is a perfect idea.
↓ 15 – Metallic Gold Laser-Cutting Flower Wedding Invitation Card:
Looking for a stylish yet delicate and elegant wedding invitation idea? If yes, then we have the answer. The laser-cut cards in pastel colors are definitely worth-opting for your big day.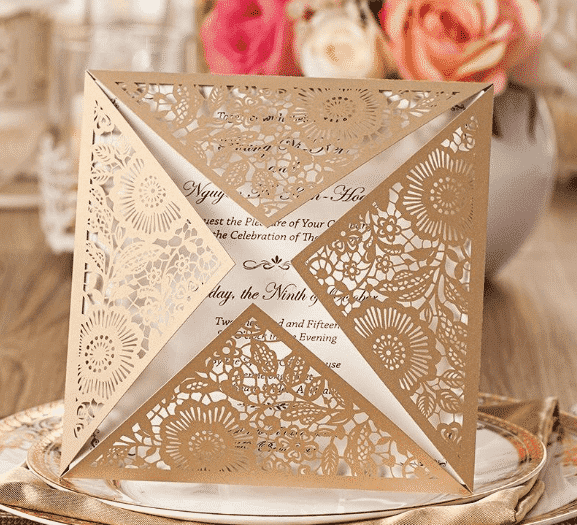 Via
↓ 14 – Laser-Cut Black and Gold Palace Gate Nikkah Invitation Card:
Want your card to be a little more extra? Well, if yes then the laser cut black and gold palace gate design is the one. This royal design will certainly leave your guest in awe.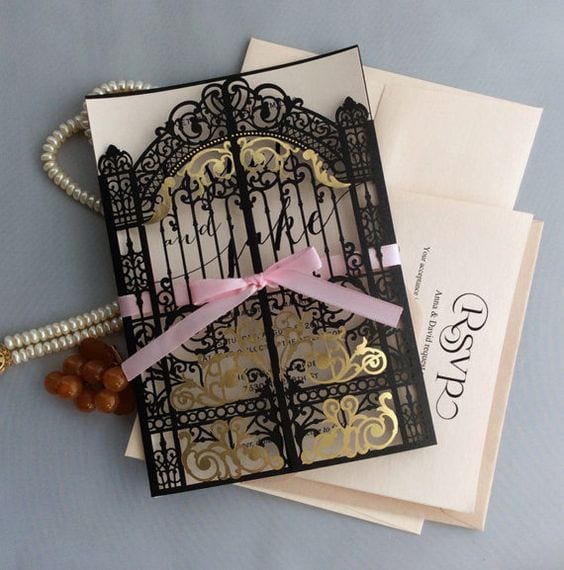 ↓ 13 – Elegant and Simple Walima Invitation Card:
Simplicity is the ultimate sophistication. Keeping your wedding card elegant and simple will not only help in saving a few bucks but will also look inimitable and exclusive.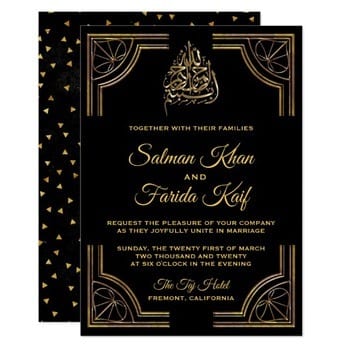 ↓ 12 – Groom-Suit Handmade Invitation Cards:
Beauty of handmade lies in their imperfections, right? Well, if you think so too, then you definitely need to look at the groom-suit designed wedding invitation cards. The uniquely designed wedding invitation cards will definitely rock your wedding.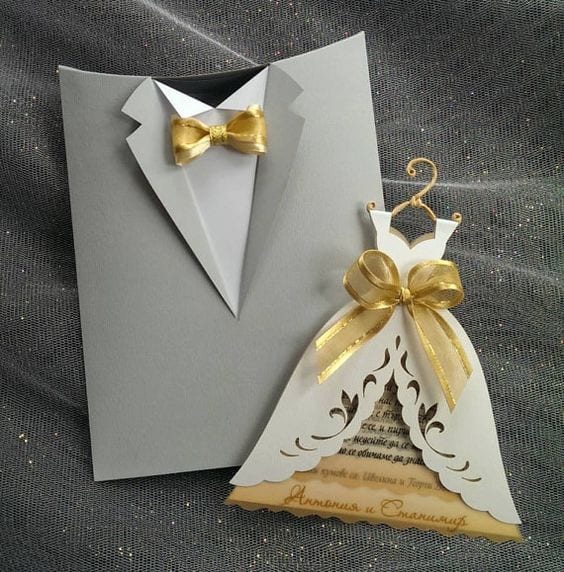 ↓ 11 -Black and White Wedding Invitation:
Black and white is always the best combination, so why not choose a design with alluring black and white prints and patterns to make your wedding day invitation card quirky and exclusive.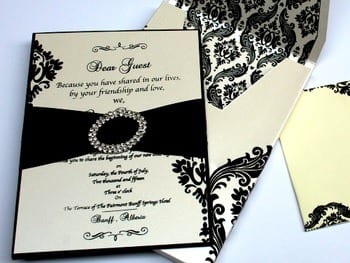 ↓ 10 – Tea-pink Net Wedding Card:
People always say; "the color of perfection is pink". Isn't it? Well, if you agree with me then you will certainly love the idea of light pink laser cut wedding invitation. The subtle and exquisite look is what everyone wants. Also, have a look at these The 15 Basic Rights of Wives in Islam.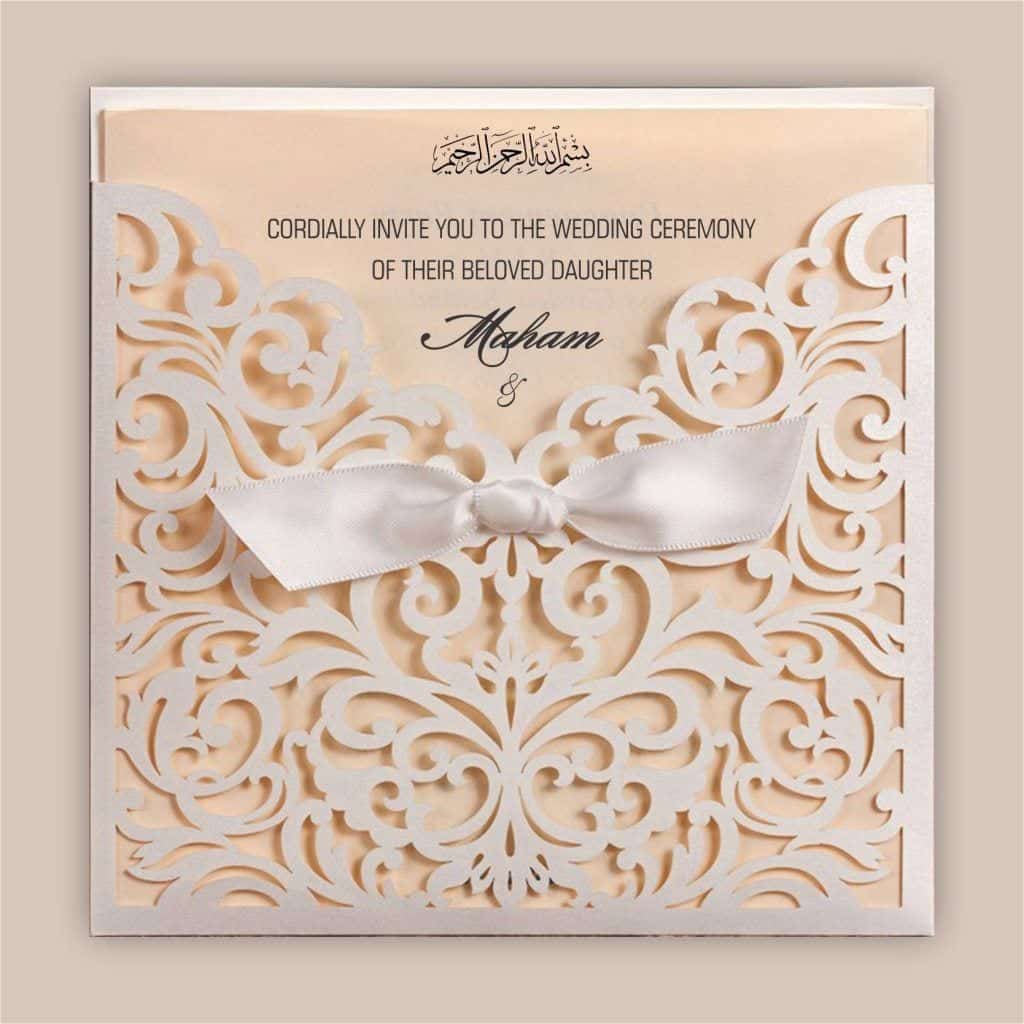 Via
↓ 9 – Grey Gold Foil Press Wedding Invitation Card:
Want every little detail, starting from the design to the material and pattern, of your card to be seamless? If yes, then this grey colored gold foil press wedding invitation card is the best. It is totally distinctive, peculiar and inimitable, best for a themed wedding.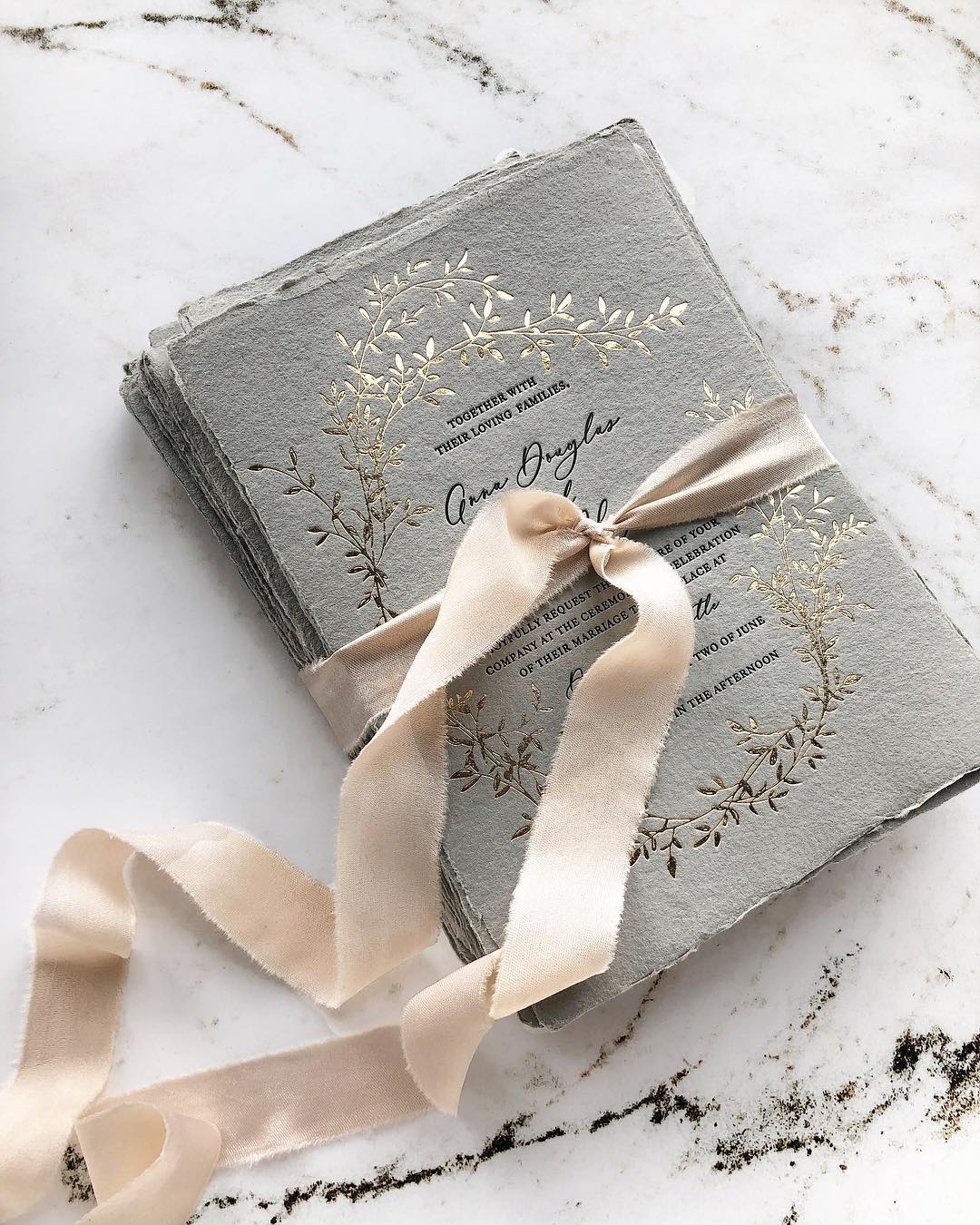 Via
↓ 8 – Light Pink Wedding Invitation Card with Bow:
Two souls but a single thought, two hearts that beat as one. This is what a wedding is. To mark this occasion as one of the most memorable one, a picture-perfect wedding card is a must. A light pink card with a bow and a crystal will definitely make the card immaculate and impeccable, so make sure you keep this card design in mind.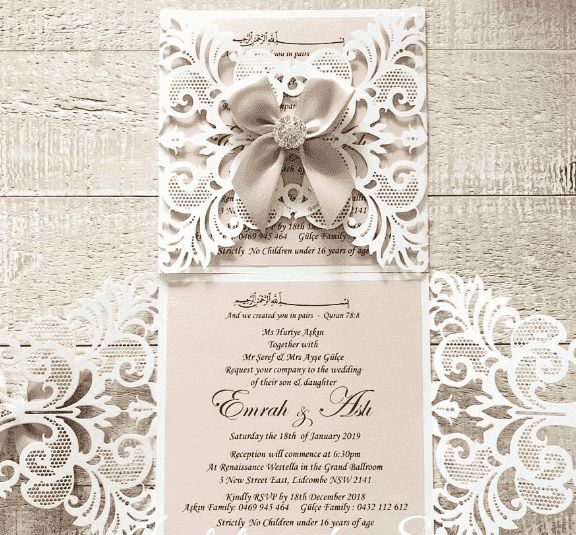 Via
↓ 7 – Add a Wax Seal:
Always dreamed of a fairy-tale wedding? If you have planned and arranged one as well, then an enchanting fine art black and white invitation card is the best way to ask your friends and family to attend your big day. Adding wax seals on your wedding cards is the latest trend as it's not just fun to do but it also adds a personal touch to your card. There are many online companies that can create custom made wax seals with your name or a special symbol like the rose.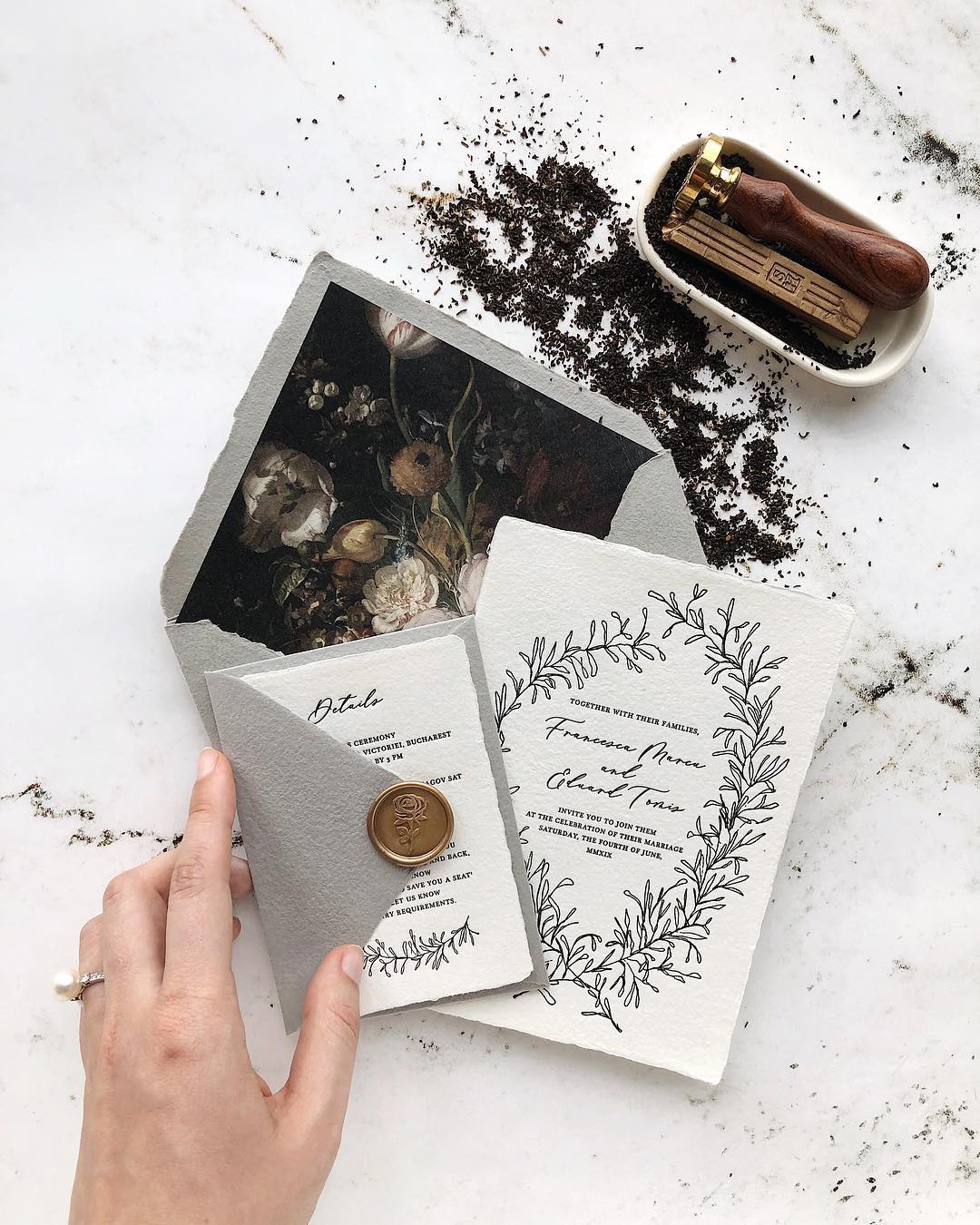 Via
↓ 6 – Dome-shaped Wedding Invitation Card:
Domes mainly represents perfection, eternity and the heavens and that is what a marriage-bond is. To symbolize this, you can style your wedding card in dome style with darker colors to give a tenuous and sophisticated look.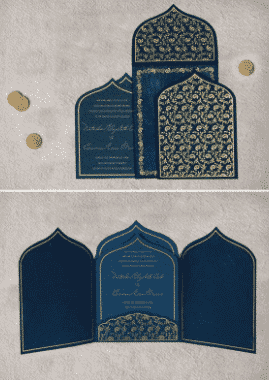 Via
↓ 5 – Simple Floral Wedding Invite:
You can also opt for floral prints, patterns, and designs for your wedding card. The combination of pink and white will give a classic yet modish and impeccable look, leaving your guests awe-struck.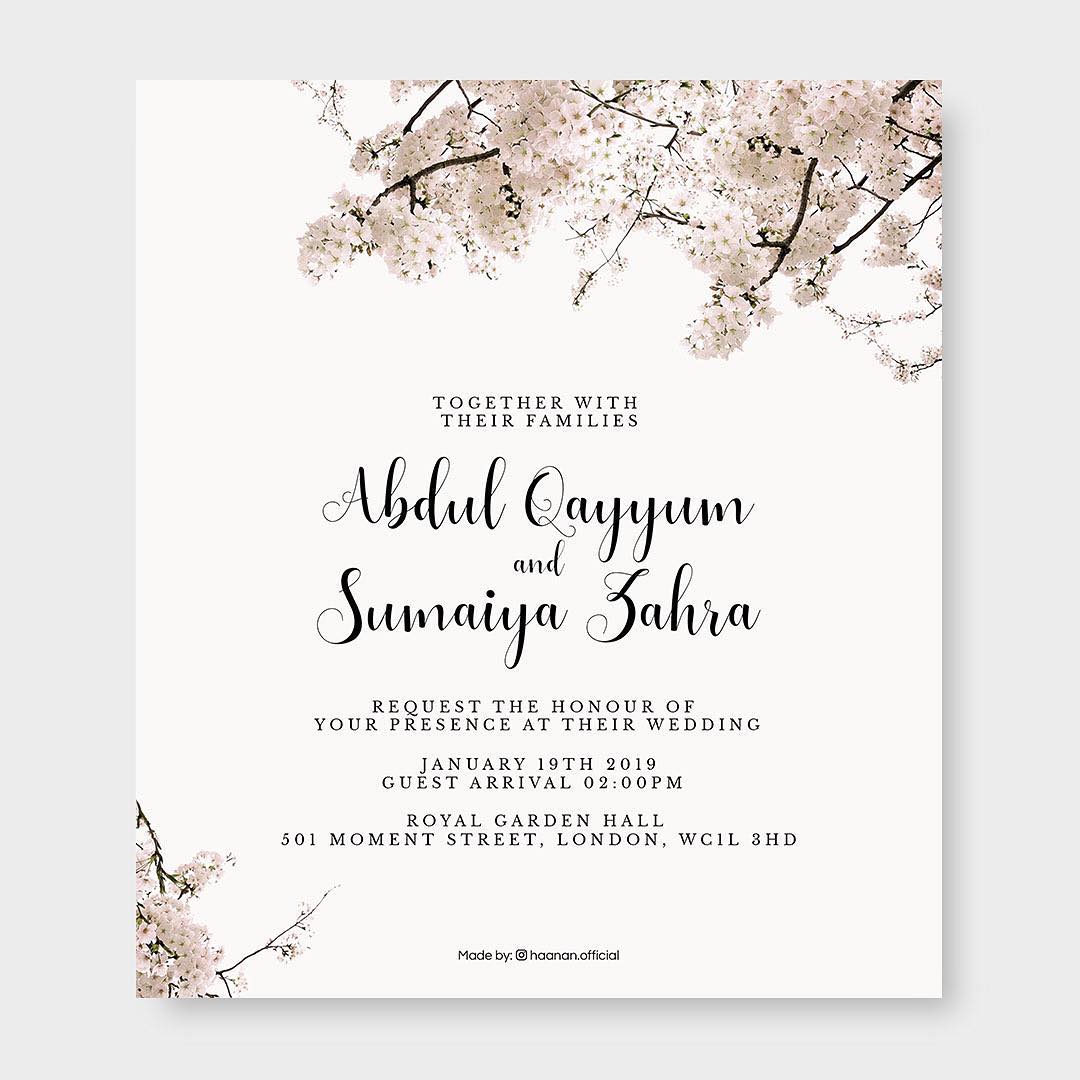 Via
↓ 4 – White and Gold Royal Invitation Card:
There should be a royal card for a royal wedding, right? If you want ideas for a royal wedding card then make sure you have a look at the card below. The white and gold card along with the glossy surface and palace-design will certainly be best for a royal themed wedding.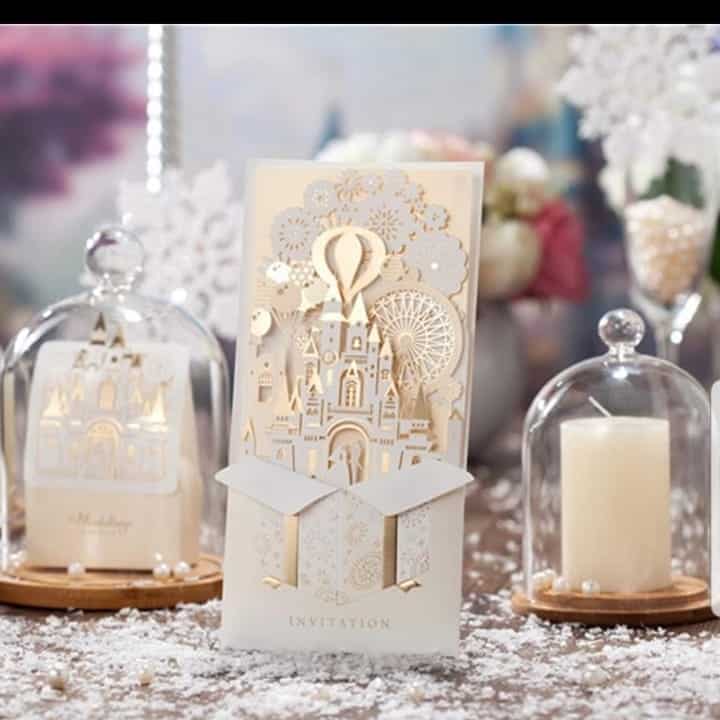 Via
↓ 3 – Teal Blue and Gold Wedding Card:
A classic and sophisticated teal blue and gold wedding card is the right choice if you want to keep your invitation cards simple and elegant.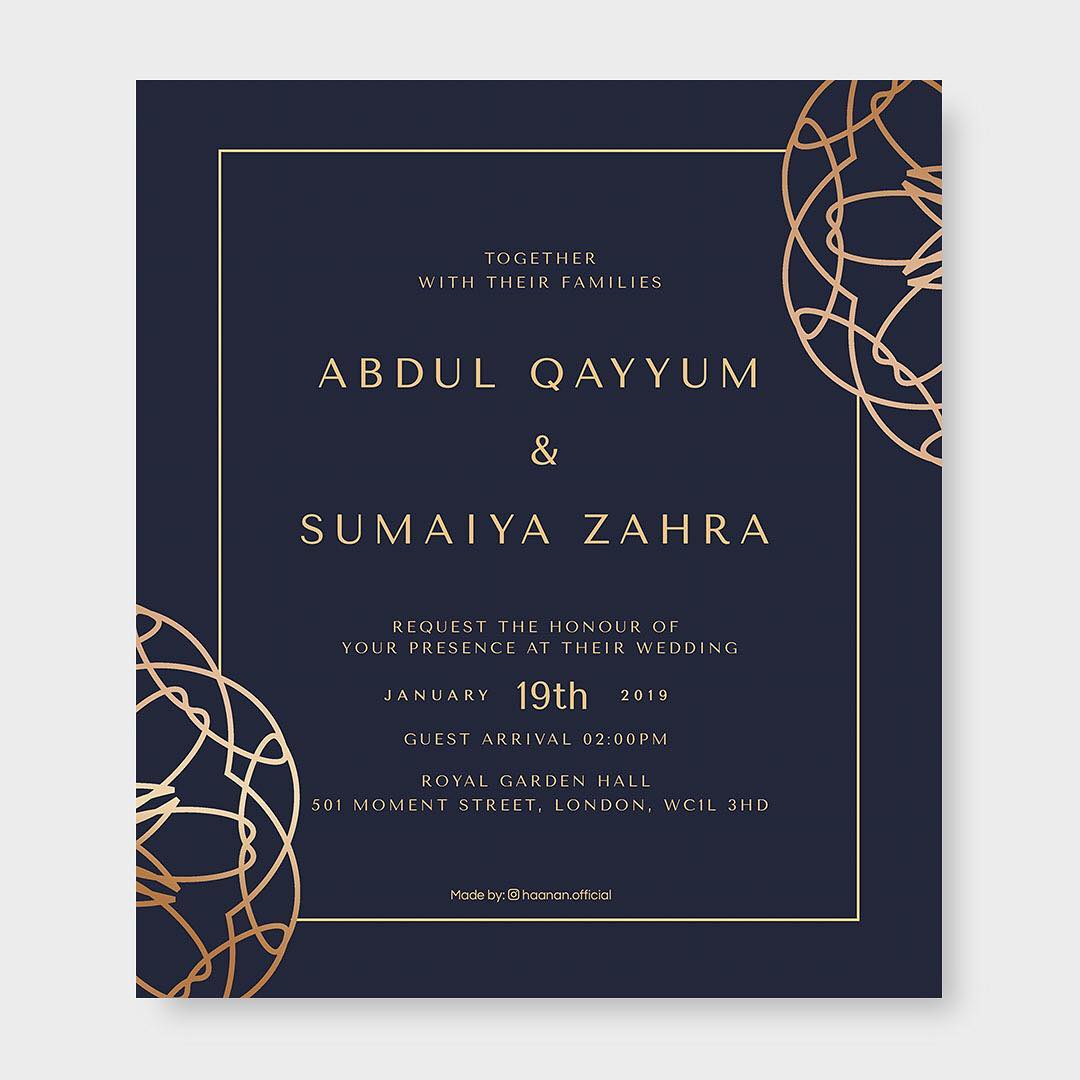 Via
↓ 2 – Traditional-style Wedding Invitation Card:
Traditional cards for traditional weddings, well they do make a perfect combination for sure. Vibrant and dazzling colors along with some traditional touches like shown in the picture make the finest wedding cards.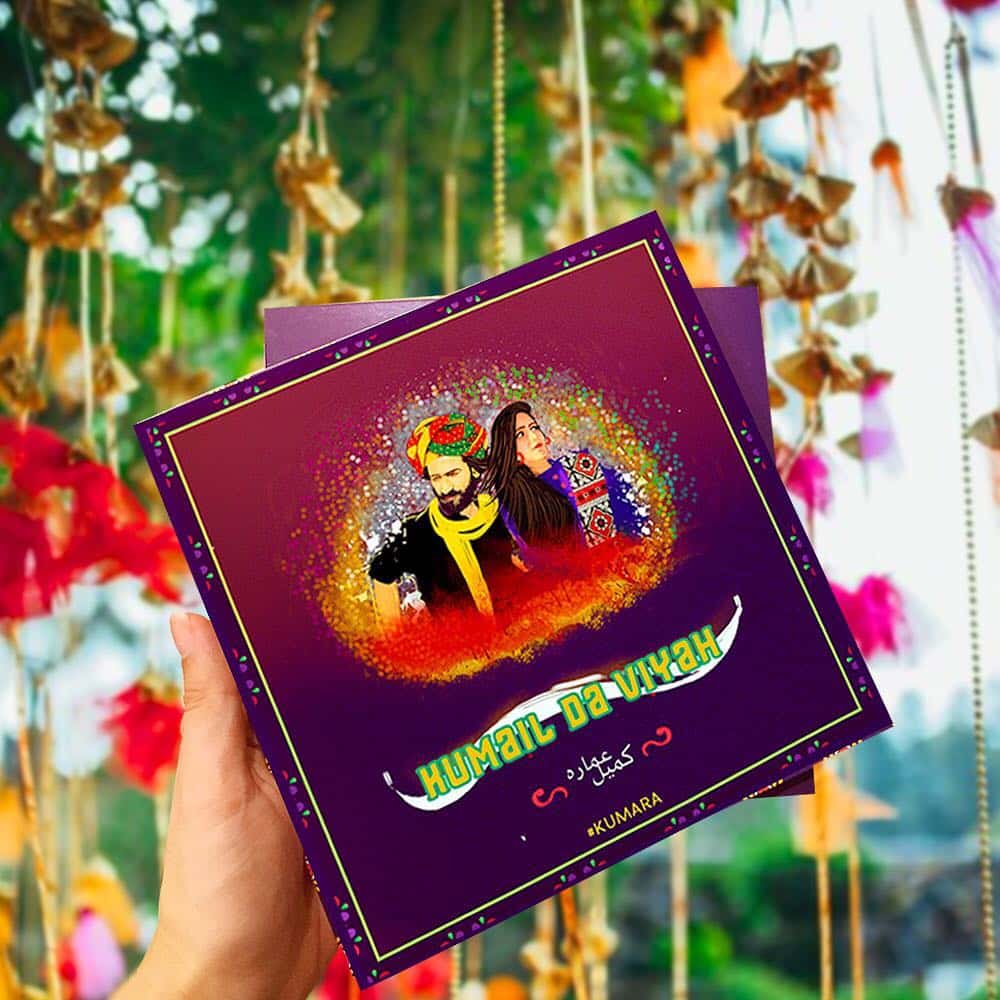 Via
↓ 1 – Distinctive Turban-Style Wedding Card:
Turban represents the culture, pride, and traditions of desi weddings. To make your wedding card completely disparate and incomparable, you can choose a style and design something like this.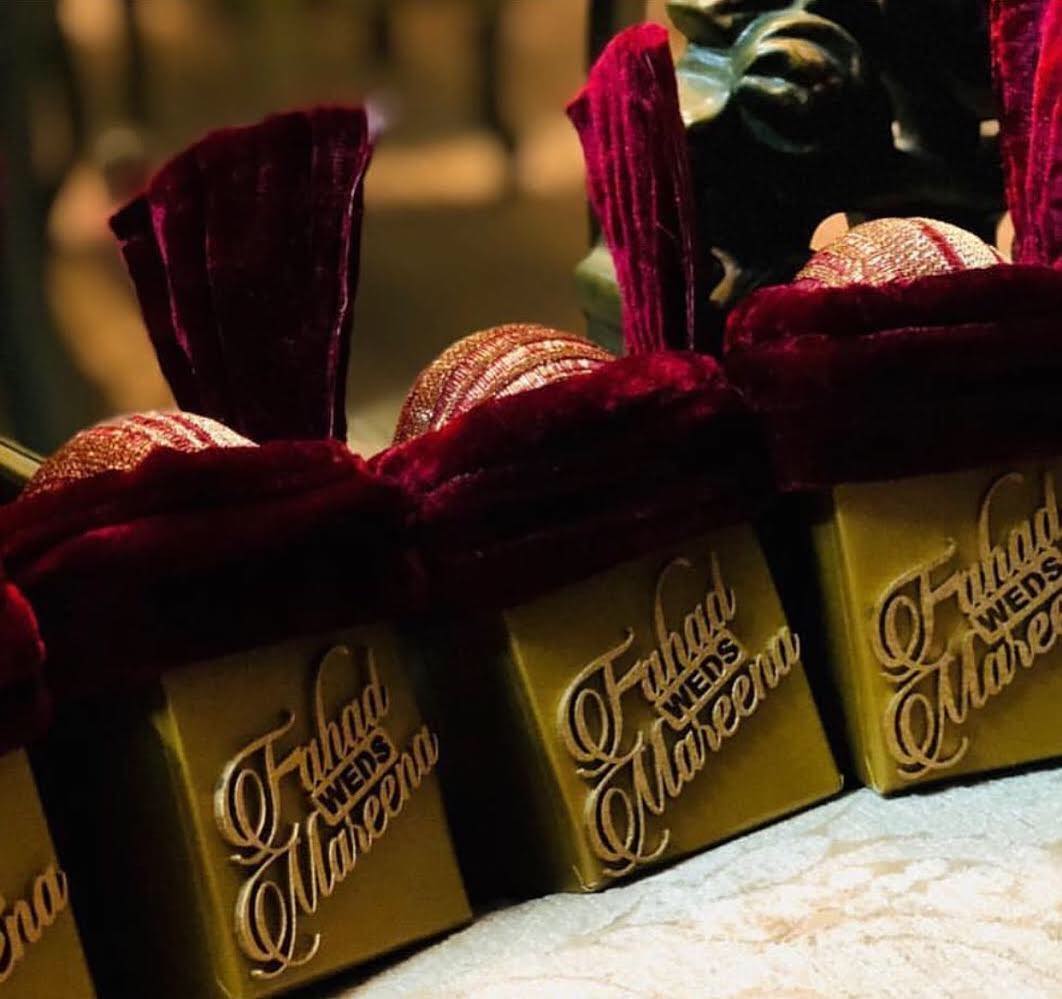 Via