World's Best Naat Khawans: We all have different ways to express our love. We aren't true Muslims until and unless we love our last Prophet Muhammad (P.B.U.H) more than ourselves and anything in this world. Our religion is based on the respect and love we have for the Prophet (P.B.U.H) because only then we will follow the teachings he has left for us.
His status in Islam is the highest, as God Almighty says that we can only get His love if we love and follow his Prophet. The teachings he has given us are not specific for any area or time, but it is for every human being who came and will come in this world till the day of resurrection. And to be a Muslim you must have to follow what he has left for us, in the form of the Quran and Hadith.
Naat is another way of expressing the love for Prophet Muhammad (P.B.U.H). In its verses, Naat khawans express how they love and respect the Holy Prophet. The verses of Naat are all the praises of the beloved Prophet, the way he spent his life, about his kindness, the role model he was. Every naat khawan has their own way of expressing it and putting that love and respect in the form of verses.
Who are the World's Best Naat Khawans?
Since Islam is not just bound to a specific area but is spread in different parts of the world, the lovers of Prophet Muhammad (P.B.U.H) are as much. Every single being, Muslim or Non-Muslim respects the man he was, and what he has taught us, the life that he spent, and considers him as a role model. Even the most successful leaders without the boundary of religion follow him and respect him.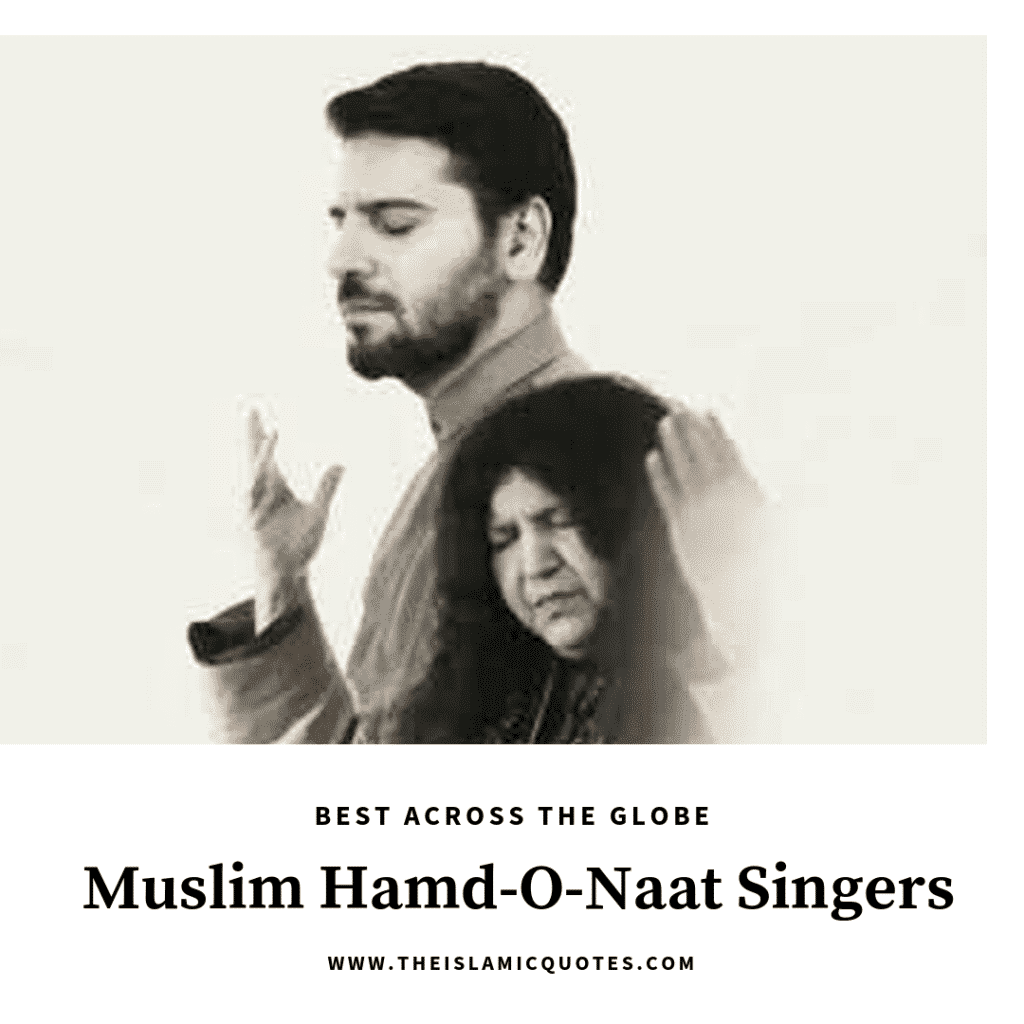 There are many lovers of him who write naats in his regard. They try to put out their true emotions in the form of verses, but of course, it is not possible for anyone to explain how much they love Muhammad. Because it is limitless and impossible to put in words. Words will be less, and pages won't be enough if we start writing our love for him (P.B.U.H), the praises, and what he means to Muslims. Don't get me started on time, as it runs fast and will definitely reach the day of judgment, as it is near. And Muhammad's (P.B.U.H) praises won't still be expressed.
Let's get to know about some famous and most renowned Naat Khuwaan in the world, who are heard the most because of the way they exhibit the praises for Muhammad (P.B.U.H), and because of their way of reciting Naats that it touches people hearts on another level.
Let us see who is on our list.
10. Muhammad Ali Soharwardi
10th in our list is Muhammad Ali Soharwardi, he is also a Pakistani famous Naat khawan. His naat "Khushwari achi lagi" is keeping a special place in everyone's heart.
I would also recommend that you go through these 8 Best Islamic Channels on YouTube for Adults to Watch.
9. Huriya Rafiq Qadri
Huriya Rafiq is another well-known female naat khuwaan of Pakistan. Her soulful voice gives goosebumps all over your body. Her naat "Ya Muhammad Noor e Mujassim" will make you cry, because of the verses and her voice.
8. Qari Zafar Waheed Qasmi
Every naat khuwaan has their unique way of reciting naats, and their ability to add the feelings in them always brings tears to the listener's eyes. Qari Zafar Waheed Qasmi is a very well-known naat khuwaan in that matter, and one of the best from Pakistani origin. If you have heard his "Fasilo ko takalluf", then you would know how much of a great naat khuwaan he is.
7. Syed Fasih-ud-Din Soharwardy
Syed Fasih-ud-Din Soharwardy is another remarkable Pakistani Naat Khuwaan. He is a known name across the world for his naat khuwaani that will put you in awe of his voice. He has spread his naats among 16 nations which puts him on a high rank. And people love him a lot for his love for the Holy Prophet, that they can never hold themselves back when they hear about any of his naat khawan gatherings.
6. Siddiq Ismail
Siddiq Ismail is the name even your parents will know, he has been putting us in the daze of his voice for the past 50 years. Despite his poliomyelitis that had him handicapped, he never held himself back from expressing the love for our beloved Prophet (S.A.W). He was ranked among the 500 most influential Muslims and is considered worldwide because of his contribution in Naat and Qira'at recitation.
5. Umme Habiba
Umme Habiba is the very first female naat khuwaan of Pakistan who made a special place in everyone's heart through her soulful voice. She is famous globally for her breath-taking voice in naat khuwani. Her father trained her for the beautiful qira'at and naat recitation. Every Muslim across the world would know about her.
4. Mehr Zayn
Mehr Zayn is a Lebennesse-Swedish naat khuwaan. He was a songwriter at the beginning, but when he emigrated back to Sweden his love for Islam rose and he quitted songwriting and converted towards writing naats instead. His unique and beautiful voice will leave you stunned and every second of his naat recitation will have you submerged in its daze.
3. Ahmad Hussain
Ahmad Hussain is an English-Kashmiri naat khuwaan who recites and writes them too. He is a philanthropist too as he donates what he receives through his naat khuwaani. If you have heard this debut naat "Aye Khudaya" you would definitely have an idea about his God-gifted talent that he is spending in doing charities.
You should also go through our list of the Top Islamic Scholars in the World.
2. Sami Yusuf
Talking about angelic voices, you must have heard the name Sami Yousuf. His forever famous english-arabic kalam "Allah-u-Allah" has a special space in everyone's heart. The way it gives you goosebumps, and its verses are just so touchy that his voice doubles up to capture your heart.
1. Mishari Rashid Al-Afasy
Al-Afasy is an imam and preacher from Kuwait origin. He has contributed in preaching in every form, either it was tafsir, qir'at, or naat khuwani. His angelic voice is ruling over many muslim hearts he get so much attracted towards any kalam he recites. It feels like he puts his true emotions from the deep soul into his naat and quranic recitation.