Beautiful Rumi Quotes on Love, Life & Friendship. Rumi, also known as Jalāl ad-Dīn Muhammad Balkhī was a Persian Sunni Muslim poet who also became popular as a jurist, Islamic scholar, theologian, and Sufi mystic.
He carried the message of truth which made his influence cross all national and ethnic boundaries. Rumi is considered as an incomparable spiritual sovereign who had a very genuine personality with a high clarity of vision. He mainly wrote in Persian language but his work was acknowledged on such a large scale that it was translated into many of the world's languages.
Rumi was a poet who had vast amount of knowledge and talent. He left behind such significant pieces of his work that inspires the generation even today. He used his power to share the experiences of life in such a way that we build a positive outlook on life. Rumi wrote on many topics but here we present you some of his best teachings regarding love, life and friendship.
What Are the Best Islamic Sayings of Rumi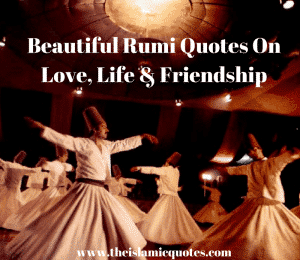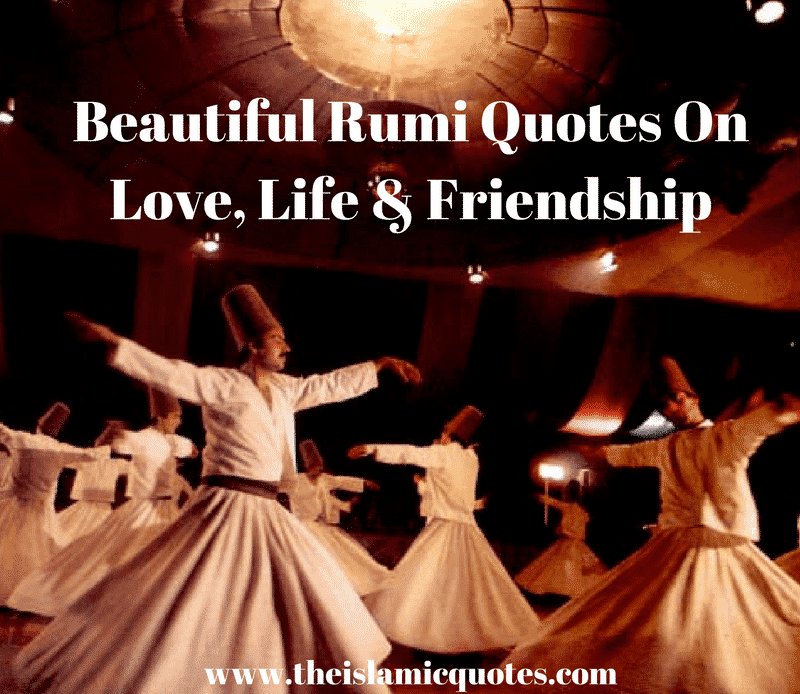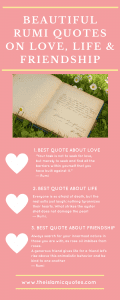 ↓50 – Best Love Quotes Of Rumi
Rumi was among the poets who had the power to explain those feelings which could not be easily expressed. Here are Islamic Anniversary Wishes for Couples .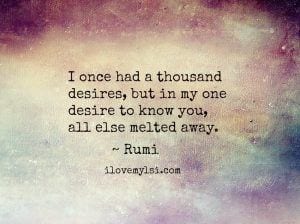 ↓49 – Love With Your Heart And Soul
People who fall in love with the heart and souls are never separated.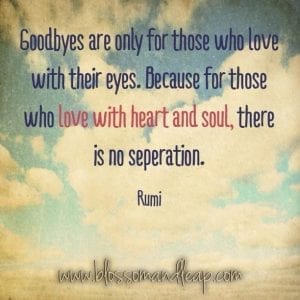 ↓48 – Kindness Is Never Wasted
Whenever you show kindness towards others, it never goes in vain.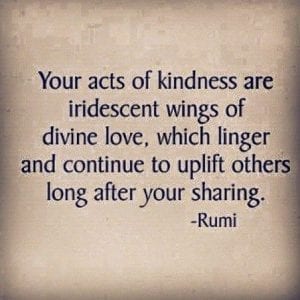 ↓47 – Seize What You Love
If we follow what we love, it will never deviate us from the right path.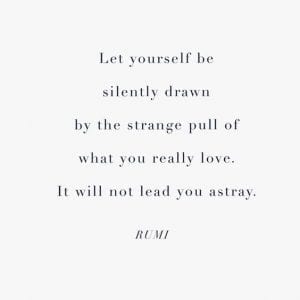 Via
↓46 – Be Flexible
If we want others to love us, we have to learn to be flexible. If we keep pushing them away, we will never be held.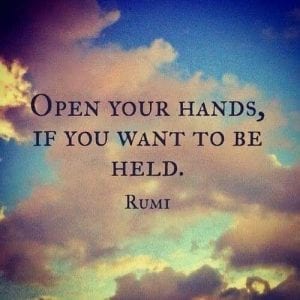 ↓45 – Deep Love Quotes By Rumi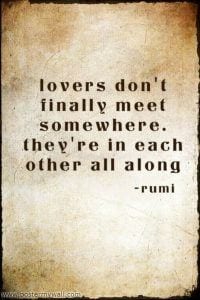 ↓44 – Follow Your Heart
We should not be in relation with those who do not have a place in our hearts.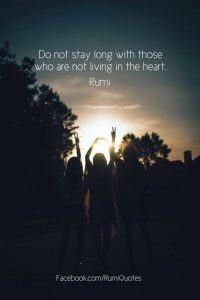 Via
↓43 – Look In The Right Direction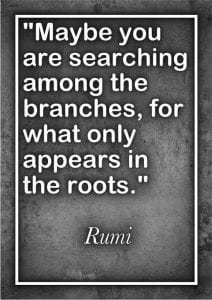 Via
↓42 – Pursue Your Desires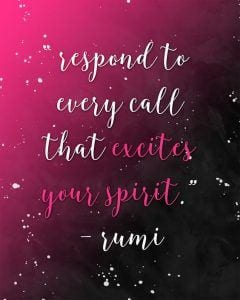 ↓41 – The Soul Knows Everything
Rumi taught us that our hearts and minds do not know what love is, it is the soul only that knows what love is.
Via
↓40 – Beautiful Rumi Quotes On Life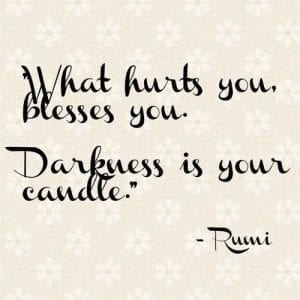 ↓39 – Reason Of Happiness
Once you choose yourself and follow what you really want, you will feel cheerful and contended within yourself. Have a look at these Islamic Prayer Quotes.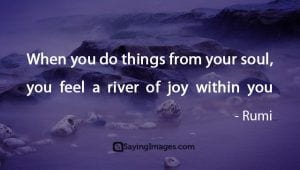 Via
↓38 – Best Rumi Picture Quotes On Life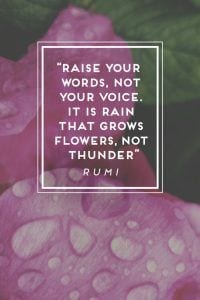 ↓37 – Joy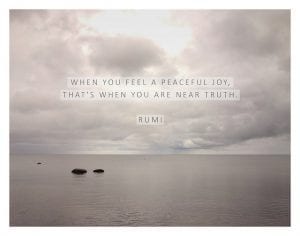 Via
↓36 – Face Your Difficulties
We should learn to face our difficulties without being irritated as every situation brings experience for us and teaches us a lesson.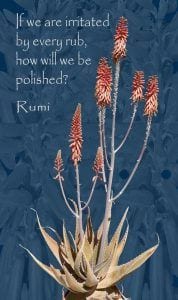 ↓35 – Silence; A Source Of Great Strenght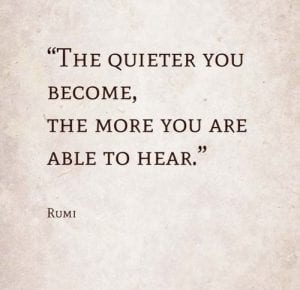 ↓34 – Do Not Be Lament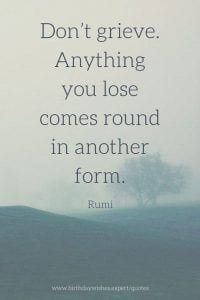 ↓33 – The Benefit Of Praying
Being a Muslim scholar Rumi taught us that prayer is one of the most successful ways of bringing peace to our soul.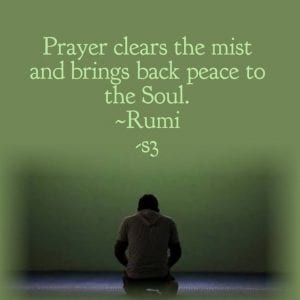 ↓32 – Ignoring Is Also An Art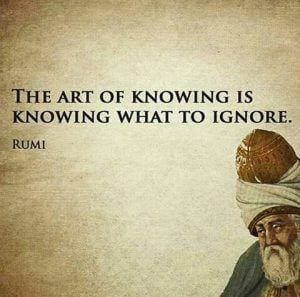 ↓31 – Have Faith In Yourself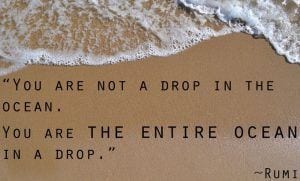 ↓30 – Sufi Quotes On Friendship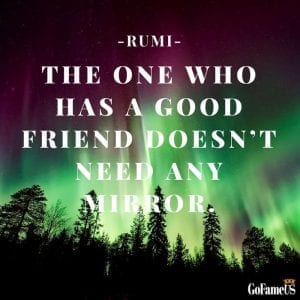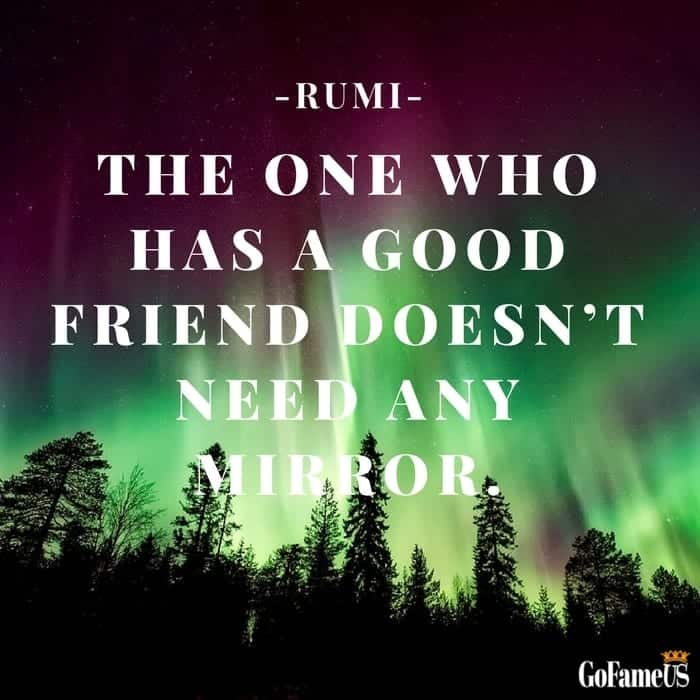 ↓29 – Always Be With True Friends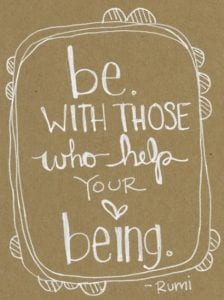 ↓28 – Never Leave A Friend Alone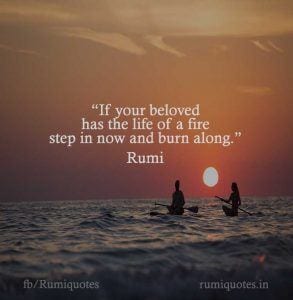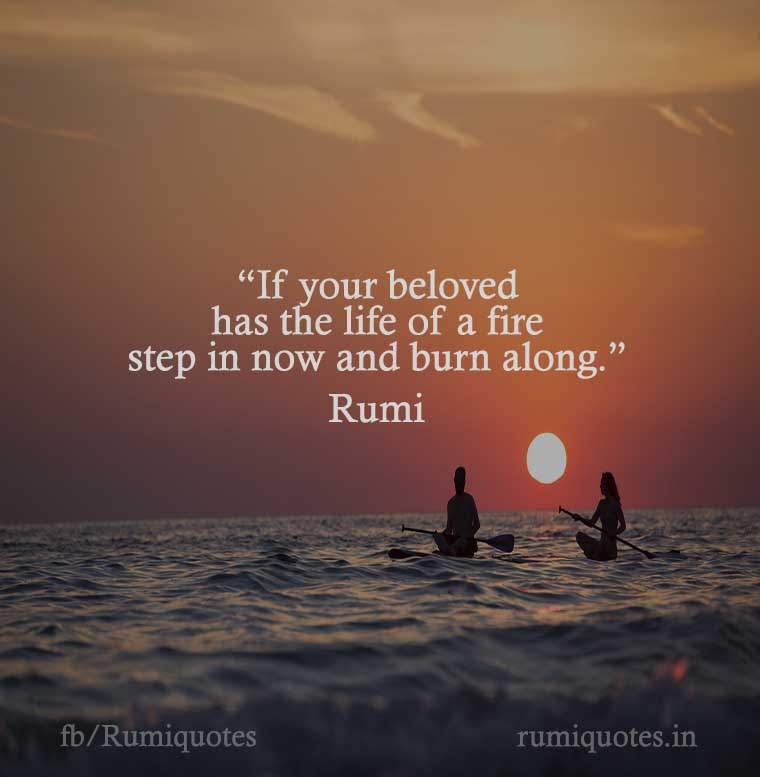 Via
↓27 – Savior Of Your Friends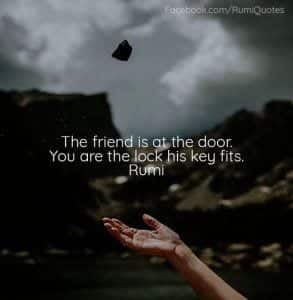 Via
↓26 – No One Is Perfect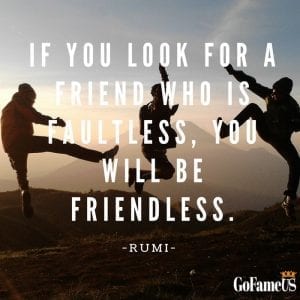 ↓25 – Everyone Is A Blessing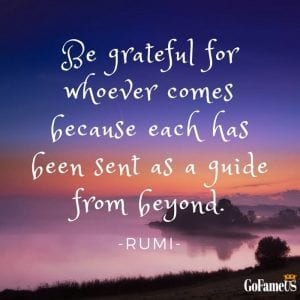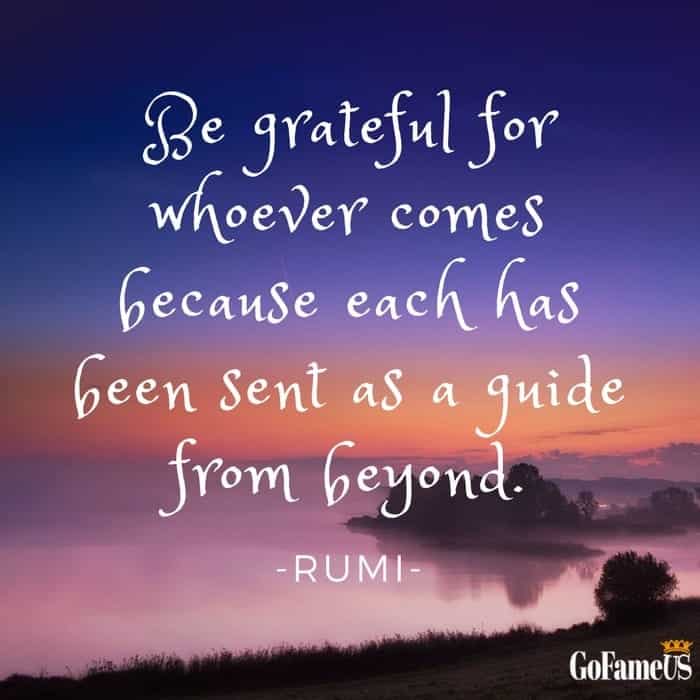 ↓24 – Kindness Leads To Prosperity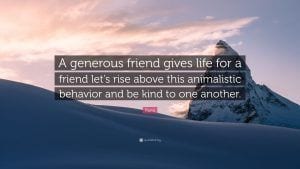 ↓23 – Be Close To Your Friends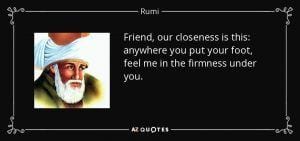 ↓22 – Love With Your Soul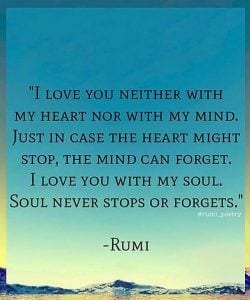 ↓21 – Rumi Inspirational Quotes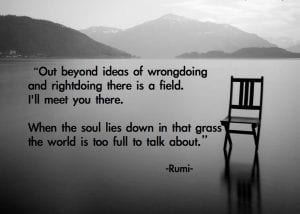 Via
↓20 – Choose Your Friends Wisely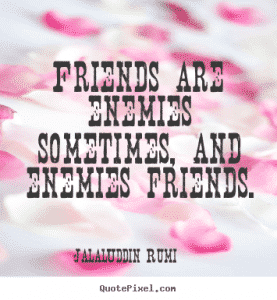 ↓19 – Know The Value Of Your Soul
"You know the value of every article of merchandise, but if you don't know the value of your own soul, it's all foolishness." -Rumi. Here are 50 Islamic Quotes about Success with Images.
↓18 – Have Faith In Yourself
"Stop acting so small. You are the universe in ecstatic motion."
↓17 – Dance To Ease It All Off
"Dance, when you're broken open. Dance, if you've torn the bandage off. Dance in the middle of the fighting. Dance in your blood. Dance when you're perfectly free." -Rumi
↓16 – Be Wise
"Yesterday I was clever, so I wanted to change the world. Today I am wise, so I am changing myself." -Rumi
↓15 – Live Freely
"Forget safety. Live where you fear to live. Destroy your reputation. Be notorious." -Rumi
↓14 – Rumi Inspirational Quotes
"Knock, And He'll open the door. Vanish, And He'll make you shine like the sun. Fall, And He'll raise you to the heavens. Become nothing, And He'll turn you into everything." -Rumi
↓13 – Be Prepared
"There is a candle in your heart, ready to be kindled. There is a void in your soul, ready to be filled. You feel it, don't you?" -Rumi
↓12 – Trust Your Creator
"All I have seen teaches me to trust the creator for all I have not seen." -Rumi
↓11 – You Are Enough
"The universe is not outside of you. Look inside yourself; everything that you want, you already are." -Rumi
↓10 – Beautiful Love Poem By Rumi
"The garden of love is green without limit and yields many fruits other than sorrow or joy. Love is beyond either condition: without spring, without autumn, it is always fresh." -Rumi
↓9 – Dance Quotes By Rumi
"‎Dancing is not just getting up painlessly, like a leaf blown on the wind; dancing is when you tear your heart out and rise out of your body to hang suspended between the worlds." – Rumi
↓8 – Be Confident
"If the foot of the trees were not tied to earth, they would be pursuing me. For I have blossomed so much, I am the envy of the gardens." -Rumi
↓7 – Everything Is Planned
"Everyone has been made for some particular work, and the desire for that work has been put in every heart." -Rumi
↓6 – Silence Is Full Of Answers
"Listen! Clam up your mouth and be silent like an oyster shell, for that tongue of yours is the enemy of the soul, my friend. When the lips are silent, the heart has a hundred tongues." – Rumi
↓5 – Grief Can Be Useful
"Grief can be the garden of compassion. If you keep your heart open through everything, your pain can become your greatest ally in your life's search for love and wisdom." -Rumi
↓4 – Be With Those Who Cherish You
"Plant the love of the holy ones within your spirit; don't give your heart to anything, but the love of those whose hearts are glad. "-Rumi
↓3 – The Power Of Love
"Through Love all that is bitter will be sweet, Through Love all that is copper will be gold, Through Love all dregs will become wine, through Love all pain will turn to medicine." -Rumi
↓2 – Power Of Choice
"And so it is, that both the Devil and the angelic Spirit present us with objects of desire to awaken our power of choice." -Rumi
↓1 – Get Rid Of Envy
"Beg of God the removal of envy, that God may deliver you from externals, and bestow upon you an inward occupation, which will absorb you so that your attention is not drawn away." -Rumi